The TV market is flooded with both ultra-affordable and ultra-premium wonders, making it difficult to find a mid-range option that doesn't skimp on picture quality or features. The TCL'S New 6-Series Tv (available at Amazon for $1,499.99) has been delivering the best of both worlds for a few years now, combining low prices with premium performance and features. The latest 6-Series iteration proudly carries the torch, delivering a great picture and a variety of useful features. It's a great TV for almost everyone, but serious A/V enthusiasts may be disappointed by the 6-Series' "set-it-and-forget-it" approach.
The TCL NEW 6-Series TV offers a bright, colourful picture that withstands during sunny, daytime viewing for significantly less than what you'd pay for TVs with comparable hardware. Its gaming features are plentiful and well-thought-out, and its Roku software is ideal for casual viewers who may be put off by busier, more-complicated smart platforms.
However, it's most accurate picture mode is tinted blue, and there's not much you can do about it due to a more limited toolbox than competitors. If you want complete control over how your TV looks and sounds, the 6-Series may not be flexible enough for you. If you don't plan on tinkering with your TV's settings, the 6-Series is an excellent choice.
Sizes
The TCL 6-Series comes in three sizes. Our review unit is a 75-inch version. In terms of pricing, the series looks like this:
55-inch (TCL 55R655), MSRP $699.99
65-inch (TCL 65R655), MSRP $999.99
75-inch (TCL 75R655), MSRP $1,599.99
While we don't expect significant differences in performance between these sizes, each size variant of a mini-LED TV series typically has a different number of dimming zones. The number of zones increases in direct proportion to the size of the television. A difference in zone count may result in minor differences in how well a TV's contrast performs.
Performance
Before testing each TV, we ensure that the panel has been turned on and has been receiving a continuous signal for at least two hours. This standard warm-up time was given to our 75-inch 6-Series before any measurements were taken. Furthermore, the TV received the most recent firmware updates during testing.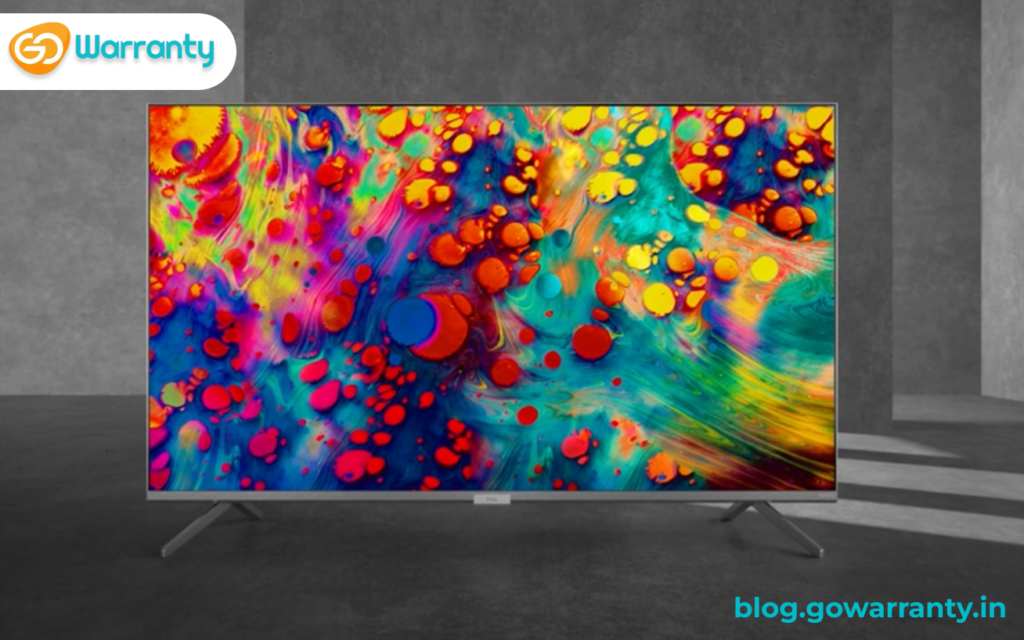 We're running SDR tests with the 6-Series' Movie picture mode. We're running HDR tests with the TV's Dark picture mode. These settings were chosen for their accuracy, and even though performance could vary depending on which picture mode is active. For example, using a different mode may result in a brighter image, but it may have a negative impact on colour temperature and overall colour accuracy.
Its bright, colourful image looks great even in bright sunlight.
The TCL 6-Series comes with an impressive array of hardware for a TV in its price range. Its ability to get brighter unlike many entry-level and midrange TVs has two main advantages: the picture will hold up during daytime viewing, and highlights in HDR content will pop properly. Surprisingly, the 6-Series' average picture brightness is roughly the same in HDR and SDR. In other words, a cable TV show broadcast in SDR will appear about as bright as a Netflix HDR show.
Exceptionally wide viewing angle
Although its viewing angles are not as accommodating as those of an OLED TV, the 6-Series provides wider-than-average viewing angles for just an LED TV in this price range. When viewed from an off-axis position, there is a decrease in contrast and colour saturation, but the minor colour shift is more noticeable than the decrease in contrast. If you're looking for a 65- or 75-inch model with the intention of hosting a movie night, the 6-Series will be a reliable companion.
Proper Gaming TV
The 6-Series is about as good as a gaming TV in this price range can get. Although there are no four high-bandwidth HDMI 2.1 ports for highest gaming potential, its gaming features are generous and very well.
In addition to Auto Low Latency Mode and the standard Variable Refresh Rate, the 6-Series invited AMD FreeSync Premium Pro to the party, making sure that supported games on the Xbox or your AMD PC run smoothly and without visual artefacts such as screen tearing. (FreeSync is not supported by the PS5.) Two of its HDMI ports support 4K gaming at 120Hz, and the TV's eARC-enabled HDMI port does not serve as a high-bandwidth gaming port.
Smart features with many apps
If you want a smart TV with a lot of app support, a clean, easy-to-use interface, and as few ads as possible, the 6-Series is prepared for all of your streaming needs.
The Roku experience is defined by large, bold buttons and simple, user-friendly language. It only takes a few moments to become acquainted with the layout, and unlike most smart platforms, Roku keeps the ads to a minimum—usually there's only one on the screen at a time.
But don't be fooled by the large, colourful buttons; Roku isn't a Fisher Price smart platform. There are more apps in the Roku Channel store than you can shake a clicker at. Many come pre-installed, and even more can be downloaded with the command of a voice. In other words, Roku is an excellent smart platform for both dedicated streamers as well as casual viewers seeking a simple, hassle-free experience.
Verdict
The TCL 6-Series provides a generous helping of value without sacrificing performance or features. The 6-Series offers a similar experience for several hundred dollars less than TVs like the Samsung QN90B and the Sony X95K: fantastic brightness, great overall contrast, as well as a robust suite of next-gen gaming features. It may even be a more appealing gaming option than the X95K, because its eARC-enabled HDMI port does not double as a potential gaming port.
Apart from selecting a picture mode and fiddling with the backlight, the TCL NEW 6-SERIES TV is not a good TV for A/V enthusiasts and picture tweakers. However, if you're a set-it-and-forget-it type of viewer who doesn't mind getting your hands dirty in the settings menu, the 6-Series is a good choice.