SteelSeries has just released its first line of gaming-focused desktop speakers, the Arena 3 (2.0), 7 (2.1), and 9 (2.1). (5.1). However, desktop speakers are generally better suited to home entertainment, and they don't make a lot of sense in a lot of online gaming and streaming setups that require both audio output and input.
But, with the Arena Wireless Mic, a noise-cancelling on-ear microphone designed to work with speakers, they might be able to (and launched alongside the Arena lineup). The Arena Wireless Mic combines the best of both worlds, thanks to a supercardioid polar pattern as well as a boost from SteelSeries AI-powered noise-cancellation software. Engaging, surround-sound speaker audio and clear, noise-free team chat.
The Arena Wireless Mic has 2.4-GHz wireless connectivity, 4.5 hours of battery life, a lightweight, comfortable design, as well as works as advertised picking up the wearer's voice while filtering out everything else that comes out of their speakers. The Arena Wireless Mic is now available for $100, which is in the middle of the price range for the best gaming microphones. However, this isn't a gaming microphone; it's more of a niche product and I'm not sure it has a niche.
Design and Comfort of Mic
The Arena Wireless Mic is a wireless on-ear microphone designed for use with speakers. SteelSeries' new Arena speakers, specifically, but it will work with any speakers there is no special interaction with the Arena line. The Arena Wireless Mic is made up of a supercardioid microphone attached to a flexible arm and a battery pack that sits behind your ear. A flexible earhook holds the battery pack in place and can be swapped out for a better fit based on your ear size.
A USB-C charging port, a small indicator LED, as well as a multi-function power/pairing/mute button are located on the back of the battery pack. Holding down the button for one second activates the microphone; tapping the button while the microphone is activated toggles mute/unmute. When the microphone is muted, a red light appears on the mic itself; the light is bright enough to see out of the corner of your eye while wearing the mic, even with the pop filter in place.
The Arena Wireless mic includes three different sizes of flexible ear hooks (small, medium, and large), a 2.4-GHz wireless USB-C dongle, a USB-C to USB-A converter, a pop filter, as well as a USB-C to USB-A charging cable. The ear hooks are easily interchangeable and attach to the microphone with a simple twist. Wearing the Arena Wireless Mic is fine, it's comfortable, mostly because it's so light you won't notice it's there. However, the earhook's fit wraps around the front of your ear and tucks under the antihelix isn't particularly secure (and this will also vary based on ear anatomy).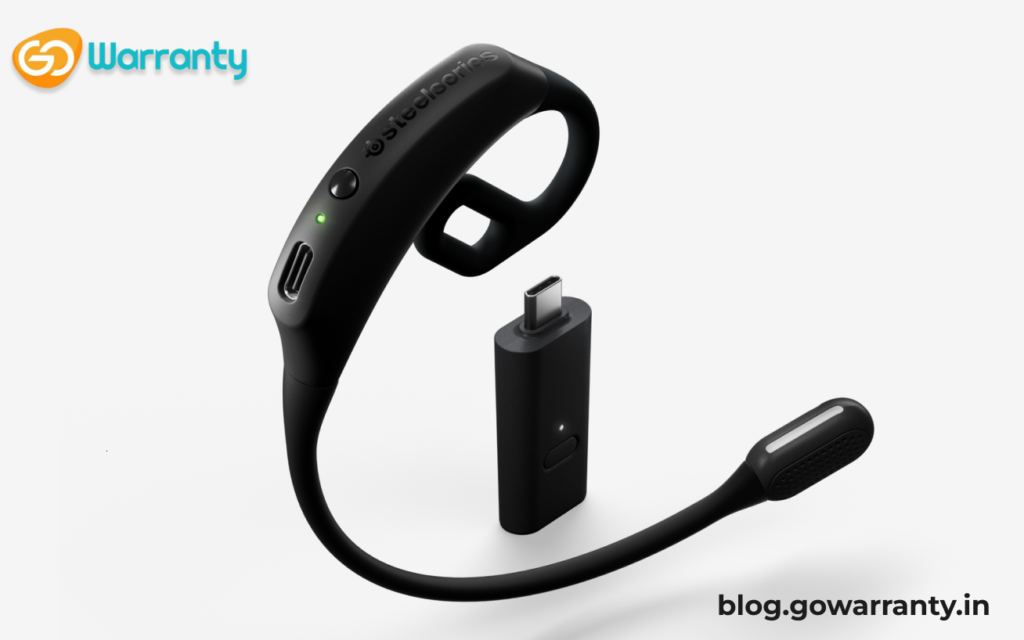 Performance
The Arena Wireless Mic does have a supercardioid (unidirectional) polar pattern with a 150-degree acceptance angle narrower than a standard cardioid mic's 180-degree acceptance angle. This allows it to pick up only your voice even if music, gunshots, and teammate chatter are blasting through a surround-sound speaker setup.
Over the course of a week, I tested the Arena Wireless Mic in a variety of situations: work conference calls, group video chats with friends, online gaming with strangers and it performed remarkably well. None of my colleagues, friends, or randomly-assigned teammates could tell I wasn't wearing headphones when my speakers were set to a reasonable volume. This was true regardless of what was playing through my speakers music, explosions, voices, etc.
Software
The SteelSeries Arena Wireless Mic doesn't require software to function and, in fact, doesn't come with any  it doesn't have a profile or settings in the SteelSeries GG Engine, but it does appear as a standard input in Sonar, SteelSeries' relatively robust companion software for its audio products (headsets, speakers, mics).
Sonar includes an independent 10-band microphone EQ that you can use to adjust how your voice sounds (a few presets with names like "less nasal" and "broadcast high pitch" are included if you're not sure where to start). There are also noise-reduction settings that you may or may not require, such as AI-powered noise cancellation (still in early access). These settings help improve noisy environments on headset mics (albeit at the expense of audio quality), but they weren't as necessary with the Arena Wireless Mic, which isolates noise well on its own.
Battery Life
The Arena Wireless Mic has a 4.5-hour battery life, which is probably disappointing when compared to the best wireless headsets, which can last anywhere from 24 to 300 hours. But this is a microphone, not a headset, and it's much, much smaller and lighter than any gaming headset. There aren't many (if any) wearable wireless gaming mics on the market; lavalier mics can last six to ten hours, but they also have larger, heavier hidden battery packs.
Given how light the Arena Wireless Mic is, 4.5 hours of battery life isn't particularly impressive, but it's adequate. Of course, this isn't going to make you feel any better if your mic goes out during a marathon streaming session. Fortunately, the Arena Wireless Mic has a quick-charging feature (15 minutes equals one hour of use) and can be used while charging. The status LED on the battery pack of the microphone flashes different colours to indicate remaining battery life (green, yellow, and red); when the battery is extremely low, the red mute LED on the microphone blinks rapidly.
Verdict
The Arena Wireless Mic is…unusual. It has a lot going for it: it's light and comfortable, and it works perfectly with speakers. But that's what appears to be a speaker accessory, not an extra $100 purchase on top of a $550 speaker system.
The Arena Wireless Mic excels at voice isolation for chatting, video conferencing, and casual streaming. However, it is not as versatile as the HyperX QuadCast; it lacks multiple polar patterns, cannot record in hi-res 24-bit/96 kHz like the Beyerdynamic Fox USB Studio Microphone, and cannot be mounted on a boom (or even switchers to the right side of your face). If you insist on hearing all audio loudly and through surround-sound speakers, the Arena Wireless Mic might be for you; otherwise, you might want to put that $100 toward one of the best gaming headsets.