There has been a significant shift in the way brands design headphones in recent years, particularly when it comes to exercise. It is no longer necessary to keep people in the zone by isolating them from the outside world, but rather to provide them with audio options that allow for improved safety and awareness without compromising sound quality. JLab has now entered the fray with its innovative Open Sport Open-Ear Wireless Earbuds.
These headphones offer the best of open-ear technology with the brand's great sound quality for a reasonable $80. They're designed for exercise, with an IPX4 rating that makes them water- and sweat-resistant enough to work out in, as well as up to 17 hours of battery life, but they'll also look good in the office, while working from home, or in any other situation where you want to stay at least partially tuned in.
2 in 1 Design
JLab's Open Sport Open-Ear Wireless Earbuds are unlike other open-ear or bone conduction audio products in that they include two styles for the price of one. You can use them as traditional over-the-ear wireless headphones, or you can swap the ear hooks for the clips stored on the back of the charging case to connect them to a pair of glasses or sunglasses (similar to the brand's JBuds Frames). As someone who works out outside in a hat and sunglasses on a regular basis, the option to remove anything that adds extra bulk around my ears is extremely appealing, especially since I can still use the ear hooks whenever I want.
Audio Quality
The JLab Open Sport offers pretty incredible sound quality for a $80 pair of open-ear headphones. The pounding bass of my favourite workout songs came through loud and clear, though it's nowhere near as clear as the in-ear AirPods Pro or the Sony LinkBuds S. Furthermore, JLab's buds lacked the tinny quality found in bone conduction headphones such as the Shokz OpenRun Pro. Each earbud has a 14.2mm driver, which is more than twice the diameter of a standard earbud.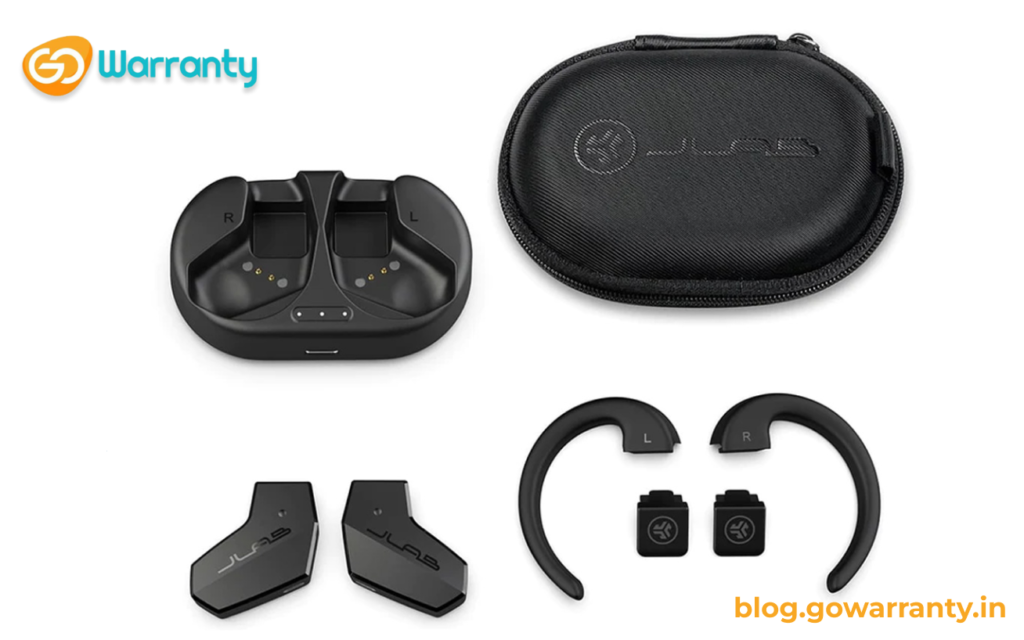 You can also switch between two equaliser modes: Signature (for amplified vocals and bass) and Balanced (for even sound across all curves). They come pre-set on Signature mode, which I prefer for working out; the brand recommends Balanced mode for podcasts, audiobooks, and classical music.
Increased Battery Life
With 7 hours in each bud and 17 extra hours in the case, you'll be able to move around all day without needing to charge. Let's be honest: do you really listen to music and podcasts for 24 hours a day? Depending on how frequently you tune in, JLab's extended battery life can keep the vibes going for several days. That's some serious battery life right there.
Flexible Earhook
JLab, the #1 sports headphone brand, understands the importance of a secure, comfortable sport fit. The earhook will conform to the shape of your ear while remaining stiff enough to provide a secure fit. Even the most strenuous activities will not cause the bud to fall off with a simple pinch of the hook. Your Open Sport earbuds stay with you throughout the day, whether you're training for a triathlon or crushing the half pipe.
Connect To Many Devices
Bluetooth Multipoint will come in handy in this multi-device world. Connect to two devices – mobile, tablet, laptop, and/or computer at the same time. Without missing a beat, switch from a computer movie to a phone call.
The Fit
While the 2-in-1 design is appealing, the fit for both options could be improved. The ear hooks are easy to bend, which in theory allows for a highly customised fit, but no matter how much I fiddled with them, I couldn't get them to sit comfortably on my ear. Even when I found a fit that didn't move during a run, the bulkier base (which contains the speaker) would irritate the outer parts of my ear canal. They're also heavier than the transparency-enabled Jabra Elite 7 Active earbuds as well as the open-ear JVC Nearphones, and similar to the Shokz OpenRun Pro bone conduction headphones at 14 grammes each.
When I removed the ear hooks as well as snapped the speakers onto a pair of sunglasses, the fit was much more comfortable. Although the two clips can be adjusted to three different widths, I found that using them with thicker sunglass arms seriously jeopardise the security; at one point, one speaker came right off when I went to put on the glasses. However, once I found a pair of sunglasses with slimmer arms, they stayed put for an hour-long run. (They were also compatible with my regular prescription glasses.)
The Touch Sensitivity
JLab's Open Sport Open-Ear Wireless Earbuds, like the more expensive Sony LinkBuds S and less expensive JVC Nearphones, feature touch controls that allow you to adjust the volume, skip tracks, answer calls, and use voice assistants. Each action necessitates a series of taps to the upper portion of the base (one tap to change the volume, two taps to play/pause music, press and hold to reject all, and so on). It took some trial and error to get the headphones to respond to my touch; sometimes it worked, sometimes it required a larger swipe.
Verdict
It's always exciting when a brand does something that no one else on the market does, and JLab's unique dual design is one that no one else on the market offers. The fact that they are reasonably priced is just icing on the cake. In fact, they're a great substitute for the similarly priced JVC Nearphones, except that you can't attach them to your sunglasses. However, JLab still needs to improve the fit and touch capabilities, so I wouldn't recommend these to the most intense athletes; the danger of losing them mid-workout as well as fumbling around to change the song or volume while trying to stay focused is too high. For others, however, the novelty may be sufficient to outweigh the areas that still require improvement.