For nearly a decade, Sony has been producing full-frame E-mount lenses. As a result, it now offers a diverse range of standard zooms encompassing the 50mm focal length to suit a variety of applications and budgets. The zoom range ranges from the compact 28-60mm f/4-5.6 to the versatile 24-240mm f/3.5-6.3. The new Sony FE 20-70mm F4 G, on the other hand, does something a little different, with an unusually wide field of view.
Price
While this appears to be a spiritual successor to the venerable Sony FE 24-70mm F4 ZA OSS – one of Sony's first four FE lenses – the price will undoubtedly cause pause. Sony wants £1400 for the 20-70mm f/4 lens, which is, to be honest, ridiculously expensive. In comparison, the Sony FE 24-105mm F4 G OSS costs £999, while the Sony FE 20-70mm F4 G costs £749. If you already own a standard zoom and want to upgrade to a wider lens, the Sony FE PZ 16-35mm F4 G costs £1299, the older Sony FE 16-35mm F4 ZA OSS costs £1149, and the superb Sony FE 20mm F1.8 G costs £949. There are also plenty of low-cost wide zooms and 20mm primes available from third-party lens manufacturers.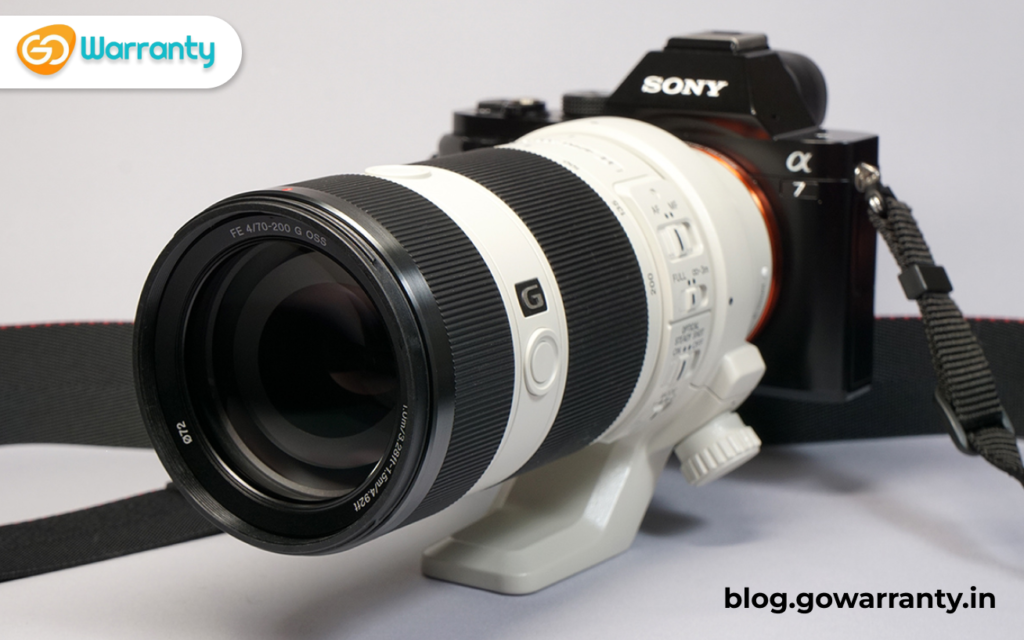 Features
Before we get into the lens's features, it might be helpful to clarify a few things that it lacks. It's not a power zoom, like last year's 16-35mm F4 G, but instead uses a conventional mechanical zoom control. This will most likely please still photographers but may make it less suitable for vloggers. Also it lacks optical stabilisation, instead relying on the in-body image stabilisation found in all but the most recent Sony full-frame mirrorless models.
The 20-70mm f/4 lens has 16 elements in 13 groups, including two Advanced Aspherical, one aspherical, three extra-low dispersion (ED) glass, as well as one aspherical ED lens. These are arranged to reduce chromatic aberration while maintaining corner-to-corner sharpness, with software corrections removing distortion and residual colour fringing.
The lens is built to be dust and moisture resistant, with an O-ring seal around the mount. The front element has a fluorine coating that repels fingerprints and raindrops. The minimum focus distance is 30 cm to 25cm, with a very useful 0.39x magnification at the long end. A petal-style plastic hood is included for storage, but it blocks the focus ring in this position. The filter thread is 72mm in diameter.
Design
The Sony FE 20-70mm F4 G is a mid-range lens that falls below the premium G Master line, as indicated by the 'G' in its name. It measures 79mm in diameter, 99mm in length, and weighs 488g, making it slightly larger than the company's 24-70mm f/4 but noticeably smaller than the 24-105mm f/4. The barrel has a plastic skin to help keep the weight down, but it still feels solidly built. Internal focusing is used, with the front extending by 4cm when zoomed to 70mm.
The central zoom ring is the widest of the three control rings and is perfectly positioned to be grasped with your left forefinger and thumb. The manual focus ring, like the zoom control, is located in the front and has a ridged rubberized grip. Because the focusing is electronic, the ring rotates continuously with no end stops.
The aperture ring, located closer to the camera, clicks in one-third stop steps from f/4 to f/22 which can be switched to clickless mode for video shooting. If you prefer to maintain operational consistency with lenses that don't have aperture rings, it also has an A setting that returns control to the camera body.
Autofocus
Sony has driven the focus group with two XD (eXtreme Dynamic) linear motors, promising fast and quiet autofocus as well as tracking for both stills and movies. In practise, the AF is as quick and precise as we've come to expect from Sony. It snaps into focus almost instantly with static subjects; for tracking moving subjects, I found it kept up whatever the camera asked of it.
Of course, there may be times when you'd prefer to focus manually, such as when selecting a specific depth in a layered three-dimensional scene. Sony's Linear response MF pays dividends in this case, as it has a similar intuitive feel to a mechanical manual-focus ring. Rotating the focus ring automatically activates magnified live view, which always produces the most precise results.
Performance
When looking at real-world images taken with the Sony FE 20-70mm F4 G, it quickly becomes clear how Sony was able to fit this zoom range into such a small package. To deliver properly rectilinear images, the company used a modern optical design that relied heavily on software distortion correction. There is no way to turn this off in-camera; the Distortion Comp. setting is set to 'Auto,' so you'll see perfectly straight lines in both the viewfinder and the camera's JPEG output. Many users will never notice or care what is going on.
However, significant distortion can be seen in raw files, which requires a tailored lens profile to correct because Sony does not embed the necessary correction metadata. In Adobe Camera Raw, I discovered massive native barrel-type distortion at wide angle, to the point where the image circle doesn't quite cover the entire sensor. This effect diminishes as you zoom in, with a neutral position at around 32mm.
Verdict
Leaving aside the price for the time being, the Sony FE 20-70mm F4 G is a fine optic that produces sharp, detailed images even when paired with Sony's high-resolution full-frame bodies. It's a lens I had a lot of fun with, with its extended wide angle range as well as impressive close-up capability providing useful extra creative scope over a standard 24-70mm zoom. That 20mm wide end may seem limiting in comparison to a 16-35mm ultra-wide, but it's plenty wide for me most of the time. This lens could easily become a favourite of landscape photographers who prefer to travel light.