Nikon AF-S Nikkor 24-70mm f/2.8G ED first appeared in 2007, and its high quality performance made it an instant hit. However, as the megapixel count of cameras increased, there was a need for even higher performing optics, which led to the release of the AF-S Nikkor 24-70mm f/2.8E ED VR in 2015.
The AF-S Nikkor 24-70mm f/2.8E ED VR was released with a suggested retail price of $2400/£1849, a significant increase over its predecessor. It is currently available for $2097/£2099 on the open market. However, the new lens has a number of impressive features. It was Nikon's first lens to include an aspherical extra-low dispersion (ASP/ED) element. It was also outfitted with Nikon's Vibration Reduction (VR) image stabilisation technology, which claimed a 4EV improvement.
Features
The lens has a completely new design, with 20 elements in 16 groups, as opposed to the previous G version, which had 15 elements in 11 groups. More telling is the debut of a new Aspherical Extra-Low Dispersion (ASP/ED) element on a Nikkor lens for the first time. This is combined with Nikon's aspherical, ED, and High-Refractive Index (HRI) elements, as well as the Nano Crystal Coat, which is used to reduce ghosting and flare. When all of this is combined, it promises to deliver new levels of optical precision. Furthermore, the front and rear elements have a fluorine coating that repels water, dust, and dirt while also making cleaning easier without damaging the elements.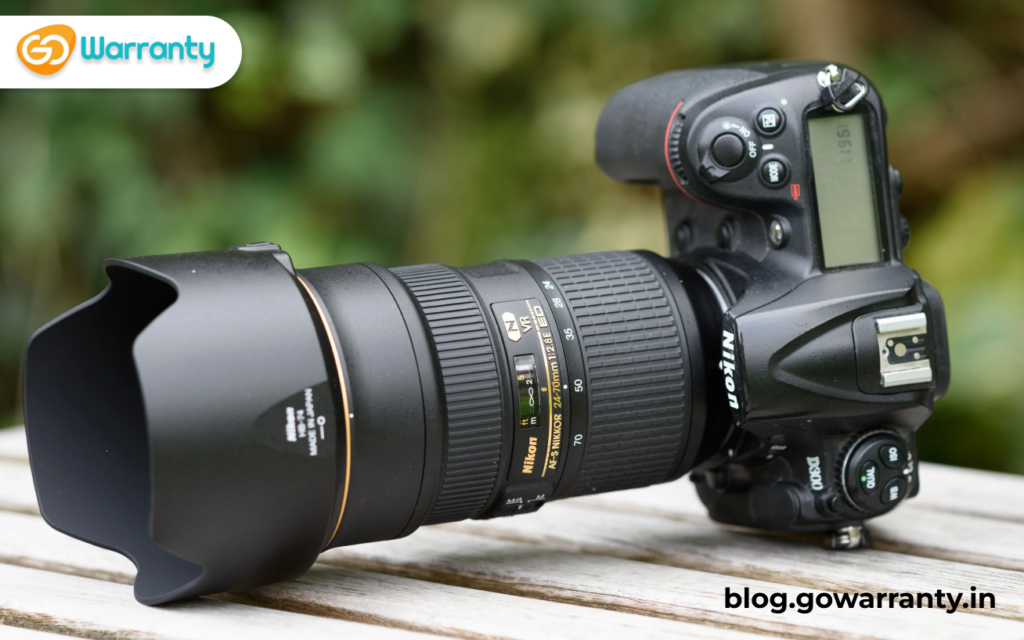 The new 24-70mm features an electromagnetic diaphragm (denoted by the letter 'E') that is designed to provide highly accurate control of the lens's rounded diaphragm blades to ensure more consistent exposures during continuous shooting, as seen on recent Nikkors. To return to diaphragm blades, the design includes nine aperture blades, as one would expect from a lens of this calibre.
Autofocus
While the new lens has the same AF-S designation as other Nikkor lenses, the silent wave motor (SWM) has already been completely redesigned, with Nikon claiming that it is 50% faster than the previous model due to a smaller and more powerful design.
I've had and used the Nikkor 24-70mm f/2.8G for about eight years and have never had any issues with the AF performance, but the new lens's lightning-quick AF acquisition is incredible, locking on to subjects noticeably faster. It almost goes without saying, but the focus noise is nearly impossible to detect in everyday use, only becoming audible when conditions are near silent.
Design
This is a big lens any way you cut it. The size of the filter thread, the redesigned lens architecture, as well as the addition of VR and other technologies, has meant that there is more to squeeze in. This has resulted in a beefy lens that now weighs 1070g and measures 154.5 x 88mm, in comparison to the 24-70mm f/2.8G, which now measures 133 x 83mm and weighs 900g.
Two switches are grouped together on the lens's side. The top switch allows you to switch from autofocus to manual operation with almost no time lag, regardless of the AF mode you're using. Below that is the VR switch, which allows you to choose between Off, Normal, and Active VR modes. As previously stated, the switches are clearly labelled, but because they are identical to touch, if you have the camera raised to your eye, it is not immediately clear which switch you are selecting if you are working quickly and solely on feel.
The build quality is excellent, as you'd expect from one of Nikon's top-tier lenses. Nikon claims the lens has been subjected to a series of shock tests and inspections on movable parts of the lens barrel to ensure it can withstand the demands of daily professional use.
Image Quality
With a focal range of just under 3x from wide angle to telephoto, the optics are not subjected to the same demands as other lenses, but results must be precise in order to meet the demands of professionals. According to the real-world shots I took with this lens, the centre sharpness in images taken at 24mm wide open at f/2.8 is very good, though the edges of the frame are a little soft. Stop the lens down, and the sweet spot for those who want to shoot at the wide end of the lens appears to be around f/8, when the sharpness across the image is very impressive.
At 35mm and wide open, the results are even sharper, and while edge sharpness suffers slightly, it's still a very strong performance, with the best overall results appearing to come at f/5.6. It still performs well at f/8, and while sharpness begins to fade after that, it remains very strong at f/11. At 70mm, it doesn't quite deliver the same levels of sharpness, with the centre at f/2.8 only just matching the edges at 35mm. However, stopping down the lens to f/5.6 results in a significant improvement, with the centre matching results at 24 and 35mm.
Verdict
The Nikon AF-S Nikkor 24-70mm f/2.8E ED VR had a lot to live up to, especially given that it was larger, heavier, and more expensive than its predecessor. There is no doubt, however, that this lens has superior optics.
The addition of VR makes it a more appealing option for still and video photographers. As a result, the design is slightly bulkier, but the handling remains excellent. The sturdy build quality is also impressive. Then there's the autofocus – the speed of AF acquisition is truly impressive, and it's a significant improvement over the previous lens.
While vignetting is an issue wide open, the resolving power of the lens, particularly in the centre of the frame, is excellent throughout the zoom range, and there's no doubt that the optical overhaul this lens has undergone has paid off. At $2097/£2099 for a new Nikon AF-S Nikkor 24-70mm f/2.8E ED VR, this is a significant investment that should not be taken lightly.