The Samsung Q60B QLED TV uses quantum dots and LEDs to improve colour and contrast. However, the results are mixed with this entry-level model, which does not stand out. Some picture-quality issues, including HDR colour, as well as issues with the smart TV interface and remote control, do not help.
There are some things to like about the Q60B, as well as given its low price (INR 45,000 as tested), many flaws can be overlooked even if some of its better-performing competition costs less or slightly more. The 43-inch model we reviewed is ideal for supplementary use by children or guests, or as a dedicated gaming TV. However, this set falls short of making our list of the best televisions.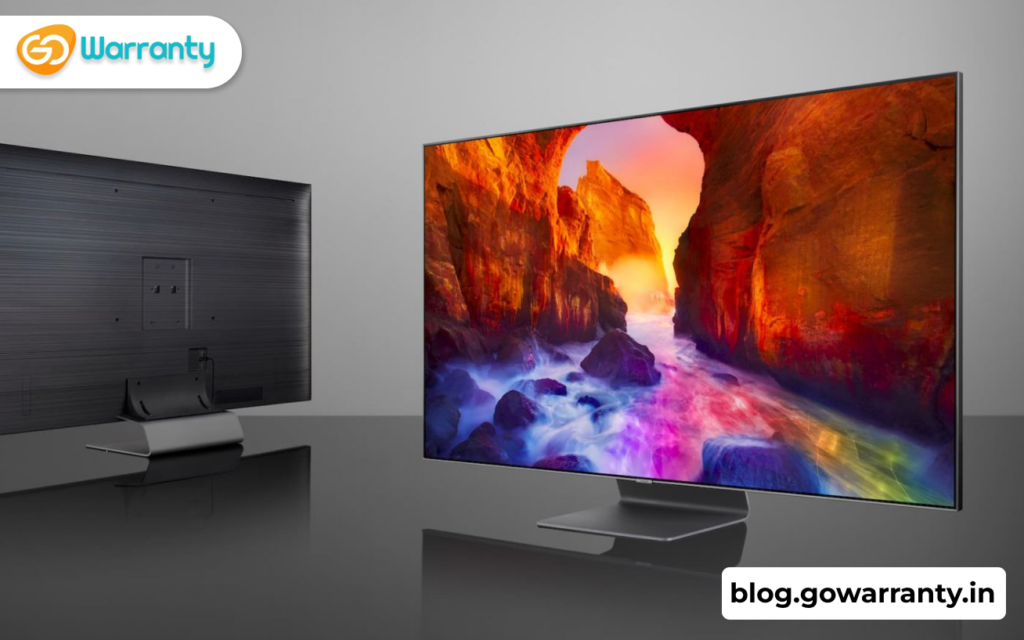 Price and Availability
The 43-inch model we reviewed is the smallest and least expensive in Samsung's Q60B line of TVs, which comes in eight sizes. The complete set is:
Samsung Q60B QLED TV (QN43Q60BAF): INR 45,000
Samsung Q60B QLED TV (QN50Q60BAF): INR 53,299
Samsung Q60B QLED TV (QN55Q60BAF): INR 57,399
Samsung Q60B 60-inch QLED TV (QN60Q60BAF): INR 65,599
65-inch Samsung Q60B QLED TV (QN65Q60BAF): INR 77,999
70-inch Samsung Q60B QLED TV (QN70Q60BAF): INR 81,999
75-inch Samsung Q60B QLED TV (QN75Q60BAF): INR 98,399 and INR 1,47,499 for the 85-inch Samsung Q60B QLED TV (QN85Q60BAF)
Performance differences between TVs with different screen sizes can be significant. So, while the technologies integrated into the 43-inch Q60B will be consistent across the family, and we expect performance to be comparable across screen sizes, larger TVs may yield better results.
Design
Even among less expensive TVs, the Q60B is not particularly stylish. The screen of our 43-inch review model was framed by one-eighth-inch bezels on the left, right, and top, and another one-third-inch bezel on the bottom, all of which were bevelled outward to make the 18.5-pound, 38-by-22-by-1-inch TV appear larger than it is.
In terms of reducing waste, Samsung deserves credit for the TV stand: The two feet connect to the bottom of the set on the lower left and right without the use of screws, making them simple to put on and take off. The other option is to wall-mount the TV using the 200-by-200mm VESA holes that serve as the only distinguishing feature on the black rear panel.
Ports
The power cable connects to a port on the rear panel's centre left. On the right are two USB (0.5A and 1A), one Ethernet, two HDMI (one supporting eARC), and a coaxial cable connector, all angled out the side, and also another HDMI port and the S/PDIF audio output facing straight out the back about 1.5 inches closer to the centre.
Performance
How well do Samsung's claims about the QLED technology in the Q60B delivering a better picture translate to real-world performance? To find out, we used an X-Rite i1 Pro spectrophotometer, a SpectraCal VideoForge Pro pattern generator, and Portrait Displays' Calman calibration software on the set.
One obvious advantage was the SDR brightness. The Q60B achieved 378 and 315 nits in Standard and Filmmaker modes, respectively excellent results for a smaller TV. (Only the 50-inch Vizio M-Series Quantum outperformed it in Standard mode, with 499 nits but Samsung easily outperformed its "best" mode result of 121 nits.)
Audio
Gaming
Samsung's gaming-focused features may be a matter of personal preference. I like the Game Bar, which appears when the TV is in Game picture mode and allows you to quickly change settings for input lag, game type, minimap zoom, sound output, and other things. However, the Gaming Hub, an attempt to create a home screen for all your games in the same way that the main menu does for things you watch rather than play, borders on the irritating, adding more steps to starting a game, managing your music, or performing other related tasks. If your patience and current gaming library are both infinite, you might get something out of this, but it has many of the same issues as the rest.
Smart TV Interface
The Q60B, like all recent Samsung TVs, employs the company's Tizen smart TV interface. It surfaces a lot of apps and content, putting the latter up front where it's easy to access, and it's visually appealing overall.
However, Tizen's somewhat sprawling and overly dense menus, which are used for both basic TV functionality and exploring internal options, slow down the TV and reduce its utility. Everything seems to take a little longer than it should, whether you want to access the Inputs or Settings pages (which require at least two or three button presses rather than just one on almost every other TV system) or even the content search function.
Remote
The SolarCell Remote, which is new from Samsung this generation, is exactly what it sounds like: a remote control (black plastic, 6.3 inches long) powered by a miniature solar panel. You can charge the remote quickly in the sun or slowly indoors, and a notification in the "Power and Energy Saving" panel of the Settings tells you how much battery life the remote has left.
Verdict
Even for a low-cost TV, the Samsung Q60B QLED TV could be better, particularly in terms of picture quality. If you want to bask in the awesomeness of cinematography, this is not the set for you. But that doesn't mean it's unsuitable for anyone. It serves its purpose. It sounds reasonable for what it is. And it's surprisingly good at video games. These aren't insignificant and for a low-cost gateway TV, they mean a lot. In terms of sound and gaming performance, it outperforms the less expensive Sony X80K.