Gamers will vouch that everything about gaming has unfolded at lightning speed in the past few years. Advanced gadgets such as monitors, CPUs, graphic cards, and high-speed processors have supported new three dimensions HD graphic games.
Samsung Odyssey Neo G9
Gaming has evolved into new formats – where gamers no more are limited to playing against a computer program like in the 90s and early 2000. Today, people engage and compete against each other as teams and individuals. Today, games are being played on laptops, smartphones and desktops by downloading apps that come with high-end and high-definition graphics.
Thus, gadgets and infrastructure has undergone a revolution, too, keeping pace with the needs of games and gamers. One such electronic gadget is a monitor. What started as displaying unit; today, a monitor is about the experience, not just limited to its core viewing role. The latest advancement is in the curved display space.
In an attempt to outdo the competition, companies are investing heavily to provide a better experience to their core buyers -the gamers.
Today displays are all about sharper images, multiple colors in HD, and a large area. One such recent release is the Samsung Odyssey Neo G9 Curved Gaming Monitor With Quantum Mini LED Technology.
Early this year, Samsung unveiled the world's first mini-LED gaming monitor, Odyssey Neo G9, with Quantum Matrix technology. According to gaming experts, "the gaming monitor comes with a curved display and supports Quantum HDR 2000 for an immersive gaming experience."
Samsung unveiled the world's first mini-LED gaming monitor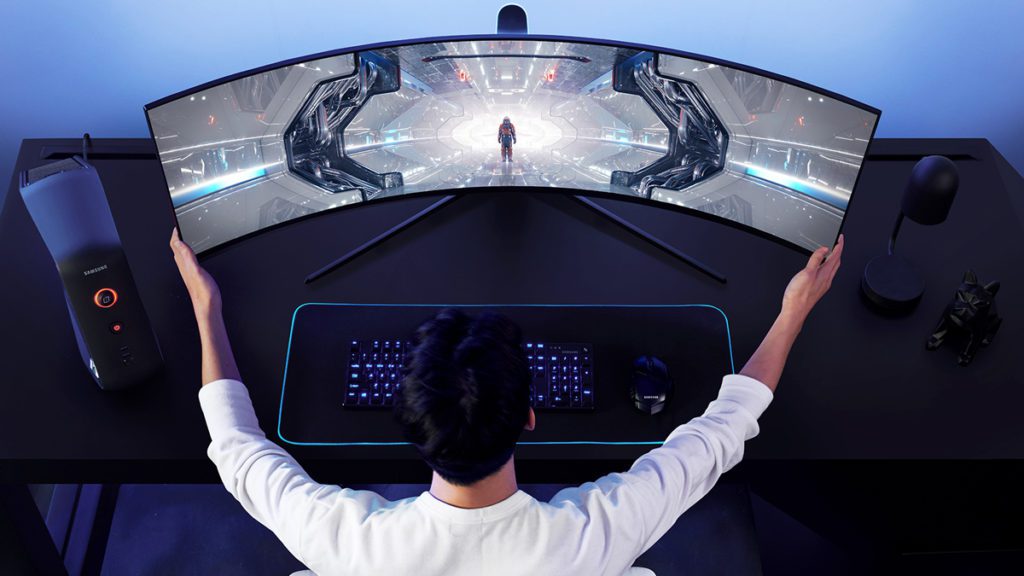 Industry experts suggest that the Samsung Odyssey Neo G9 is "a next-generation monitor that promises to deliver an unparalleled, immersive experience." This basically means the latest Samsung monitor can take the gaming experience a few notches up.
Now, you may be wondering what does it really mean? So to put it in layman language. The "curved, ultra-wide 49-inch display, and Quantum Matrix Technology" makes "dark areas darker and bright areas brighter", giving viewers an ultra-realistic experience.
Extended Warranty on your Samsung Odyssey Neo G9 According to Tech reviewer, "the physical display has a glossy white exterior and features a rear infinity core lighting system which means you can personalize your set-up with 52 colors and five lighting effect options."
As mentioned earlier, displays are no more about viewing – it is about the experience, and now it is about the customisable experience. Today, technology is allowing the consumer to customise the experience as per their choice and preference.
Coming to the all-important question – how much do these high-end monitors cost?
Samsung Odyssey Neo G9 Curved Gaming Monitor With Quantum Mini LED Technology costs upwards of £1,099 or $ 1500 or INR 115,000.
Given the shortage of chips globally – there is every possibility that prices of
Samsung Odyssey Neo G9 Curved Gaming Monitor With Quantum Mini LED Technology too will increase, as is the case with most electronic and electrical goods. Yes, many of you must be wondering – the display is as costly as some television sets. Yes. It is. Thus, it would be a must to buy a warranty that covers the end-to-end risk. So that one does not have to pay twice for the same product.
Where to purchase this monitor? Unfortunately, we may have to wait a little while before we can buy it on Amazon.
Most gamers we know, are not crazy about the games, and teams. However, they are sensitive about their gadgets. They have to know inside out of their gadgets, the technology that is driving it, along with the technical specifications.
For those tech geeks, below are the details of the specification of Samsung Odyssey Neo G9 features as shared by a leading tech portal.
Samsung Odyssey Neo G9 features an ultra-wide 49-inch Dual Quad HD (5,120×1,440 pixels) display with HDR10+ support, 32:9 aspect ratio, 240Hz refresh rate, and 1ms response time. It comes with a 178-degree viewing angle, 12-bit gradation for greater light source control, and the Quantum Mini LED display has 2,048 dimming zones. Quantum HDR 2000 offers a peak brightness of 2,000 nits, with certification from VDE (Verband Deutscher Elektrotechniker), alongside a static contrast ratio of 1,000,000:1. In addition, the 1000R curvature of the monitor has been awarded the TÜV Rhineland Eye Comfort certificate.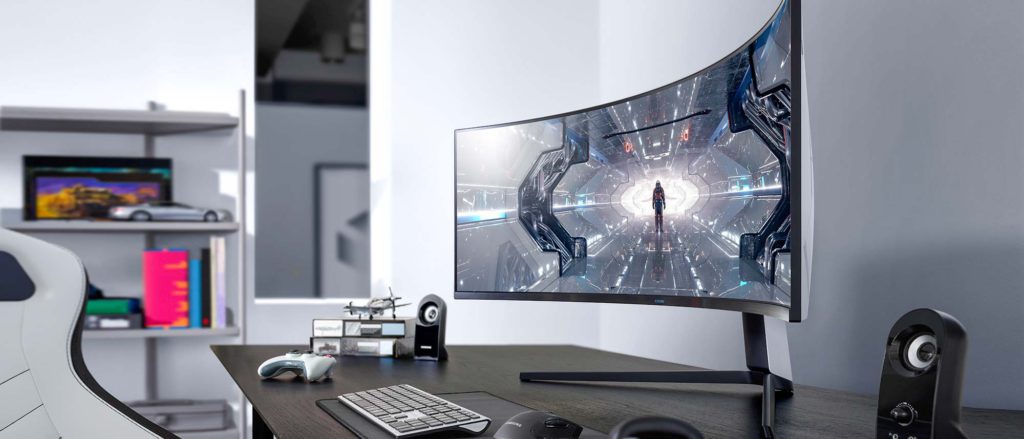 Samsung unveiled the world's first mini-LED gaming monitor
The is not the end of tech upgrade in the monitor space, probably just the beginning. As games evolve, so will the gadgets. Because meeting the need for speed, accuracy, and user experience is of paramount importance to companies.