The Samsung Odyssey Neo G8 (G85NB) gaming monitor is the world's first to feature a 240Hz refresh rate and 4K resolution. This gives it enticing specifications that should pique the interest of any gamer. It's the kind of screen that doesn't make any concessions, and this new Samsung also includes Quantum Mini LEDs and a 1000R curve.
There's a lot to like, but the Samsung Odyssey Neo G8 isn't cheap: it costs £1299 / $1499 / €1499 to have the G8 on your desk. This is unsurprising given that this display clearly targets the best gaming monitors on the market.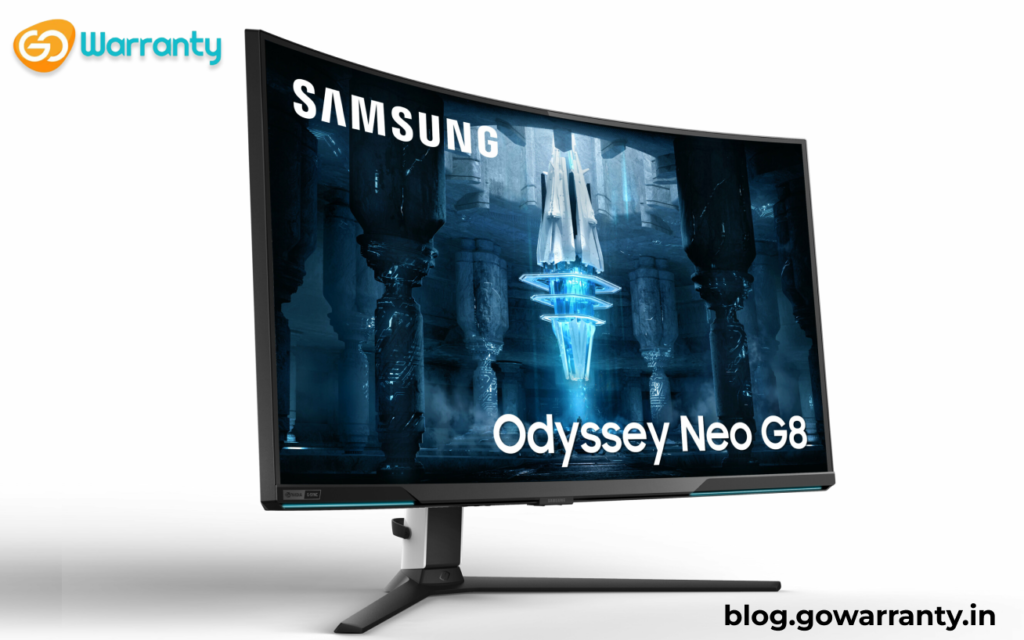 Design and Features
The Neo G8 has a 32-inch diagonal, a 16:9 aspect ratio, and a 3840 x 2160 resolution. The 32-inch diagonal is large enough to be absorbing without becoming overwhelming, which is common with large displays like the G9 or Samsung's upcoming Ark. The 4K resolution has an excellent density level of 137.68ppi, which means the G8 delivers pin-sharp imagery.
That resolution ensures that games are detailed and that there is enough space for apps, as well as the 16:9 aspect ratio works well for media and all gaming genres. However, if you primarily play racing games, you should consider the larger G9 or Alienware panels.
The G8 has the same 1000R curve as the rest of the Odyssey line. I'm always pleased to see a 1000R curve – the shape corresponds to the curvature of the human eye, which aids the G8 in delivering consistent imagery, and gaming is more immersive than on panels with gentler curves or flat displays. Outside of games, the curve is unobtrusive, though people who work in colour-sensitive applications should still choose flat panels.
Ports
There are two HDMI 2.1 ports, one DisplayPort 1.4 connection, and two USB 3.2 Gen 1 ports at the back, but they all face downwards and there is no USB-C connectivity. The G8 lacks speakers and a headphone jack, but it does have a standard cable-routing hole.
Display
Quantum Mini LEDs are hidden beneath. They are Samsung's take on the popular mini-LED hardware found in televisions. These tiny LEDs can turn off on their own and operate at various brightness levels. The G8 contains 1196 LEDs, allowing Samsung to create complex and diverse backlighting patterns that easily outperform traditional, blunt-force backlighting technologies.
Graphics
The underlying panel is a VA display with 10-bit colour and a 1ms response time, and the rest of the G8's specs are impressive. AMD FreeSync Premium Pro boosts the 240Hz refresh rate, so it works on both Nvidia and AMD graphics cards, and if you're a top-tier eSports player, you'll only want to look at 360Hz panels like the 1080p Asus ROG Swift PG259QNR.
Keep in mind that the Neo G8 will require a particularly powerful graphics card to function properly. To run 4K games at 240Hz, you'll need an Nvidia GeForce RTX 3080 Ti or RTX 3090 card, or one of AMD's equivalents. This is a costly and potentially scarce investment.
Of course, the graphics situation is determined by the games that you wish to play. The latest eSports titles will now run at 4K and 240Hz on a wider range of GPUs, but most single-player, top-tier games will simply not run smoothly at 4K and 240Hz, regardless of graphics card – unless you make settings compromises. Having said that, the GPU market will undoubtedly reach that point. So, if you're willing to spend four figures on a monitor and a graphics card, you'll most likely keep the hardware for a long time.
Image Quality
The G8's brightness level of 192 nits was paired with a brilliant black point of 0.02 nits right out of the box – an instant demonstration of those Quantum Mini LEDs. The resulting contrast ratio of 9600:1 is incredible, far exceeding that of a typical VA or IPS display. The Neo G8 produces punchy, vibrant images with incredible depth that rival the best OLED panels – games look fantastic. The Quantum Mini LEDs also have excellent uniformity: the brightness varies by only 7.7%.
The G8's Delta E of 2.17 ensures accurate colours, and the colour temperature of 6065K is reasonable – a little warm, but not warm enough to interfere with games. The G8 performed admirably in HDR titles. Its consistent peak brightness level of 1411 nits combined with a 0.02-nit black point results in a monstrous 70,550:1 contrast ratio, demonstrating what those Quantum Mini LEDs are capable of. When you combine the massive brightness and contrast with the nuance provided by those LEDs, you get a display that performs admirably in HDR games.
In short, the Neo G8 delivers stunning image quality alongside its high-end specifications – nothing else currently competes with 16:9 displays. Its HDR capability outperforms the Neo G9, and the G8 performs similarly to its larger stablemate in other tests. Not surprisingly, the Neo G8 consistently outperforms the Alienware in HDR image quality and contrast performance tests, despite the fact that both perform well with SDR colours.
Verdict
No other gaming display offers this combination of features. If you spend this much money elsewhere, you'll get 16:9 panels with feature sacrifices or widescreens that are better for racing games but much less impressive in other genres. I'd recommend the Neo G9 for racing because its image quality is comparable to that of the G8 – the Alienware is cheaper, but its image quality is inferior to both.
Due to its physical flaws, the Neo G8 isn't perfect, and you'll need to make sure you have a graphics card capable of driving this display – or the budget for one when new GPUs become available. However, if you want incredible SDR and HDR image quality and a long-lasting specification, the Neo G8 is the one.