Modern design meets an Ultra HD panel. The Lenovo L32p-30 is a display designed to provide an immersive creative and entertainment experience. Its 31.5-inch Ultra HD (3840×2160) In-Plane Switching display gives gamers and creators a clearer on-screen picture with more detail. Users can connect to a variety of devices via a variety of ports, including USB Type-C, which also provides power delivery up to 75 W. Lenovo Artery software customises the user experience with advanced display settings, like a screen partition option for efficient multitasking.
Design
Lenovo L32p-30 has a very simple, almost "office" design: a practical black matte plastic body with no backlighting or other bright elements on the front (even the manufacturer's logo is on the back of the monitor). Along with the thin line of the image body's side face, an 8 mm wide frame surrounds the sides and top of the screen, making it "invisible" under the protective glass. The stand's functionality is straightforward, with only the tilt of the screen back and forth (-5°..22°) adjustable. The monitor can be wall-mounted if desired; a VESA mount (100100) is located above the stand.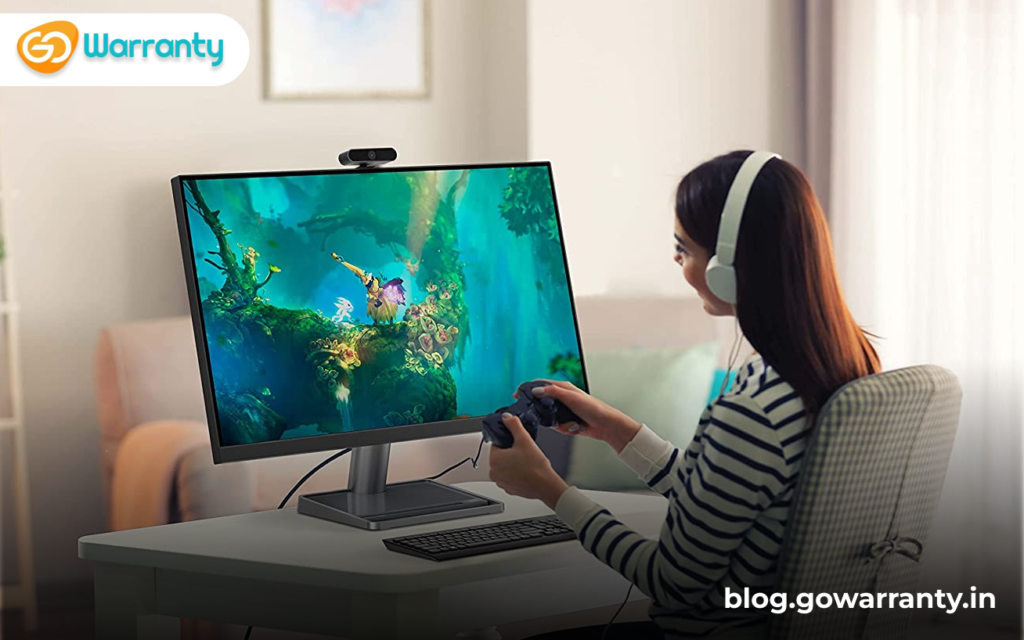 Ports
All video connectors, one DisplayPort 1.2, one HDMI 2.0, and one USB-C, are housed in a small niche beneath the stand mount (DP1.2 Alt Mode). A USB hub with four USB 3.2 Gen1 ports and a minijack for wired headphones are also included. The leg is made of metal, with a cut-out behind it for organising cables and a branded "slit" at the base for storing various stationery items.
Menu
Four hardware buttons in the lower right corner, to the left of the power button, control the Lenovo L32p-30. The first two items in the main menu are image settings: brightness, contrast, overdrive, colour temperature, and various HDR and video mode options. The volume of the built-in speakers (23 W) is adjusted next, followed by a selection of video inputs, and finally, system parameters are collected: on-screen menu settings, monitor information, reset to factory settings, and so on.
Functionality
The Lenovo L32p-30 has an 8-bit 31.5-inch IPS panel with a 16:9 aspect ratio and a 38402160 pixel resolution. The pixel density is 140 PPI, and the point size is 0.1816 mm; this is a very good indicator of image density and font smoothness: individual points on the image can only be seen if you look closely at the screen.
The maximum refresh rate is 60 Hz, which is not ideal for gaming, but the manufacturer has added support for AMD FreeSync adaptive frequency technology, allowing you to still play at your enjoyment. Furthermore, it is unlikely that modern games will be able to achieve more than 60 frames per second at 4K resolution.
Brightness
This monitor's brightness is controlled by changing the current strength; PWM is not used across the entire brightness range, so there is no screen flickering. The Lenovo L32p-30 also has a TÜV Rheinland Eye Comfort certificate, confirming that it does not tyre the eyes and allows you to work comfortably for extended periods of time.
The monitor can be controlled not only through the OSD, but also through the Lenovo Artery utility. It lets you change all of the monitor parameters that are available in the on-screen menu, but it's much more convenient.
Image Quality
If viewed from a typical PC user's stance, the screen coating is "semi-matte," with almost imperceptible parasitic reflections on a dark background. When the screen is tilted to the side, it gradually becomes more glossy, but this does not interfere with work. The so-called crystal effect is present, but it is very mild. The panel's response time is typical for a universal IPS monitor: 14 milliseconds in normal mode and 6 milliseconds at the maximum, fourth level of overdrive. It should be noted that noticeable overclocking artefacts appear in the form of dark "plumes" behind moving objects on the screen at the third level.
Glow Effect and Viewing Angles
The glow effect is also typical of IPS: when viewed from the side and above, the black background has a moderate grey glow with a warmer or cooler shade depending on which side is viewed.
Even for a "typical" IPS, the viewing angles are very wide: when viewed from the side, the screen loses a little brightness, but not significantly, while the image quality almost does not deteriorate, the colour saturation almost remains the same, and the colour temperature almost does not change.
Image Options
Different image options are selected at two main points in the monitor settings. First, there's Color, which includes different colour temperature options (warm, neutral, and cold), as well as emulation of sRGB, DCI-P3, and BT.709 spaces. There are also additional video modes in the Scenario Mode menu for working with graphics, video, movie sessions, a mode with a reduced proportion of blue in the backlight, and Panel Native – in the latter, the panel's capabilities in displaying colours are not limited in any way. The manufacturer provides a combination of Panel Native and Color – Custom modes by default, so we'll start there.
The Lenovo L32p-30 lacks gamma adjustments, but the value set by the manufacturer is very close to the standard (2.2), so the user will not need to change it. Colour temperatures can range between 6600K (Warm), 7200K (Neutral), 9000K (Cold), and 7000K. (Custom).
If artificial colour space limitations are not required, the combination of "Panel Native + Custom Color" appears to be the most versatile — in this case, the monitor displays maximum brightness and contrast, saturated colours, and high colour reproduction accuracy, as well as full access to manual adjustments of all parameters.
Verdict
It has High image quality video modes with colour space emulation, USB-C with power supply up to 75 W and a nice design with ability to adjust the image using a proprietary utility which is very good in this price range. Although, the white field and colour temperature are not very uniform across the screen area; the stand is not very functional.
The Lenovo L32p-30 is a 31.5-inch 4K universal monitor for home and work. It has excellent image quality, vibrant colours, and a wide viewing angle. You can connect a laptop to it via the USB-C connector, which will not only transfer images but also charge it. You can buy it if you want some good features but it lacks a little bit in image quality.