The Samsung HW-Q700B Dolby Atmos soundbar is a 3.1.2 sound system with a soundbar and subwoofer, as well as support for Dolby Atmos and DTS:X codecs and an HDMI passthrough port. It's well-equipped for any TV, but it can also be used with Samsung TVs that have Q-Symphony technology to create an even larger soundstage by combining the soundbar's speakers with those in the TV. The Samsung HW-Q700B is essentially a lower-priced version of last year's Samsung HW-Q800A, which was one of the best soundbars of the year.
Sonically, the Samsung HW-Q700B is a significant upgrade over last year's equivalent 700-series soundbar. The Acoustic Beam technology used to deliver Dolby Atmos height-channel sound has been replaced by a pair of wide-range up-firing tweeters. The end result is a far more cinematic presentation which competes with several of the best Dolby Atmos soundbars available today, but at a much lower price.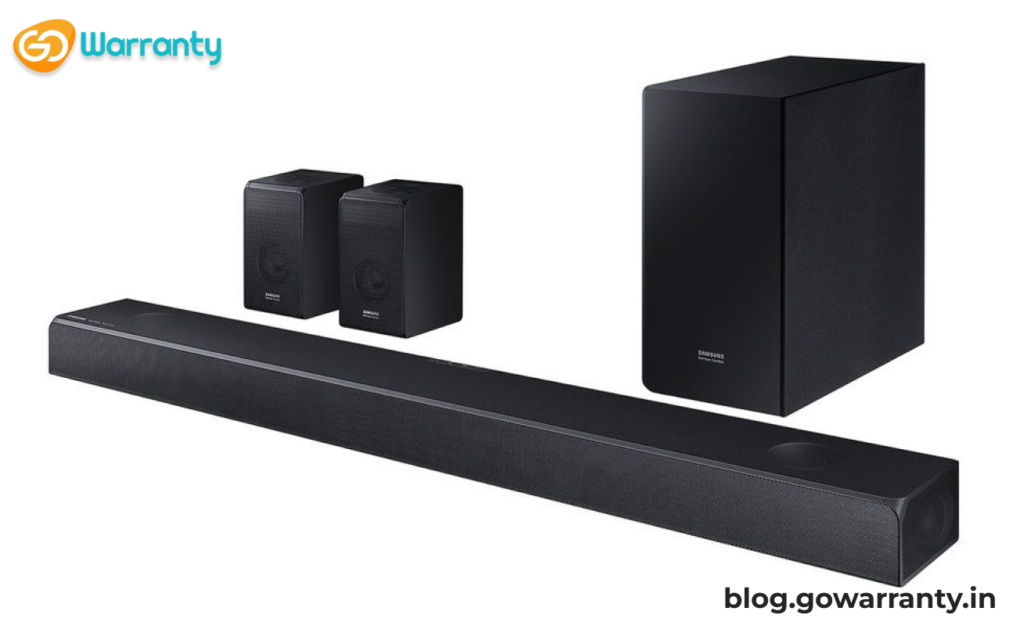 Price and Release Date
The Samsung HW-Q700B is now available for $699 in the United States, £699 in the United Kingdom, and AU$899 in Australia. However, it's now on sale for much less than that – we're seeing it for around $400 / £500 / AU$500. For the price, it's an incredible value. In Samsung's 2022 soundbar lineup, the model is just below the HW-Q800B soundbar. Because of the inclusion of side speakers, this step-up model has a 5.1.2 channel configuration – the main thing missing here is that extra width.
Design
Samsung's 2022 soundbars have a more angular design that is distinctive if not overtly fashionable (softer curves are more on trend, we feel). The overall build quality is good, but there is no nice acoustic fabric on display; instead, this is a sliver of hard plastic. The Q700B is intended for larger screens (55-inches upwards). It is 44 inches (1111mm) wide. The partnering wireless subwoofer is small and decor-friendly, with a fabric front and a port in the back.
Ports
Connectivity is more flexible than has become the norm. In addition to HDMI eARC/ARC, there is an HDMI source input that supports 4k HDR10+ pass-through, making it ideal for connecting a gaming console or 4k UHD Blu-ray player. For legacy TV connections, there is also an optical digital audio input.
Display
The Q700B lacks a detailed status display and an onscreen interface. It communicates instead through a front-facing LED display that can be read through the perforated grille. This is fine when viewed from the front, but it becomes less legible once viewed from the side. On-body controls for volume, source selection, and power are also limited.
Sound Quality
The Samsung HW-700B is an excellent all-purpose entertainer. It can deliver crisp dialogue (which has long been a strength of Samsung's better bars), but it can also slam hard when the action calls for it. It can also cut a rug with Bluetooth music streaming. This two-piece impressed us with its cinematic quality (straight from the box, not augmented with any Q-Symphony embellishment). The subwoofer fills out the lower mid-range and adds guttural thumps. It's not a particularly deep drop, but gunfire and explosions sound reassuringly sharp and dynamic.
3D Audio Immersion
To some extent, 3D audio immersion is beneficial. The use of good drivers for Atmos height channels deserves an unquestionable thumbs up. The Acoustic Beam solution from last year did the job, but on this model, those dedicated drivers provide clear benefits in terms of relating detail and creating presence. The audio upscaling from stereo and 5.1 sources is also impressive.
Features
The Samsung HW-Q700B supports both Dolby Atmos and DTS:X soundtracks, whereas some more expensive soundbars do not (Sonos Arc). The preferred method of connection for this is HDMI eARC, which includes a 4K HDR HDMI passthrough port so you don't lose use of a port on your TV. The Q700B is a SmartThings device that will work with Amazon Alexa (it is not resident, so you will need a separate Alexa smart speaker on your network). It also supports Google Chromecast, Spotify Connect, and Apple AirPlay for wireless music streaming and there's Bluetooth, of course.
If you have a compatible Samsung TV, the Samsung Q-Symphony support is appealing. A soundbar is typically used to replace a television's internal speaker system. When connected, the screen flashes up a message notifying viewers that 'external speakers are active'. Q-Symphony, on the other hand, intelligently allows both of the soundbar and the internal speakers in a compatible Samsung TV to work together, resulting in a larger, louder soundstage.
Performance
When it comes to performance and functionality, the HW-Q700B punches well above its weight, especially if you can find one for less than the list price (which isn't difficult right now). Even as competitors' HDMI provision is reduced to a single eARC connection, Samsung provides the option to directly connect a games console as well as media player and pass the video through to your TV. For this price point, performance is above average. The soundstage is brawny and dynamic, thanks to a well-judged balance between the bar and the relatively compact subwoofer. The cherry on top are Samsung ecosystem perks like Q-Symphony, SpaceFit Sound, and Tap Sound – as long as you have a Samsung TV to take advantage of them.
Verdict
If you want a powerful audio system with room for future upgrades. The Samsung Q700B recognises that you can't always route all of your sources out of the TV via eARC/ARC. The inclusion of an HDMI input could be a game changer for those who are juggling set-top boxes, Blu-ray players, and gaming consoles. The power and dynamic sound here are a significant improvement over almost any TV, and it's a step above most mid-range soundbars. If you buy a Samsung TV after 2020, it may include Q-Symphony, which creates a larger wall of sound with more positional effects. If you own one of these TVs, this is an even better option.