The Hisense A6H, also referred to as the A6 Series or simply the A6, is an entry-level 4k TV in Hisense's 2022 lineup that replaces the Hisense A6G from 2021. It's a budget model that falls between Hisense's ULED series, which begins with the Hisense U6H, and smaller budget models like the Hisense A4H. Although it supports variable refresh rate gaming technology, it is still limited to a 60Hz refresh rate and does not support HDMI 2.1 bandwidth. It's one of the first TVs on the market to feature the Google TV 11 smart interface, which is fast and simple to use, and it has a large app selection, including all major streaming services.
Sizes and Variants
We tested the 65-inch Hisense A6 Series, and our observations apply to the 43-inch, 55-inch, and 75-inch models as well. The 50-inch model differs from the 65-inch model in that it has a different panel type. This results in significantly improved contrast and dark room performance, but a lower viewing angle. Inputs also differ slightly between the 43, 50, and 55-inch models as well as the 65 and 75-inch models. The smaller sizes have three HDMI inputs, but a full-sized composite input with dedicated audio and video ports is included. The larger models have four HDMI ports, but they require a composite input adapter, which is sold separately.
Design and Build Quality
With very thin bezels on three sides and a matte grey finish, the Hisense A6 Series has an interestingly premium design for a budget TV. The V-shaped feet are nearly identical to those found on the Hisense A6G. The feet are spread out, but the 65 and 75-inch models have an alternate foot position that takes up less space. The 43, 50, and 55-inch models can only be configured with the feet wide apart. As the inputs are housed in a central electronics box, they are difficult to access if the TV is wall-mounted. There's a bit of a gap between the bottom of the electronics box and the bottom of the TV that appears to be intended for cable management, but it's not useful.
Overall, the Hisense A6 Series is well-built. The plastic electronics box on the back of the TV has a lot of flex, but it shouldn't cause any problems. The plastic piece that makes up the front bottom border is a little flimsy, but you shouldn't have any problems using the TV but the build quality can be better.
Picture Quality
Since the Hisense A6 series has a low contrast ratio, blacks appear grey in a dark room. Unfortunately, there is no local dimming, so it cannot produce deep blacks in brighter scenes. The 50-inch model has significantly higher contrast, so blacks appear black in a dark room. Unfortunately, even with the most precise calibration settings, the Hisense A6 has poor SDR peak brightness and peak HDR brightness. It can handle a moderate amount of natural light, but it's not suitable for a bright room because it can't get bright enough to overcome glare. However, there is no difference in brightness between scenes, which is fantastic.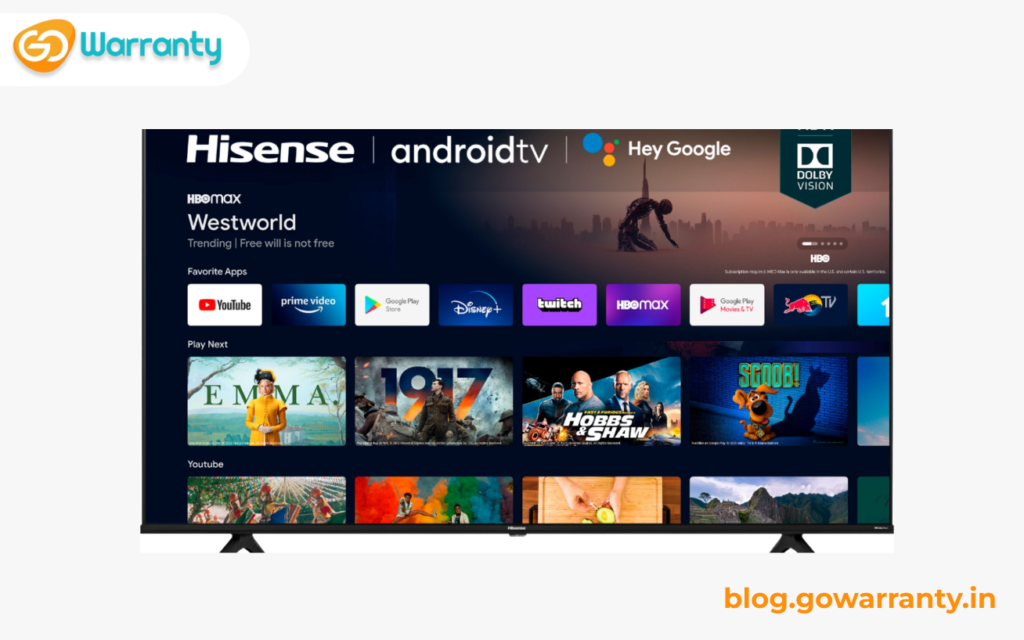 The Hisense A6 is direct-lit, which means the backlight LEDs are directly behind the screen, but there is no local dimming. We continue to film these videos on the TV so that you can see how the backlight works and compare it to a TV with local dimming. The Hisense A6 Series has a wide viewing angle, which is ideal if you have a large seating arrangement or enjoy moving around while watching TV. When viewed from a moderate angle, the image fades, but there is very little shift in colour accuracy.
Inputs
If you use the Hisense A6 as a PC monitor, it has excellent low input lag, resulting in a very supportive gaming or desktop experience. The Hisense A6 Series supports the majority of popular resolutions, but only at 60Hz. 1440p is supported, but it must be forced via a custom resolution on a PC or through manually setting the resolution on some game consoles. Chroma 4:4:4 is properly displayed with all supported formats, which is critical for clear text if you use it as a PC monitor.
Sound Quality
The frequency response of the Hisense A6 Series is disappointing. The low-frequency extension (LFE) is extremely high, and there is no low bass response at all. The frequency response is also not well balanced above the LFE, resulting in muddy dialogue, and there is no room correction feature. On the plus side, it gets loud, and there is only a slight amount of compression at maximum volume. The Hisense A6 Series has very little distortion, even at maximum volume.
Smart Features
The Hisense A6 Series is one of the first TVs to ship with the updated Google TV 11 smart interface. It's very similar to previous versions of Google TV, with a slightly refined interface as well as a few new accessibility features. It's quick and simple to use. The interface, like most TVs, contains advertisements. You can opt out of suggested content, which is great, and limit ad tracking, but this only limits the type of ads you see, not the number of ads.
Remote and Featured Apps
The Google Play Store has a large selection of streaming apps, including all major streaming services. The Hisense A6 remote is fairly straightforward, with no number buttons and six sponsored buttons that vary by region. It has a built-in microphone for voice control, and you can use it to change inputs or launch apps, but not to change TV settings.
Verdict
As long as you're not in a bright room, the Hisense A6 is a good TV for watching sports. It has a wide viewing angle, which is ideal for a large seating arrangement because it ensures that everyone sees the same thing. It has a decent response time, but fast-motion video is a little blurry. It's not well-suited for bright viewing environments because it can't get bright enough to overcome glare, despite having good reflection handling.
GoWarranty's Extended Warranty
You must buy a good extended warranty every time you buy a TV. Don't go for the low-cost extended warranties which provide cheap services. Go Warranty's extended warranty plans are the best for these and are highly recommended. It is also recommended by renowned youtubers like UdRawat. GoWarranty provides the best extended warranty services which will help your TV stay trouble free without any issues.