Why settle for the traditional watches when there are a variety of smartwatches available in the market? The two tech giants have launched smartwatches, one the Apple Watch Series 6 and the other launched the Galaxy Fit 2.
The latest smartwatch from Samsung was launched during the "Life Unstoppable" virtual event. For those into fitness, this is the perfect smartwatch with an amazing sporty look, which will steal the spotlight in a crowd. Additionally, the watch has 15-day battery life.
Let's find out what Samsung has to offer in the Galaxy Fit 2 and why this should be a part of your gadgets to buy list in 2020.
Samsung Galaxy Fit 2 Features
Galaxy Fit 2 comes with a curved full-color Super AMOLED screen that displays real-time activity stats, texts, and other alerts from your Android or iOS smartphone. The smartwatch is available in black colour with a large band that fits wrist sizes between 6.1 and 8.2 inches (it is also available in a smaller size). It can automatically identify the different types of physical activities such as running, cycling, working out on the elliptical, and more. The Galaxy Fit 2 is also water-resistant. Besides this, you can even accurately map your run with the built-in GPS.
Advanced Fitness Tracking
How about monitoring your fitness from anywhere at any time by a glance at your wrist? With the Galaxy Fit 2, it has become easier to track footsteps, calories burned, sleep quality, etc. It also has an inbuilt heart monitoring measurement, which counts your heartbeat, even during exercise.
Built-In GPS
Another amazing feature is that if you are driving or running and want to monitor GPS, do not worry; it has an in-built GPS tracker. With this feature, you can monitor your exact steps. And, if you are in a hurry and leave your smartwatch behind, the GPS tracker will still monitor your progress.
Auto and Multisport tracking
Monitoring your fitness and keeping a track of your steps has become easy with the Galaxy Fit 2. You can easily distinguish between cycling, running, or just as a brisk walk by syncing your tracker with the phone. It also provides the perfect identification of your fitness activities, irrespective of the kind of movement. With the Galaxy Fit 2, you can set your activity type, and it begin tracking strength training, yoga, Pilates, and more.
Easy Access to notification and Apps
Extended Care Pack For Samsung Fit
Safest Protection For Samsung Fit
Apart from fitness, you can get your phone notifications on the smartwatch. This is a helpful feature, especially when your phone isn't handy while driving or during a meeting. Without removing the phone from your pocket, you can read your notifications with a glance at your wrist. And, you can easily access phone calls/ texts, messages, or calendars with the touch on your smartwatch.
Play Music while you work out
You can access your favorite soundtrack while working or workout. In addition to this, you can connect to music apps such as Spotify or Amazon music. In short, you can access your favourite tracks on your wrist and exercise hassle-free.
Convenient Charging
Undoubtedly the charging mode is unique. It has a cradle, from which you can charge your watch without using a wire. In short, you can use your cradle to charge your watch from anywhere. On the other hand, it has a power backup for 3-4 days. The charging facility ensures that the smartwatch is charged for your daily activity, so fitness freaks, you have nothing to worry about.
Water-Resistant Design
Galaxy Fit 2 is water resistance, so you do not have to be bothered about wearing it during rains or while you sweat during workout. Even while swimming, you can wear the smartwatch on your wrist and track the activity. The water-resistant feature helps you keep a track on your fitness activities during the day, while also ensuring sweat and water-based exercises don't hamper the fitness tracking.
Reach your Goals easily with S Health
The included S Health app gives you extra motivation to help reach your goals. By using this app, you can set goals, check leader boards, challenge others to step competitions, and share workout results with just the touch of a button.
Connectivity
Why stay disconnected during workout when you can be a multi-tasker? You can now, with the inbuilt Bluetooth and Wi-Fi on the Galaxy Fit 2. While staying connected, you can easily connect to a nearby device with an active Bluetooth connection.
Specifications For Samsung Galaxy Fit-2
General
Brand: Samsung
Model: Gear Fit 2
Model number: SM-R3600ZBAINU
Categories: Smartwatch
Strap Material: Stainless Steel
Ideal For: Unisex
Display
Size: 1.5
Type: Super AMOLED Display
Resolution: 216 x 432
Pixel Density: 322
Touchscreen: Yes
Clock Face: Digital
Battery
Life: 5
Power: 200mAh
Type: Super AMOLED Display
Charging Mode: Wireless
Connectivity
Bluetooth: Yes
Wireless Protocol: Yes
GPS: Yes
Call Function: No
Sensor
Accelerometer: Yes
Gyroscope: Yes
Heart Rate: Yes
Light Sensor: NULL
Others: Barometer
Design
Dial Shape: Rectangular
Dial Colour: Black
Strap Material: Rubber
Strap Colour: Black, Blue, and Pink
Dial Dimensions: 51.2 x 24.5 x 11.9
Weight: 30
System
Compatible OS: Android 4.4 and above
Soc: NULL
Processor: NULL
CPU Cores: Dual
CPU Speed: 1 Ghz
Ram: 512 MB
Internal Memory: 4 GB
Conclusion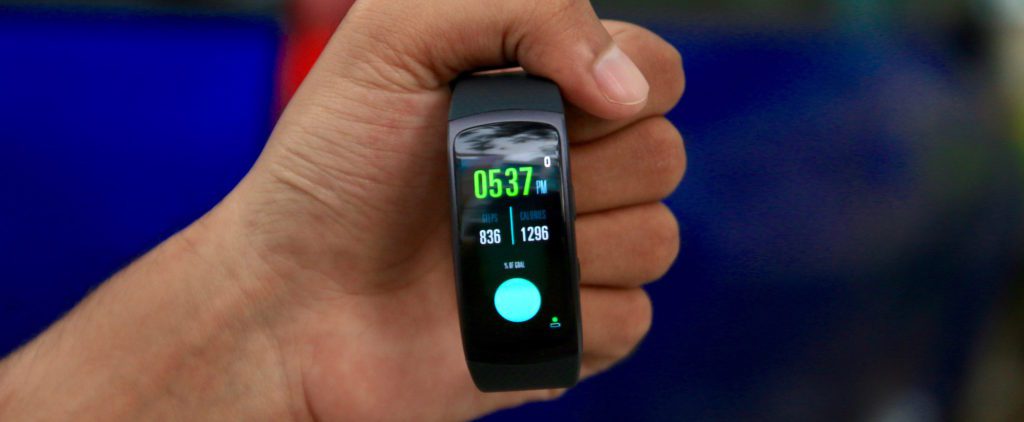 The Galaxy Fit 2 is an all-in-one product with amazing features to help you get through the day, including your workout. We don't know if you're into smartwatches, but you should give the Galaxy Fit 2 a try. We're sure you're going to love it. This is the best smartwatch for fitness freaks as some features are going to win your heart. Finally, Samsung is one of the most trusted brands and is one of the best smartwatches in the market. Now it's time to upgrade yourself with the Galaxy Fit 2.