The Samsung Galaxy Book 3 Ultra answers a question I've had for a long time: what if this ultraportable form factor got a lot more powerful? Don't get me wrong: both the Galaxy Book 3 Pro and Pro 360 are capable laptops. However, their reliance on integrated graphics prevents them from performing higher-level gaming and intense creative app tasks. However, Samsung has stuffed a discrete GPU into the Ultra, as well as increased the battery capacity and total wattage to all of the components inside. This may be the prosumer ultraportable we've been looking for.
During a Samsung press event, I got some hands-on time with the Galaxy Book 3 Ultra. The Galaxy Book 3 Ultra was my favourite of the Galaxy Book 3 laptops shown. Based on what I saw, the Samsung Galaxy Book 3 Ultra might be one of the best laptops, if not the best gaming laptop, in 2023. Read on to find out why.
These impressions are based on the key specifications and our brief time with the Samsung Galaxy Book 3 Ultra. We can't share any specifics about the performance of these machines, including benchmarks, due to embargoes from Intel and Nvidia.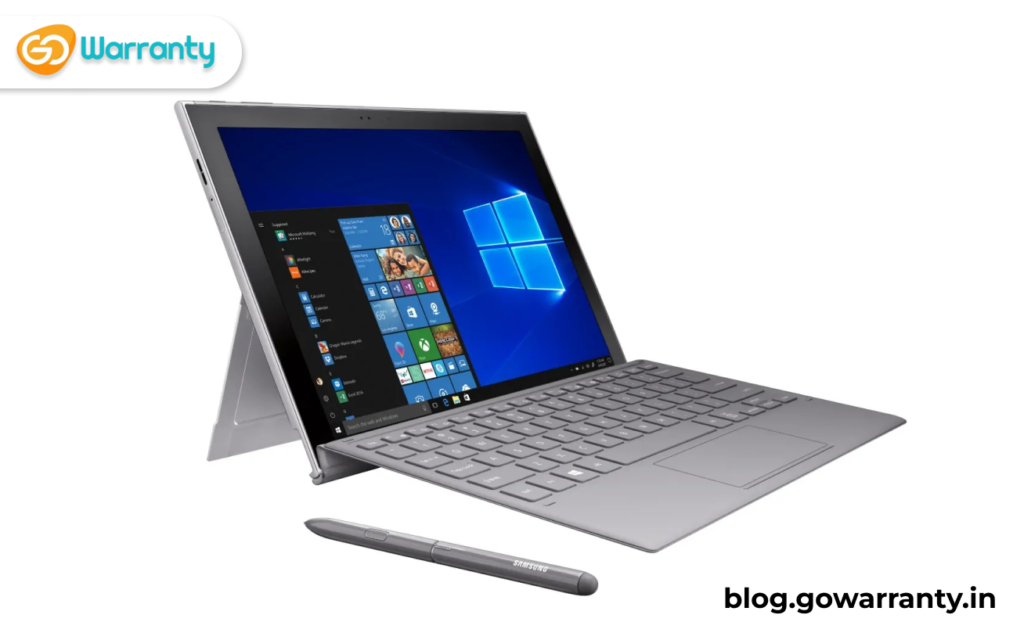 Price
The base model of the Galaxy Book 3 Ultra starts at $2,399 and includes an Intel Core i7 CPU with an RTX 4050 GPU, 16GB of RAM, as well as 512GB of storage. The cost of upgrading to an Intel Core i9 CPU with an RTX 4070 GPU, 32GB of RAM, as well as 512GB of storage is $2,799. If you pre-order at Samsung.com, you will receive a $200 discount and a free upgrade to the next storage tier. In the United Kingdom, the base model starts at £2,499. We'd have to wait for more information on the system's power before determining where the sweet spot is in terms of value for money.
Design
Consider this a thicker Galaxy Book 3 Pro in terms of appearance. It has the same wedge-shape form factor and recycled aluminium construction as the previous model, which screams "premium." The 3.9-pound weight is noticeable in the hand, but it's nowhere near the weight of other laptops with Nvidia RTX 40 Series dedicated GPUs.
However, while it is slightly thicker than its siblings, the thinness is still quite impressive for what you'll find in here (including a 76Wh battery and quad AKG speakers). With dimensions of 13.9 x 9.9 x 0.6 inches, this is slightly smaller than the 16-inch M2 MacBook Pro (14.0 x 9.8 x 0.7 inches), and it's also significantly lighter. This combination of portability and power has the potential to be a deal breaker for creative professionals who require a powerful system on the go.
Ports
The Book 3 Ultra has all of the ports found in the Book 3 lineup HDMI 2.0 and two Thunderbolt 4 ports on the left, as well as a microSD card slot, USB 3.2 Type-A port, and 3.5mm audio jack on the right. This is a sufficient set of ports on other Samsung notebooks. However, for a creative professional's system, I would have preferred a full-size SD card slot and a couple of extra USB ports for various accessories.
Display
Samsung's focus is producing stunningly bright, vivid displays, and the Book 3 Ultra illustrates this with a 16-inch Dynamic AMOLED 2X panel. The resolution is 2880 x 1800, with a 120Hz adaptive refresh rate and a 16:10 aspect ratio for better productivity. A high resolution trailer revealed just how luscious this panel is, a sheer flash flood of colour that explodes off the screen, making for a real beauty for work and gaming. We'll reserve firm opinions for after we've tested the Ultra in our lab, but for now, I can confidently say that you'll enjoy this display.
Keyboard and Touchpad
The touchpad is big, but we don't have exact measurements, but I can safely say it's massive. Not only that, but the smoothness of the surface allows your fingers to glide over it with ease, and it supports full multi-touch gesture support. Meanwhile, the Chiclet style keyboard has a full number pad, which is useful for data entry and setting up macros for any particularly complicated games or creative software. This is a warmly welcomed introduction that other companies may not include.
For example, the Huawei MateBook 16S (the more expensive of the company's two large-screen laptops) does not have a number pad, whereas the MateBook D16 does. Many OEMs make these strange choices with their best and brightest, so it's great to see Samsung has poured all the keys into its latest and greatest.
Performance
This is the most exciting part for me, but I'm also frustrated because I can't test it properly. On the CPU front, you can choose between a 13th Gen Intel Core i7 or i9, both of which have a 45W TDP for more pure power than their less expensive siblings. This is also where you can tell Samsung is serious: you can choose between an RTX 4050 or an RTX 4070 GPU.
Outlook
RAM options include 16 or 32GB of LPDDR5 memory, and storage options include a 1TB PCIe SSD with an additional expansion slot. This all sounds like it could be a beast to compete with the likes of the new M2 Pro MacBook Pro, but we'll reserve judgement until we've benchmarked these. Of course, we won't say much more than that right now because there's not much else I can say without being quickly silenced by a company representative. However, I'm very excited about this.
Early Verdict
The Samsung Galaxy Book 3 Ultra is a powerful 16-inch Windows laptop designed to compete with Apple's high-end notebooks. Based on our initial impressions, we believe it could be one of the best laptops for power users in 2023.