The Frame is the flagship model of Samsung's lifestyle TV lineup (that also includes the Serif and Sero models), with the cute conceit that it can double as a work of art when you're not watching the latest true crime docu series on Netflix. The panel is designed to be customised, and it can be augmented with an art frame in a variety of colours and styles to better display the Old Masters when wall mounted. These brightly coloured bezels are sold separately, so plan accordingly. Samsung Frame TV in 2022 is built around a QLED panel with an unusual matt finish and includes all of the smart functionality of its more conventional stablemates.
This is the true review of the Samsung frame 2022. Let's check out all the details of this new Samsung TV.
Installation
The first step after selecting The Frame 2022 on Samsung's website is to select a size and a bezel. It only took one person and 45 minutes to hang The Frame 2022. Another intriguing feature of The Frame 2022 is the one-two punch of the Slim One Connect Box as well as One Invisible Connection, which allows you to connect the TV with just one cable while concealing the box and all those extra cables.
Design and Build
The Frame looks like any other flatscreen when it comes out of the box. There are two slot-in feet that are height adjustable and sit near the edge of the screen, with a black bezel that is slightly deeper than most. The idea is that most people will personalise it with an optional magnetic bezel that clips on top. There are several colours to choose from, such as white, beige, teak, brown, and brick red, as well as several styles, ranging from modernistic to Art Deco. The set's back panel is flat and uniform in depth, allowing it to hang close to the wall. The box includes a Slim-Fit wall mount.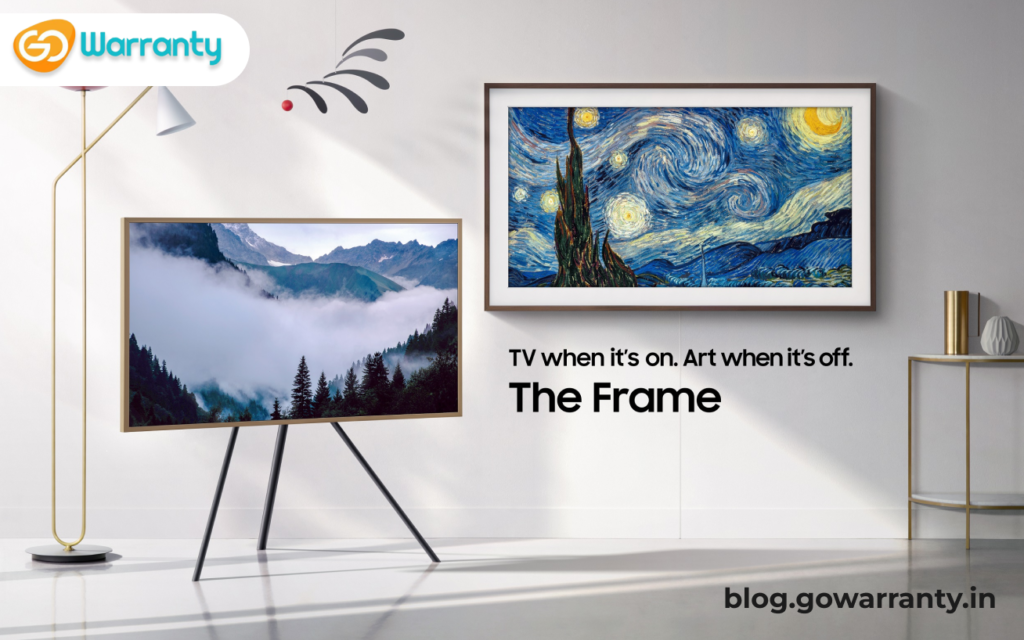 A separate One Connect box, roughly the size of a traditional set-top box, handles all connectivity. This is where you'll route your aerial connection, external sources, and power. This function junction is linked to the panel by a single clear cable. There are four HDMI inputs, one of which is eARC enabled and another capable of 4K 120Hz. A digital optical audio output, Ethernet, and a common interface slot are also included. There are two tuners available, one terrestrial and one satellite. Without Freeview Play, UK viewers are limited to regular Freeview. The Frame comes with two remote controls, a standard black zapper, and the brand's solar-powered Bluetooth controller in white.
Specs and Features
Samsung Frame TV 2022's operational heart is Samsung's Tizen operating system. This smart portal has been around for a while and is home to a variety of streaming services such as Disney+, Prime Video, Netflix, AppleTV+, and others. A SmartThings dashboard is also available for any compatible smart home devices. In the meantime, a sidebar provides quick access to the Search, Art, Game, and Media sub-menus. When you enter Art mode, you'll see a selection of free digital artworks, with the option of subscribing to the Samsung Art Store for $5.99/£3.99 per month to unlock 1,000 more. You can also use your own JPEGs, either loaded via USB or sent from your smartphone.
The TV is compatible with the voice assistants Bixby, Amazon Alexa, and Google Assistant, and it supports AirPlay 2. A Game Hub, with access to streaming game services, is one of Tizen's new additions; it's joined by a pop-up interface that collects relevant gaming information, such as Game image mode and input lag. I measured input lag at 10.5ms (1080p/60fps) in Game mode and 13.8ms in Game Motion Plus, with the latter allowing for some image processing to sharpen things up.
Picture Quality
Samsung Frame TV 2022 has a 4K QLED panel (the 32in model, like The Frame 2021, is Full HD), so you'd expect a high level of colour vibrancy, and that's exactly what you get. Reds appear rosy (rather than orange), and blues stand out. However, the set has a limited black-level response, which means that near shadow details fog together and black sequences tend to be grey.
The anti-reflective treatment is very effective at reducing unwanted reflections, whether they are caused by lounge lights, sunlight, or anything else. Samsung Frame TV 2022 works well as a set in a light room. Even when the house lights are on, the QLED display's inherent brightness lets colour and contrast through. The HDR performance of the QE55LS03 is also comfortingly punchy. While it lacks Dolby Vision support like the rest of the Samsung QLED lineup, it is HDR10+ and HLG compliant.
Brightness and Other Features
Peak brightness was measured at 700 nits using a 10% patch window, which is more than enough to add depth and twinkle to specular highlights. There are four picture modes: Dynamic, Standard, Movie, and Filmmaker. On this screen, I mostly gravitated toward Standard, though I appreciate the extra pop Dynamic adds to artwork – it looks great with Van Gogh's The Starry Night. You can also simply leave the screen on its AI-optimised Intelligent picture setting. This autopilot, powered by Samsung's latest Quantum processor 4K, can be thought of as fuss-free optimisation for menu-phobes.
Sound Quality
The Frame's audio is especially important because the set is less likely than most to be paired with a soundbar. It's reassuringly good, thanks to Samsung's Object Tracking Sound system and Dolby Atmos support. The TV has dedicated up-firing drivers that effectively expand the soundstage, and the picture has a good sense of sonic movement. The Frame is also compatible with Samsung's Q-Symphony soundbars, which combine TV and soundbar speakers.
Price
The Frame 2022 is available in 32-43-, 50-, 55-, 60-, 65-, 75-, and 85-inch screen sizes (32LS03B, 43LS03B, 50LS03B, 55LS03B, 60LS03B, 65LS03B, 75LS03B, 85LS03B), with prices Rs. 66,000 for 43 inch – Rs. 78,000 for 50 inch – Rs. 96,000 for 50 inch – Rs. 1,34,000 for 65 inch.
Verdict
It is one of the best televisions in the market. Highly recommended, because of its peak HDR brightness and micro detailing, which is unmatched by any budget brand. The Frame 2022 has very high potential as it provides amazing HDR performance, which Samsung is the best provider of as it is one of the best television brands in the market.
GoWarranty's Extended Warranty
The warranty on these low-cost televisions is one year. comprehensive, with an additional warranty of up to one year on the panel However, there are other things that can be harmed. I recommend that you get a good extended warranty that covers your TV from the beginning. Go Warranty is my recommendation, as is Vineet Malhotra, a popular YouTuber. GoWarranty will provide you with the full coverage for your television. They are well-known for their simple and painless process.