Purchasing a new television is thrilling, but it is one of the most difficult and perplexing pieces of technology to select. There are other aspects to consider, such as size and resolution, not to mention all of the marketing jargon to understand. But Samsung AU7700 Crystal 4K UHD Smart TV can be an exciting option to consider!
If you're looking to buy a Samsung TV in 2021, you've come to the right spot since we'll walk you through all of your options. And you'd be making a sensible decision since Samsung is understandably one of the world's most popular TV brands due to its high-quality design, picture quality, specifications, and features.
This Samsung AU7700 108cm (43″) TV features 4K UHD technology, which provides 4X more pixels than Full HD quality, allowing you to view even minute details in the scene. Q Symphony seems to be the only soundbar speaker that allows you to utilize both your TV and soundbar speakers at the same time for a more immersive surround sound experience without having to mute your TV speakers.
Specifications
The best Samsung AU7700 55″ Crystal 4K UHD Smart Led TV features a crystal display, HDR, Adaptive Sound & Q Symphony, and several voice assistants with a single remote control. It has PurColor features that make watching movies seem almost as if you are there. It allows the TV to express a wide range of colours, resulting in optimal picture performance and an immersive viewing experience. Powerful 4K Upscaling Ensures You Enjoy Up To 4K Resolution For Your Favourite Content. Because of its sophisticated colour mapping technology, you will also experience more lifelike colour expressions.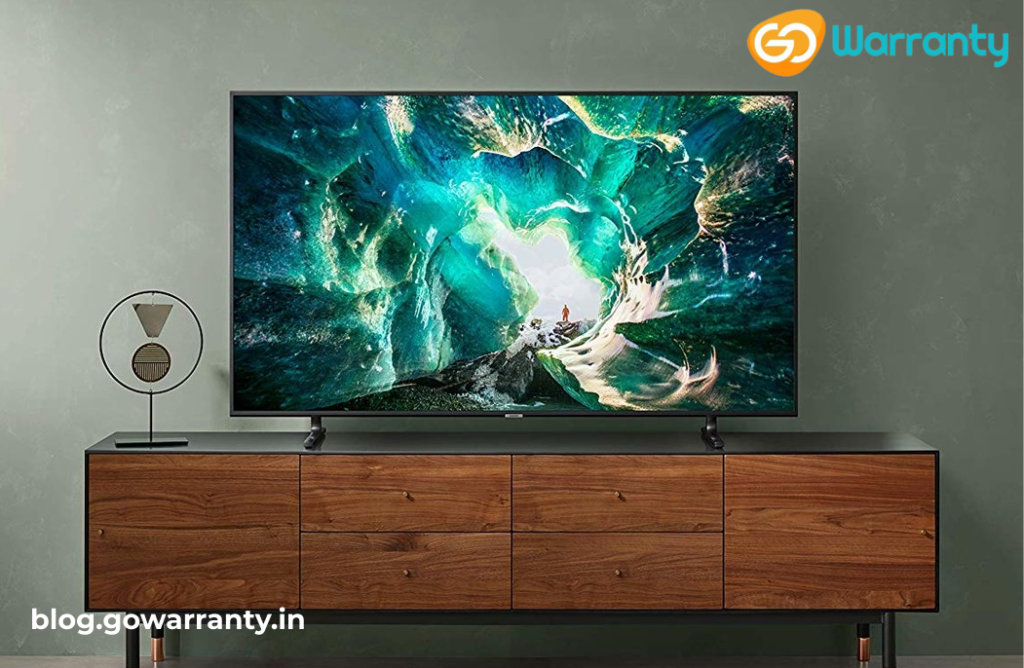 Moreover, It also has a Motion Xcelerator, which provides a clear picture and performance by automatically estimating and compensating frames for the source of content. Furthermore, Samsung AU7700 55 "Q-Symphony, Surround Yourself With Sound From TV And Soundbar Orchestrated In Harmony, and Other Smart LED TV Features Q Symphony is the only speaker system that allows TV as well as soundbar speakers to operate simultaneously for a better surround effect without muting the TV speakers. There is no parts warranty on the Crystal 4K UHD Smart Led Television.
Table
| | |
| --- | --- |
| Brand | Samsung |
| Model Name | 43AU7700 |
| Type | LED |
| Size (Diagonal) | 43 Inch |
| Aspect Ratio | 16:09 |
| Refresh Rate | 60 Hz |
| Colour | Black |
| Weight | 8.1 kg |
| Image Formats Supported | png, jpeg |
| Video Formats supported | WMV, MP4, AVI |
| Audio Formats Supported | AAC, MP3, WMA |
| No. of Speakers | 2 |
| Total Speaker Output | 20 W |
| Ethernet | Yes |
| GPS | No |
| USB | Yes (2 Ports) |
| Resolution | 4K, 3840 x 2160 pixels |
| USB, HDMI Ports | 1, 3 |
| Power Consumption | 120 w |
| Voltage Requirement | AC 230 V |
| Universal Control Remote | No |
| Internet Access in Remote | Yes |
| Smart TV | Yes |
| Other Smart Features | Tizen |
Smart Features
You can also utilise Tap View to flawlessly reflect your contents to the TV if you have a Samsung phone running Android 8.1 or above. Additionally, there is a PC Mode that allows you to access your PC, laptop, or mobile device from your TV.
These TVs have a 20W dual-speaker configuration with Dolby Digital Plus for surround sound effects in the audio section. An external soundbar can also be connected here. Furthermore, Samsung's Q-Symphony technology lets you get the most out of your audio setup by permitting simultaneous output from the soundbar and the TV speaker.
Warranty Plan
| | |
| --- | --- |
| Warranty | 1 Year Manufacturer Warranty |
| Extended Warranty | 2 years Extended Warranty from the GoWarranty for the Samsung AU7700 Television |
Verdict
Crystal UHD offers somewhat greater contrast to the scene, although it is not always superior to standard UHD. When it comes to Crystal UHD vs ordinary UHD, it's tough to conclude which is superior without taking into account the TV's other characteristics. Consider Crystal UHD to be Samsung's entry-level contemporary televisions.
Crystal UHD vs OLED vs Neo QLED: Best Samsung TV 2022
The terms 'Smart TV' no longer have any meaning these days, as all models have Wi-Fi and a Tizen OS user interface with a variety of apps. It's something Samsung excels at, with an easy-to-use interface that includes popular streaming services like Netflix, Prime Video, Disney+, and BT Sport (subscriptions may be required).
Samsung AU – Crystal UHD
They won't be front and centre when you explore TVs on the Samsung website since the company would prefer you pay more.  Samsung has a variety of inexpensive sets to pick from. They are more basic, yet they are still enough for basic activities such as streaming.
They're all 4K resolution and offer HDR (high dynamic range), which promises greater colour, but keep in mind that inexpensive sets don't always have enough brightness to take advantage of it. Crystal UHD is just the brand name for Samsung's entry-level LCD LED televisions.
Samsung QLED – Quantum Dot
While Samsung does not produce OLED TVs like other major brands (such as LG, Sony, and Philips), it does offer QLED. The Q is an abbreviation for Quantum Dot, and it employs comparable technology to provide a brighter and more colourful image.
The primary distinction between QLED and OLED is that quantum dot LEDs are not self-illuminating and thus not prone to screen burn. This is the point when the screen displays a ghost picture of anything that the pixels have displayed, similar to a broadcaster's logo. QLED technology also allows you to buy sets in lower sizes than OLED, with Samsung offering TVs starting at 43 inches. Some of Samsung's lifestyle models employ QLED as well, but we'll get to those later.
Samsung Neo QLED – Mini-LED
Neo QLED is a new technology for 2021 that is the closest to OLED that Samsung has to offer. Because the LEDs are much smaller than standard LEDs, much more may be placed behind the panel. More exact control over the lighting enhances contrast while eliminating undesired effects like blooming – check what is Mini-LED for more information.
It's also claimed to be the closest thing to the vibrant colour delivered by OLED without the drawbacks of OLED, such as screen burn. Moreover, You'll also benefit from Quantum HDR 1500 for vivid HDR performance with HDR10+ and HLG compatibility (Hybrid Log-Gamma).