Over the last decade or so, IT businesses have experimented with a variety of methods to decrease their carbon footprints. Including utilising eco-friendly packaging as well as recycled metals in their goods. Also, employing renewable energy to power their production and assembly lines. In the smartphone market, we've seen some bold moves to decrease e-waste. With several manufacturers no longer including peripherals like chargers with their smartphones. The new Vero range of laptops is the outcome of Acer's recent drive to manufacture "greener" machines. In December 2021, the Acer Aspire Vero was the first laptop to be out.
This is what we'll be looking at today. However, the Vero range has recently been expands to include other laptop models. Also, tiny PCs, a monitor, a wireless mouse, and various peripherals. The Vero line's key selling point is that it is made of Post-Consumer Recycled (PCR) plastics. The whole chassis and frame around the display of the Aspire Vero are 30% PCR materials. Making it more environmentally friendly for recycling in the future. Aside from the construction materials, the Aspire Vero is essentially a mid-range laptop built for casual work and multimedia chores.
Price
The Aspire Vero was released in India with a starting MRP of Rs. 79,999, but it's currently available for much less. At the time of this review, Acer's own online store showed two Aspire Vero models. The edition with 8GB of RAM (which I'm testing) costs Rs. 57,999, while the one with 16GB of RAM costs Rs. 62,999. Apart from the RAM, both variations offer the same characteristics. Including an Intel Core i5 11th Gen CPU and a 512GB SSD.
Design
The Acer Aspire Vero has a different appearance from the rest of the Aspire line. The laptop's base features an intriguing block-like form with no tapering corners to provide the impression of slimness. The lid and main chassis are a light grey colour with a hexagonal structure and little yellow and grey specks. Acer claims that no paint has been applied to the chassis. Also, that the finish is the consequence of the usage of PCR plastics. The laptop has a sturdy feel to it, with little flex in the lid and keyboard region. The Acer logo and all other identifiers on the laptop are embossed into the plastic. Preventing paint or stickers from getting on it.
The physical ports of the Acer Aspire Vero are plenty. A single USB 2.0 Type-A port, Kensington lock slot, headphone. Also, a microphone combo socket, and two status LEDs are located on the right side. The charging socket, one Gigabit Ethernet port, HDMI, two USB 3.2 Type-A ports. They have power-off charging capabilities on one of them. Also, a USB Type-C port are all located on the laptop's left side. The latter, on the other hand, cannot be used to power the laptop. The lack of an SD card port on the Aspire Vero is unfortunate.
Specifications and Software
In India, the Acer Aspire Vero is only offered with an 11th Gen Intel Core i5-1135G7 quad-core CPU. You get an Intel GPU built in. As previously stated, this laptop is available with either 8GB or 16GB of DDR4 RAM. According to Acer, the RAM in the 8GB variant may be expanded up to 12GB. I saw just one accessible RAM slot after opening the laptop's base. Which is an easy operation because it's kept in place with ordinary Philips screws. It has a Samsung 4GB DDR4-3200 (1600MHz) RAM stick in it that you can replace. The remaining 4GB of RAM soldered to the motherboard cannot be replaced.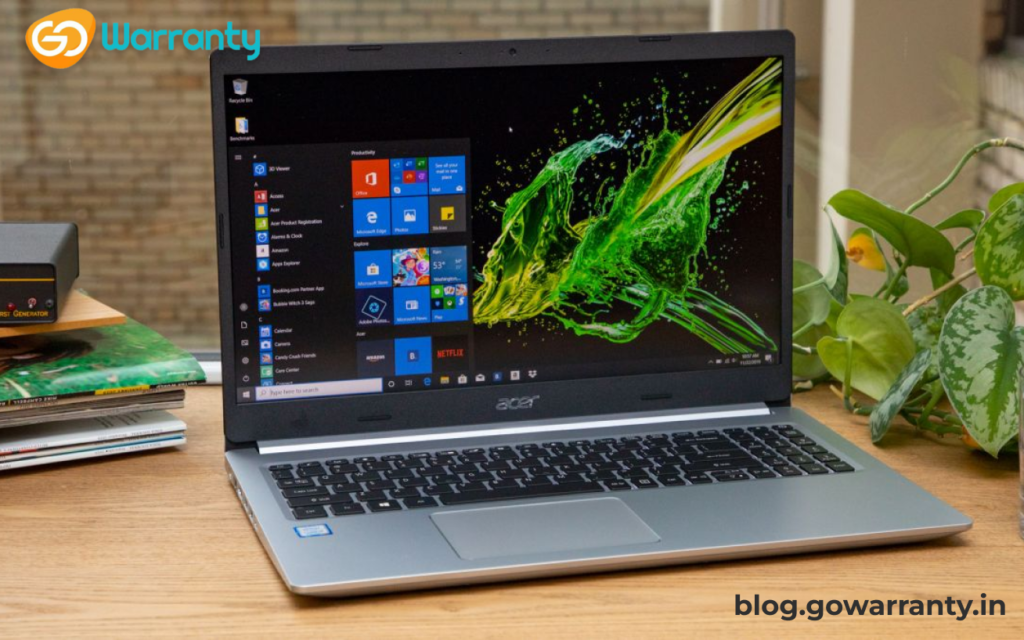 A 512GB PCIe NVMe SSD is present and is easily accessible. Even though these components are easily accessible. Attempting to open the laptop yourself will invalidate the warranty. Therefore I think it's better to allow an Acer service expert to execute any changes you might desire. While the laptop is still under warranty. Stereo speakers, a 720p camera, and a 48WHr battery are all included in the Acer Aspire Vero. Wi-Fi 6 and Bluetooth 5.1 are available for wireless communication.
Performance and Battery Life
In terms of overall productivity, the Acer Aspire Vero performed admirably with MS Office programmes and browser-based work. Windows 11 booted up quickly, and programmes loaded quickly as well, thanks to the SSD. The laptop was also capable of multitasking, with rapid and smooth switching between open programmes. When I wasn't straining it, the Aspire Vero stayed cool and just got a bit warm when charging or gaming. The exhaust fans did increase in speed as a result of the latter action. Which was noticeable, but it never became distractingly loud.
When it comes to gaming, the Acer Aspire Vero can handle casual games from Steam, Epic Games, and the Microsoft Store quite well. But more demanding titles failed to run correctly. Portal 2 and Lego Batman 3: Beyond Gotham, for example, performed nicely at high graphics quality. While Fortnite remains unplayable even when the graphics settings reduces. In simulated benchmarks, the laptop performed admirably given its characteristics. In PCMark 10, the Aspire Vero received 3,972 points. While in the 3DMark Night Raid graphics test, it received 12,519 points. In real-world tests, the Aspire Vero compressed a 3.24GB folder of various files in 3 minutes and 16 seconds. Also, transcoded a 1.3GB AVI video to H.265 in 1 minute and 17 seconds.
Verdict
The Acer Aspire Vero is a mid-range laptop with good performance and no serious problems. It should appeal to consumers who are concerned about the environment and want to lower their carbon impact. This laptop is well-made and solid, with adequate performance. Also, a wide range of connectors, a brilliant display, and a comfortable keyboard. The battery life is likewise acceptable, however it might be better. My only major criticism is that it's a little hefty. Which might be inconvenient if you want to travel with it frequently.