The Razer Basilisk V3 Pro is the newer edition of the company's customizable wireless gaming mouse, which improves on the already popular Razer Basilisk Ultimate by adding Qi wireless charging and an optional Mouse Dock Pro. The Basilisk V3 Pro, like its siblings the Razer Deathstalker V2 Pro as well as the Razer Deathadder V3 Pro, now comes fully armoured to compete in design, versatility, and even speed.
The new Razer Basilisk V3 Pro, on the other hand, should not be confused with the humble Deathadder V3 Pro; this new mouse comes fully-loaded, featuring customizable Lights, 10+1 buttons, a next-generation scroll wheel with three useful scroll modes, and it charges faster than your average gaming mouse via the new mouse Dock Pro and puck. With its new features, the Basilisk V3 Pro weighs slightly more than the Deathadder V3 Pro. It's also more expensive, but given the additional features, the price is easily justified. The Razer Basilisk V3 Pro is an excellent choice if you want a mouse that provides smooth as well as effortless gaming performance. Furthermore, it has far more useful features than most of its competitors in its class.
Design
The Basilisk V3 Pro is appealing because Razer has combined all of its cutting-edge technology into a single mouse. The main takeaway is that this gaming mouse packs every feature that is class-leading or even aesthetically pleasing into a sleek design.
As a result, the right-handed ergonomic design includes a signature thumb rest for far less finger drag as well as smoother clicks while gaming. The thumb rest has appeared on a number of high-end mice, including the Basilisk Ultimate as well as the Logitech MX Master series. The thumb rest on the Basilisk V3 Pro provides a comfortable gaming experience by supporting your thumb the entire time.
Refreshed Technology with Wireless Charging Dock
Both the Basilisk Ultimate as well as the newer Basilisk V3 Pro have identical chassis designs, making it difficult to tell them apart when placed side by side. On the inside, however, all of the technology has been updated and refreshed, particularly the wireless charging dock.
The Basilisk V3 Pro provides excellent ergonomics for both palm and claw grips, as well as adequate overall grip support, despite being slightly heavier than most mice in its class. It does have a distinct appearance, with a bump in the middle as well as deep valleys on the left and right buttons with claw grip gamers will appreciate the rubberized textured side grips that keep their fingers in place.
The physical design of the Basilisk V3 Pro tapers off to a thinner back, making it feel less bulky but allowing easier access to all the buttons, along with the DPI up and down buttons accessible beneath the scroll wheel. As previously stated, the scroll wheel has three modes of operation. For customizations, the Synapse software comes in handy. You can use it to customise the 13-zone Chrome RGB lighting as well as the trim for the mouse's edges, giving them a nice underglow. That software also allows you to change DPI presets (up to five), polling rates (125Hz, 500Hz, and 1000Hz), and remap or assign a macro to those buttons.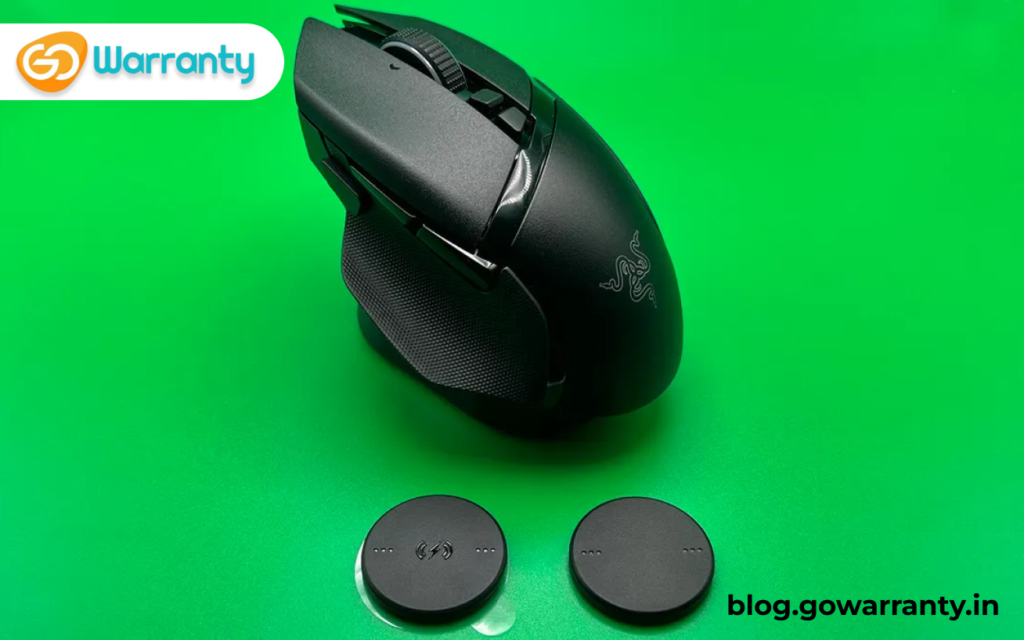 Performance
Along with a sleek, redesigned appearance, the Razer Basilisk V3 Pro provides excellent performance. After all, you're paying top dollar for a mouse, so it had better live up to the hype. This mouse provides fast, smooth, and effortless movement whether you're scrolling through your AAA titles or repelling enemies in Cyberpunk 2077.
The Basilisk V3 Pro feels like just a Ferrari on the track at higher DPI. It has no noticeable lags thanks to Razer's HyperSpeed Wireless, which has low latency, and the Focus Pro 30K sensors, which push high accuracy tacking – but most non-professional gamers will find the 30K DPI a bit overkill. The mouse buttons are not only satisfying to press, but also responsive and extremely accurate.
Perhaps the only issue with this mouse is the feet, which don't work as well with leather mice as well as desk pads, especially given its weight. You'll notice some drag here, which can be frustrating, especially if you play fast-paced games or have pre-existing wrist issues. On almost any other mouse pad, however, the movement should be effortless. Again, the Razer Basilisk V3 Pro does not get as light as, say, the Deathadder V3 Pro, but this has no bearing on your gaming. If you're used to a lightweight gaming mouse, you'll only need a couple of days to adjust.
Charging
Charging is quick, and if you buy it with the Razer Mouse Dock Pro, you also get wireless charging. The accessory will charge you some extra money, but it is well worth the investment, not only for the convenience it provides. We'll do a separate review of the Razer Mouse Dock Pro, but for now, know that it doubles as a wireless dongle for your mouse, saving you a port.
Verdict
The Razer Basilisk V3 Pro is currently the 'McLaren' of gaming mice, and the Mouse Dock Pro adds to its already stellar reputation. Nothing else on the market packs this much functionality into a mouse. The ergonomics are simply incredible, the design is light years ahead of the Logitech G604, users get slick-looking RGB, as well as the new wireless charging makes this a masterpiece.
It also includes a new shifting scroll that is much smoother than I expected. Add to that a 30K sensor as well as 4,000 HyperPolling (the highest and fastest available) and it does not get much better than this. Not today, and certainly not tomorrow.
The only issue is that, in addition to being the most gaming-focused mouse and dock, the Razer Basilisk V3 Pro is also the most expensive mouse. And this begs the question of whether you require everything Basilisk V3 Pro has to offer. To be honest, most people will consider 30,000 DPI or 4,000Hz HyperPolling to be overkill, as these are high – performing ratings that many will not need for gaming or productivity.