DJI is best known for its camera drones like the Mavic 3 and Mavic Mini 3 Pro, but in recent times, the company has ventured into the world of first-person view (FPV). The DJI Avata is DJI's second and most recent FPV drone model, following the unusual design of the DJI FPV, which was released in early 2021.
The Avata is smaller, lighter, and much more manoeuvrable, with a cine whoop design that incorporates propeller guards into the airframe. The Avata is aimed at both novice FPV pilots with no prior experience and seasoned FPV pilots who require full manual control in the infamously difficult-to-learn Acro mode.
Price
The DJI Avata is available in two kits and as a standalone drone, allowing owners of compatible controllers as well as goggles to continue using their existing accessories. The Avata, one Intelligent Flight Battery, a single battery charging dock, a USB-C cable, a screwdriver, spare screws, and a gimbal protector are all included in this basic No RC kit for $629/£499.
The DJI Avata Pro-View Combo as well as the DJI Avata Fly Smart Combo are the two options for most people who need a full kit with a controller and DJI FPV goggles. These kits include everything found in the basic No RC kit, as well as the DJI Motion Controller as well as a pair of goggles. The Pro-View Combo costs $1,388/£1,229 and comes with the latest DJI Goggles 2 and associated accessories, whereas the Fly Smart Combo costs $1,168/£989 and comes with the slightly older DJI FPV Goggles V2 and associated accessories.
Design
The Avata is slightly heavier and larger than traditional cine whoop FPV drones, measuring 180 x 180 x 80 cm and weighing 14.46 oz/410 g with a battery, but the advantage here is accessibility. The kits are simple to use and work right away, and the intelligent flight batteries eliminate all of the hassles and risks associated with conventional LiPo batteries. While the batteries are rated to last up to 18 minutes, they typically provide around 12 minutes of flight time, which is still longer than traditional FPV drones. There's even 20 GB of internal storage as well as a microSD card slot.
The drone is designed in a cine whoop style, with prop guards built into the airframe to safeguard the propellers and provide some resilience in the event of a crash; this drone does not fold up, as well as the camera, electronics, and battery are located above the prop guards as well as propellers. It's natural for pilots to be attracted to flying in complex environments and through tight spaces with a drone of this design, and we can safely say that the prop guards help.
Functionality
Traditional FPV drones lack sensor systems and, more importantly, GPS, but the Avata deviates from this convention by including these safety features when attempting to fly in Normal and Sport modes. When you let go of the controls, the drone will stop and hover, and obstacles below will be detected thanks to an Infrared Sensing System as well as a two-camera Downward Vision System. However, because there are no front or rear collision avoidance sensors, you must exercise extreme caution when flying in complex environments. These safety features are not available when flying in Manual mode.
GPS also includes Return to Home, which is activated automatically when the battery runs out or communication between the drone and headset is lost. In addition, if the Avata is turned upside down after a collision, it can be flipped back up – a feature inherited from conventional cine whoop drones that is extremely useful. In the event of a minor crash, the user can replace replacement propellers, the upper frame, as well as the propeller guard. For added security, the Avata can be linked to DJI Refresh.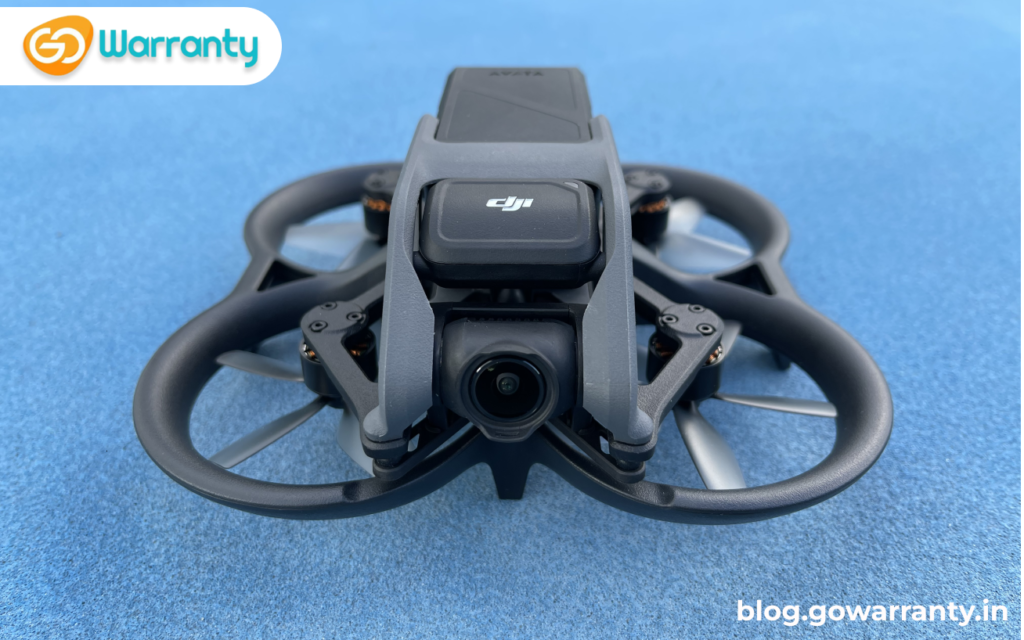 Performance
The Avata excels at video capture, which is essential for FPV drones. Despite this, its 48MP 1/1.7-inch CMOS sensor can capture JPEGs. You can control the exposure manually or automatically, but photos often have a wonky horizon, so using the camera for images is almost pointless. This may be useful for shooting extra dynamic FPV stills, but the lack of the ability to capture Raw files limits the results even more. Overall, the fixed f/2.8 lens with a focus range of 0.6 m to infinity and a 12.7 mm equivalent focal length captures high-quality video.
The Avata focuses on capturing immersive video, and it can do so in 4K at up to 60 frames per second, 2.7K at up to 100 frames per second, and 1080p at up to 100 frames per second with DJI Goggles 2. While the DJI FPV Goggles V2 can capture 2.7K and 1080p video at up to 120 fps – 100/120 fps is for slow motion – The video bitrate is limited to 150Mbps, and colour profiles involve Normal and D-Cinelike. The latter is for professional colour grading workflows, but Normal looks really good straight out of the camera for those who prefer simplicity.
Verdict
If you want to capture immersive FPV video footage but don't have the skills as well as desire to learn how to operate a conventional FPV drone, the DJI Avata and Motion Controller is an excellent choice. It is expensive when you consider the need to purchase the Fly More Bundle, which includes two additional batteries with flight times of around 12 minutes per battery.
The Avata is an outstanding ready-to-fly or bind-and-fly kit for experienced FPV drone pilots, depending on what suitable accessories you may or may not already have. To fly in Manual/Acro mode, however, you must purchase the DJI FPV Remote Controller 2 separately.