One of the most helpful charging devices for power banks. It provides portable electricity for whatever gadgets you may have with you. I appreciate having a variety of power banks on hand for different situations. I have extremely small power banks for emergency mobile phone charging, as well as very massive power banks that can power a small refrigerator if the power goes out you can go for Anker 737 Power Bank.
It is a portable battery with a total capacity of 24,000mAh and an input/output power of up to 140W. It's a beast of a power bank with some of the most cutting-edge charging technologies available. It can charge an iPhone 13 4.9 times, a Galaxy S22 4.5 times, and a MacBook Air (M1) 2020 1.3 times.
The power bank is part of Anker's Series 7 chargers, and it does have GaNPrime technology built in, according to the Main Features listed below (given by Anker's website). It also has PowerIQ and ActiveShield 2.0, making it a smart power bank. PowerIQ assists the device in determining the appropriate amount of power to transfer to connected devices, while ActiveShield safeguards the charger and its connected devices by monitoring temperature and altering power output to compensate for any excess heat.
Anker 737 Price
The Anker 737 Power Bank costs $149.99 and is available from anker.com. They accepts Klarna payment plans. There is just one colour available, black, and it may be transported through DHL, UPS, or FedEx. The power bank comes with Anker's 24-month hassle-free warranty and a 30-day money-back guarantee.
Anker 737 Main Specifications
Ultra-Powerful Two-Way Charging: Packed with the most current Power Delivery 3.1 as well as bi-directional technology, the portable charger can be quickly recharged or charged with a 140W ultra-powerful charge.
High Capacity and Long Battery Life: With a 24,000 mAh battery capacity and 2 longer battery life, it can charge an iPhone 13 almost 5 times or a 2021 iPad Pro 12.9′′ 1.3 times.
Smart Digital Display: An easy-to-read digital display indicates the output and input power as well as the expected time it will take to fully recharge the portable charger.
GaNPrime Powered: Anker's most sophisticated GaN-powered charging technology, an unique stacking design, PowerIQ 4.0 for increased efficiency, plus ActiveShield 2.0 for intelligent temperature monitoring are all included in the portable charger.
What do you get: Anker 737 Power Bank (PowerCore 24K), welcome instructions, 24-month worry-free guarantee, and helpful customer support are included.
Anker 737 Features
The power bank comes in a stylish retail box and includes a 0.6m USB-C to USB-C charging connection as well as a travel pouch. The packaging contains some product information as well as translations in many languages. On the front, there is a picture of the product as well as the product name. The fact that the name "Anker 737 Power Bank" was featured below the product image and the subheading text — "140W High-Speed Input and Output" — was really in the primary title position on the box did strike me as weird. It looked like an unusual choice of location to me.
When I initially took the power bank out of the packaging, my first thought was, "Wow! This is enormous." That it is. It's a massive brick of a power bank that, although being shaped into a rather compact form, is larger than most other power banks I've tried. It measures 6.13 x 2.14 x 1.95 inches and weighs 1 pound, 6.1 ounces. Compared to another power bank offered by Anker, the Anker 737 Power Bank (PowerCore 26K for Laptop) weighs 5-6% less (PowerCore 24K).
High Power Output
Even though this power bank is a little larger than other power banks I've tried, it has a higher power output than regular power banks, which comes in useful when I need to work on the road. In fact, I was working in our car this week as we drove out of town, and my laptop (16-inch MacBook Pro) was running low on battery power. I didn't have the power bank with me, but it would have saved me the stress of being concerned about the low battery level.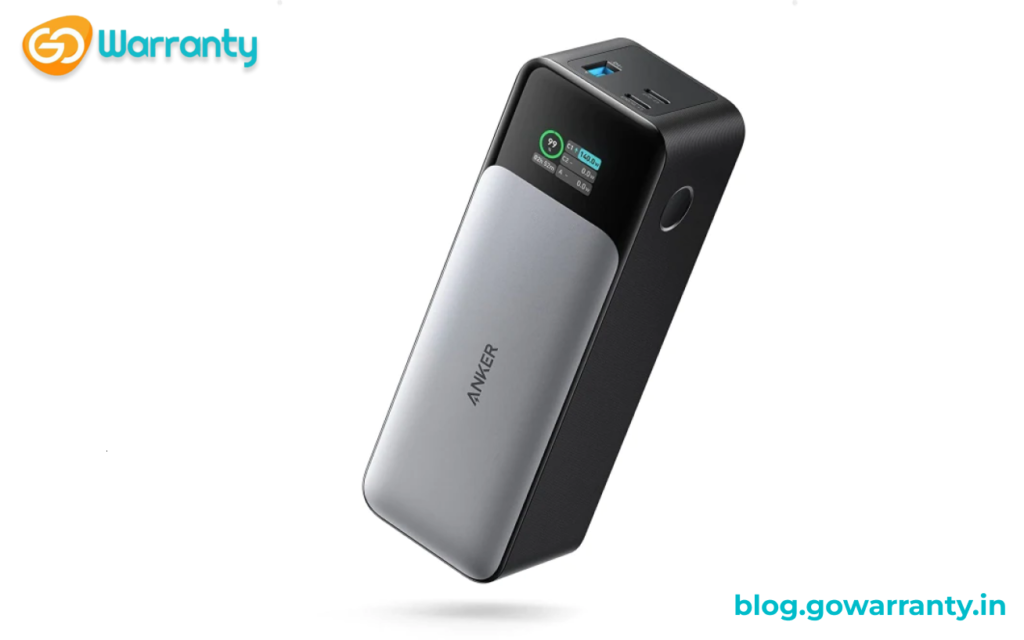 Smart Digital Display and Power
The Smart Digital Display is one of the characteristics of this power bank that I truly like. It takes the uncertainty out of knowing whether or not the power bank needs to be charged. The screen is simple to read and provides the user with a wealth of helpful information.
I charged two separate gadgets while testing the power bank: the Google Pixel 6 Pro and the AirPods Pro. The Google Pixel was charged through USB-C, while the AirPods Pro was charged via USB-A. When I do charging tests, I charge a gadget (or devices) for 30 minutes while recording the charging progress.
After the charging session, I will divide the entire amount of battery % gained by the total amount of time elapsed during the charging session. That gives me a billing rate in percentages per minute. This charging test lasted 30 minutes. The power bank did not overheat and retained its charge properly. The charger was at 100% when I started the test, and it was at 90% when I finished.
Verdict
The Anker 737 Power Bank, in my opinion, is a highly efficient charger with a lot of modern technologies integrated in. It is fairly huge and hefty for a power bank, but it works great when you need a backup power supply for your power-hungry gadgets when travelling.