Oppo's new Enco Air 2 fully wireless earphones have been released in India. In India, the new Enco Air 2 replaces the Enco Air, which was never released. Oppo is getting deeper into the inexpensive wireless earbud market, currently dominated by boAt and Realme, with the Enco Air 2. Because the new Oppo earbuds are inexpensive, they lack high-end features like active noise cancellation.
The Oppo Enco Air 2 is an excellent option if you don't care about noise cancellation and just want a set of stylish wireless earbuds. Unlike many other earbuds, the Enco Air 2's charging case has a translucent "jelly"-like appearance. The earphones can really be seen through the lid. It adds a lovely finishing touch to the earphones' overall appearance. You won't have to worry about carrying the earphones because they're light. It'll do for most folks searching for a straightforward pair of earbuds. And after ten days with it, I think a lot of you will enjoy the Enco Air 2, as long as you aren't looking for audiophile-grade sound or other sonic indulgences.
Specifications
The Enco Air 2 looks extremely similar to Apple's second-generation AirPods, with the exception that Oppo's earbuds are somewhat smaller. Each earbud has a stem but no silicone ear tips, which might be a cause to pass on the Enco Air 2. Oppo, on the other hand, claims that the Enco Air 2 is an excellent fit for all ear sizes. On the section towards the top of the stem, each earbud enables motions. The earphones are compatible with the company's Flash Connect function, which is effectively a rebranded version of Fast Pair. This function allows an Android phone to automatically recognise the earphones as well as prompt you to pair them on the screen if they are compatible.
The Oppo Enco Air 2 has a 13.4mm dynamic driver in each earphone that, according to the makers, screams out bass-rich music. People who want to listen to genres such as EDM and Bollywood will enjoy these earphones. The earphones link wirelessly to another device, such as your phone or laptop, using Bluetooth 5.2. This also implies that the earphones have a reduced latency gaming mode. You can turn it on and off with the HeyMelody app. You may also use this app to switch on Enco Live sound effects and upgrade the firmware on your earphones.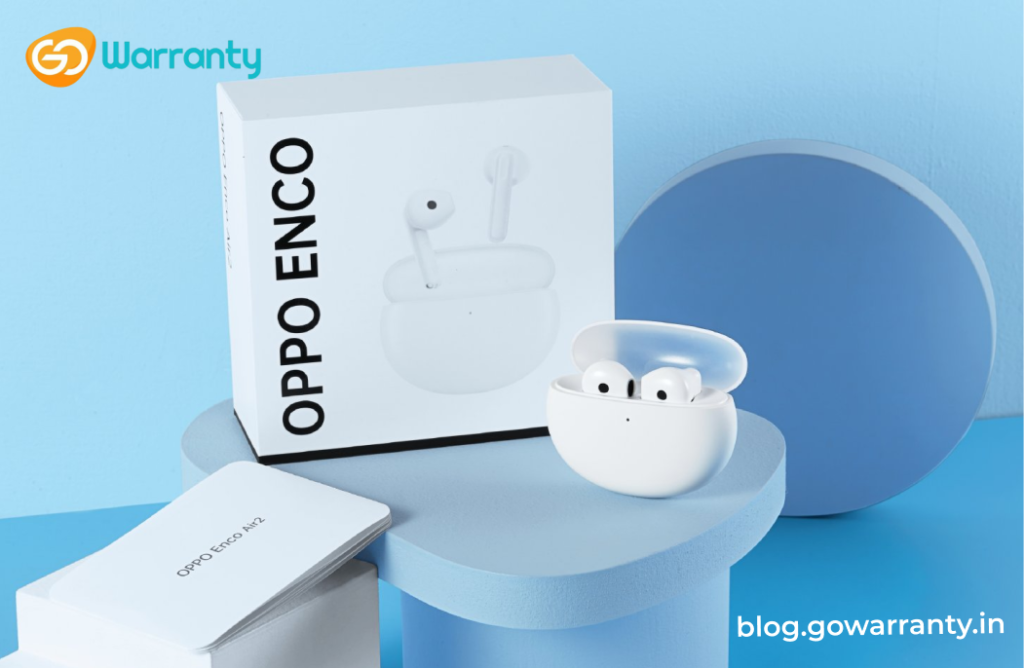 The Enco Air 2 is said to last for 24 hours on a single charge, according to Oppo. This covers both the earphones and the case's charge. Each earbud is powered by a 27mAh battery, while the casing is powered by a 440mAh battery. The charging case has a USB-C connection on the bottom for charging. The cable is included in the retail box.
Features
The Enco Air 2 takes roughly 1.5 hours to completely charge the earphones, but it takes about two hours to charge both the case and the earbuds at the same time, according to the firm. Standard audio codecs, such as AAC and SBC, are supported by the new Enco Air 2. As a result, these earbuds will be able to broadcast content from all major apps. We've now started to see earbuds with Dolby Atmos support in the inexpensive category, so it would have been nice if the Enco Air 2 did as well. The Enco Air 2 does not have active noise cancellation, but it does have AI noise cancellation, which, according to Oppo, will minimize noise during calls. The Enco Air 2 wireless earbuds have a 13.4mm composite titanised diaphragm driver configuration housed in a lightweight (3.5g) partly in-ear design that resembles the Apple AirPods. You can wear them for a whole day, according to Oppo. These are IPX4 certified as well.
Touch sensors aboard enable you to double-tap to play the next music, answer/hang up calls, or use your smartphone as a shutter button. With the Enco Air 2s, you can activate a specialized gaming mode with just a triple touch. When the earphones are touched and held, the volume is reduced/increased. If you have an Oppo smartphone, the Enco Air 2 will effortlessly integrate with it. You can access all of its control customization options, audio profile adjustment, and firmware upgrades through the Bluetooth menu. Every time you connect it to your phone, the battery indicator appears in a pop-up notice.
Price and availability
The Oppo Enco Air 2 will be available for purchase on Flipkart and Oppo's website for Rs 2,499. The earphones are available in two colors: white and black.
Verdict
There are hundreds of alternatives from a variety of manufacturers if you have less than Rs. 5000 to spend on a set of earphones. Whether it's BoAt, Redmi, or any of the others, they all provide fantastic overall packages. It's a tough nut to crack in this crowded market, but Oppo believes it can appeal to the people by distinguishing in crucial areas that matter most to purchasers on a low budget. The Enco Air 2 has a very distinct appearance from most other models in this price range.
The Oppo Enco Air 2 is a good option at Rs. 2,499 in India. It's easy to wear because of the stem-based construction and the lack of silicone ear tips. The battery life is excellent, and when used in conjunction with the Hey Melody app, you can get. There are a lot of customization choices to choose from. However, the audio quality is adequate but not extraordinary. Noise isolation is almost non-existent, and I wish Oppo had included silicone ear tips to ease the situation. In addition, there is no wear-detection sensor that hampers the wireless audio experience.
Nonetheless, the Oppo Enco Air 2 comes across as a wonderful offer for anyone looking to test wireless audio for the first time or upgrade from earlier in-ear designs for Rs. 2,499 (about $39). Within this price range, we give this product our highest rating.