Everyone loves the movie night. There is a different thrill of watching a movie at your home in that comfy place. However, your small phone screens won't give you much of that joy, isn't it? Well, you might be thinking that a TV can help you with that. Nowadays a smart TV cost a fortune but not well OnePlus. They never fail to amaze us, and now this time, they are launching their smart TV at a very affordable range.
OnePlus has been in the smartphone market for quite a while now. They produce amazing smartphones and users are always having good reviews for that. Moreover, now they are in this smart TV niche as well, but the latest Y series smart TV. The latest release of one Plus comes in two sizes that are 32 inches and 42 inches. Both of them have immersive displays, powerful sounds and fully automatic with the latest android tech. Additionally, one plus guarantees that they have this fantastic, excellent cancellation when it's come to listening to songs and thriller movies. Y-series TV is equipped with a Dolby's voice and have a colour palette of around 10 million colours.
Furthermore, the smartness of the TV doesn't end here. The way Siri is one plus TV has a powerful 64-bit processor with 93% colour gamut support. It has the latest android 9.0 technology with oxygen OS. In this article, we will tell you the five primary reasons why one plus Y series TV will revolutionise the Smart TV experience for you. So keep reading till the end and let us know your valuable comments in the review section below.
Latest Y series Model Specification
The television is available in two different dimensions that are 43 inches and 32 inches, respectively. The 43-inch display is possible with the highest resolution of 1920 * 1080. This mighty beast has a colour gamut of 93%. Moreover, there is additional enhancement such as anti-aliasing and colour mapping that just make your experience a lot better.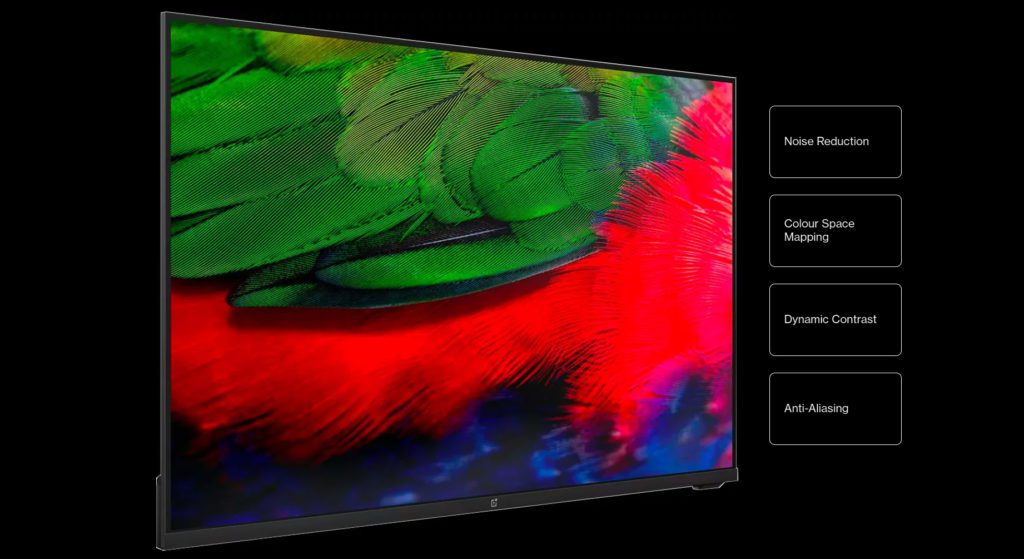 The Y-TV has Dolby surround sound, which will just make the whole movie watching experience great. The 3D surround sound gives a fantastic output with the two speakers available on the TV. Additionally, the TV has the android n9.0 as the primary OS. There are inbuilt applications like prime video Netflix and the google play store to make you feel brilliant. Also, there is an inbuilt Chromecast available on the TV, which helps your device connect to the screen very quickly.
Property
Technical Specifications
TV 43Y1
TV 32Y1
Display
Screen Size
108cm (43″)
80cm (32″)
Resolution
1920 x 1080
1366 x 768
Colour Gamut
DCI-P3 93%
DCI-P3 93%
Picture Enhancer
Gamma Engine
Gamma Engine
Enhancement
Anti-Aliaising, Noise Reduction, Dynamic Contrast, Colour Space Mapping
Anti-Aliaising, Noise Reduction, Dynamic Contrast, Colour Space Mapping
Sound
Sound Output
20W
20W
Speaker type
2.0 Channel
2.0 Channel
Speaker Configuration
2 Units
2 Units
Dolby Audio Format
Dolby Audio
Dolby Audio
Features
Operating System (OS)
Android TV 9.0
Android TV 9.0
Application
Prime Video, Netflix, YouTube, Google Play Store
Prime Video, Netflix, YouTube, Google Play Store
Voice Control
Google Assistant built-in
Google Assistant built-in
Casting
Chromecast built-in
Chromecast built-in
Connectivity
Wi-Fi Standard
2.4 GHz
802.11 b/g/n
2.4 GHz
802.11 b/g/n
Bluetooth
5.0
5.0
Smart Phone Connect
OnePlus Connect
OnePlus Connect
HDMI Input
2
2
USB Port
2
2
Accessories
In the Box
1N Remote, 1N User's Manual,
1N Power Cord, 1N Warranty Card,
2N Stand Base, 2N Battery
1N Remote, 1N User's Manual,
1N Power Cord, 1N Warranty Card,
2N Stand Base, 2N Battery
Dimension & Weight
Dimensions(TV Without Stand)
957 * 72 * 564 mm
713 * 65 * 425 mm
Dimensions(TV With Stand)
957 * 216 * 608 mm
713 * 200 * 469 mm
VESA Hole Pitch
200 * 200 mm
200 * 200 mm
Power Supply
Power Consumption
74 W
55 W
Voltage
100- 240 V~ 50/60 Hz
100- 240 V~ 50/60 Hz
DCI-P3 93% is data recorded under test conditions. There will be marginal data variation with the product in regular use.
Screen resolution for the OnePlus TV 43Y1 is 1920 x 1080, and the screen resolution for the OnePlus TV 32Y1 is 1366 x 768.
Dolby, Dolby Vision, Dolby Audio, Dolby Atmos, and the double-D symbol are trademarks of Dolby Laboratories. Manufactured under license from Dolby Laboratories. Confidential unpublished works. Copyright © 1992-2019 Dolby Laboratories. All rights reserved.
Dimensions and weights demonstrated on this page are approximate values.
Simulated UI and app availability varies by region and device. Use of this TV requires consent to Google Terms of Service and Privacy Policy.
Google, Google Play, YouTube, Android TV are trademarks of Google LLC. Network services, content, and the operating system and software of this product may be subject to separate terms and conditions, and changed, interrupted or discontinued at any time and may require fees, registration and credit card information.
Data Saver will soon be available in a future update.
The wall-mount is not included in the box, please ask your dealer for more information.
Now let us look at the features that will make the OnePlus TV the most powerful TV. So here are the five elements that will make you buy one plus TV.
Picture Perfect Protection for Your Smart TV
Bezel-Less Design Display
One Plus is featuring a fantastic design with their latest TV. They have this perfect HD colour display with capacitive colour range. Moreover, the HD display has this excellent colour experience with 93% colour range. This feature makes sure you see a lot of colours and highlights correctly. Also, this display allows bright ant sharp colour image with the automatic enhancers. These enhancers give rise to an HD display. Anti Aliasing makes sure there is no lag in the quality of the TV image. Colour mapping on this thing provides impressive illustrations for your movie and videos
Smart Features with Android
The OnePlus TV comes with the latest android 9.0. This will make sure that your Tv is as smart as your phone. There are endless streaming options, including The prime video, Netflix and other streaming services. Moreover, there is a Google play store from where you can install any android application. The whole thing is packed with oxygen OS that gives fantastic usability. With excellent connectivity to your Wi-fi, binge-watching is now much more comfortable and amazing
Dolby Surround Sound
These is one of our favourite features from the latest Y TV Series by OnePlus. Additionally, This feature was mostly seen in the expensive TVs range. However, now with one Plus, you can have the set an amazing and affordable range. Dolby sound helps to surround sounds in all the direction. This gives a better 3-D experience to hear. For instance, the cinemas use Dolby sound to produce a fantastic voice in the movie theatres. Now you will know what the quality of the sound on this thing is. This thing is packed with Dolby and have two amazing speakers to deliver the music to your ears
Connectivity like never before
The smart TV has many features to connect to different devices.. there is an OnePlus connect that allows your phone to connect to your smart TV. Over there is a Google assistant on the go from which you can easily command your TV to do what you want. Also, with a Chromecast, you can always share your screen with your TV. There is shared albums also on this TV through which you can share photo albums on your TV. It is still amazing to relive your memories on a big screen like one Plus. The fantastic display will make sure you're nostalgic moment will be as perfect as you're smart photos
Pricing and range
OnePlus has this TV at a whooping price of only 12,999. This is for the 32-inch variant. Also, this is a fantastic price for a TV such smart: one Plus has been delivering excellent quality through their phones. Seeing them on a different product market now seems interesting. We would love to see what they provide in such a price tag and such amazing features
Picture Perfect Protection for Your Smart TV
Final words on this TV
OnePlus never fails to amaze us. Now with one plus TV, we will see a different version of them. Moreover, the features are crazy smooth in such low pricing. The device looks so smooth with its amazing bees are less display and such sharp colours. Finally, the reviews are fantastic and recommend the TV to a broader audience. We will see what it is after the reviewers post accurate comments after using it for at least 3 months.