Consider spending four figures on a high-end flagship smartphone. Hold your horses for a moment, because you might not need to. OnePlus' reputation as a flagship killer is well-deserved, and the new OnePlus 11 exemplifies everything the company has learned in the eight years since its first phone was released. For $699, you get top-tier flagship power, a high-spec camera, a gorgeous display, a massive battery, and a beautiful design. However, it is not the only smartphone in this category, and one of the more appealing options is the Google Pixel 7. Google's smartphone, priced at $599, competes with the OnePlus 11, offering flagship-level power, a stunning display and design, a jaw-dropping camera, and a long-lasting battery. With both phones in the mix, determining a winner in the OnePlus 11 vs. Google Pixel 7 battle becomes quite difficult.
Price
The OnePlus 11 starts at $699, goes on sale on February 7, and hits stores and doors on February 16. It will be available for preorder and purchase from OnePlus, Amazon, and Best Buy. The Google Pixel 7 is currently available, with prices starting at $599, and it should be available at most smartphone retailers.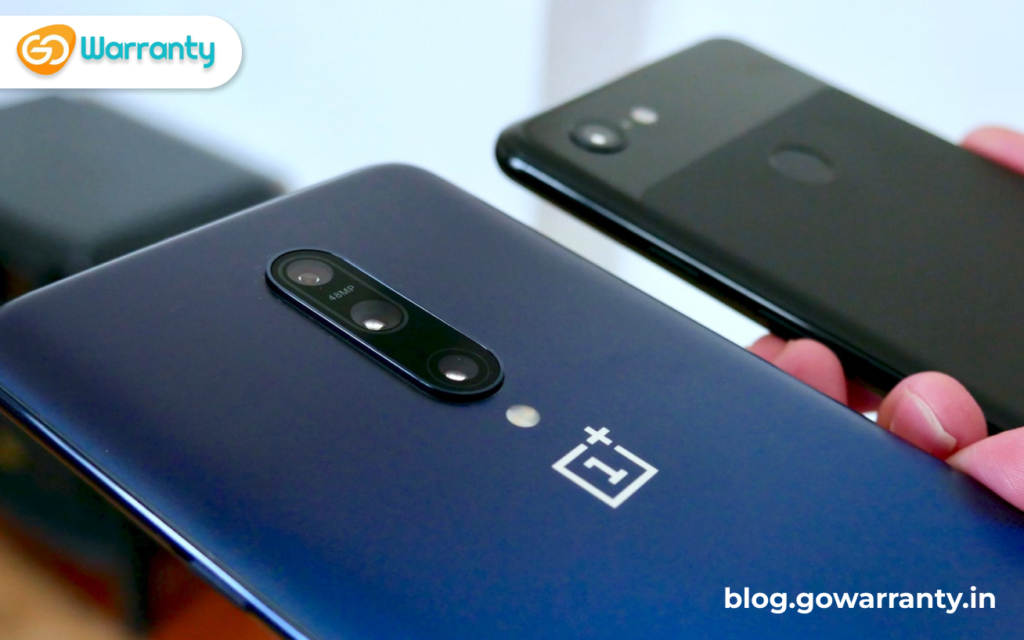 Design and Display
Device fronts have become increasingly similar (thanks to narrow bezels). Instead, designers have gone all out on the back casings, and both of these phones are excellent examples. The Pixel 7's back has a distinct camera bar with a brushed metal surface interrupted only by a hole for the camera lenses. The OnePlus 11 takes things a step further by including a massive circular camera module. They are both distinctive and attractive.
In terms of display technology, the OnePlus 11 has an advantage. Both have stunning AMOLED displays, but the OnePlus 11's variable frame rate can range from 1Hz to 120Hz, outperforming the Pixel 7's 10Hz to 90Hz refresh rate. Due to this difference, the OnePlus 11 can exert less power at 1Hz on the always-on display and feel even smoother at 120Hz.
Performance, Battery Life
These two smartphones provide flagship performance at a lower cost, but they are not equal. The Pixel 7 is powered by Google's Tensor G2 processor, which is a solid chip with good performance most of the time. It has issues with gaming and caused several issues during our testing period. This is in stark contrast to the OnePlus 11's powerful Snapdragon 8 Gen 2 processor. The processor breezed through demanding games and monstered its way through anything we could throw at it. It's an incredible chip, and it gives the OnePlus 11 a significant advantage. When you add 16GB of RAM (on the more expensive model), the OnePlus 11 redefines what it means to be a flagship smartphone.
Does the OnePlus 11's advantage extend to battery life? Unfortunately for Pixel fans, the answer is yes. Don't get us wrong: the Pixel 7's battery life is excellent, lasting all day even with heavy use. The OnePlus 11's battery, on the other hand, can last two days with moderate use, outperforming the Pixel 7's battery life with comparable use.
The OnePlus phone also excels at charging, with the supplied charger charging the device at an astounding 80 watts. Even with wireless charging and reverse wireless charging, Google Pixel 7 30W charging cannot compete.
Cameras
The OnePlus 11 has a triple-lens camera setup on the back, with lenses tuned by Hasselblad. As a result, the camera produces well-balanced, realistic images without oversaturation, which is a concern with some other flagship phones. The ultrawide lens matches the main lens, but some other aspects fall short. The automatic macro mode isn't particularly good, and the third lens is a dedicated portrait lens, which is an unusual inclusion. It relies on digital bokeh to do the job, and the edge detection is hit-or-miss. A telephoto lens would have been a better option.
Google Pixel 7 lacks a telephoto lens as well, but the results from the primary and ultrawide lenses are nothing short of spectacular. Because of the way it handles light and shadow, the Pixel 7 consistently produces images that look amazing, and sometimes even better than in real life.
Software and Updates
Both of these smartphones run Android 13, but in very different ways. The Pixel 7 is powered by the Pixel version of Android 13, which is essentially a stock version of Android 13 with a few tweaks. Even though our time with the Pixel 7 and Pixel 7 Pro hasn't been bug-free, it's sleek and smooth, and still one of the best software experiences available.
OxygenOS was once one of our favourite mobile operating systems, but recent changes have changed our minds. However, Oxygen OS 13 (based on Android 13) has begun to move OnePlus' software in the right direction, and it is much more visually appealing and usable. There are some issues, but they are minor and easily overlooked. Update times are effective for both. Google will push out updates to Pixel phones on the first day of a new Android version's release, and while OnePlus obviously cannot match that level of software support, it does manage to push out updates fairly quickly.
Special Features
The OnePlus 11 doesn't have a tonne of unique features, but it does have a few tricks up its sleeve. A cooling system that uses graphene to keep your components cool contributes to the impressive gaming performance. The superfast 80W charging, as well as Dolby Vision and Atmos support, should be considered as well.
The Pixel 7 has few hardware special features, but it compensates with some very impressive software tricks. As one might expect, the Google Assistant takes centre stage in Google's flagship phone, where it powers the call waiting as well as screening service, in addition to a number of useful AI features. It's impossible to separate these two in this comparison.