The Microsoft Surface Pro 9 has a couple of advantages. The 13-inch tablet feels more like a true laptop experience when paired with a matching Signature Keyboard cover than an iPad or Android device with a similar form factor. When used in conjunction with Microsoft's Slim Pen 2, it provides a smooth drawing and note-taking experience. However, these benefits are not without drawbacks: Its large 3:2 form factor makes it a cumbersome reader, and its unique capabilities don't play well with some apps, so you're not getting the best Windows experience possible. It's a little different, which is great – except when it isn't.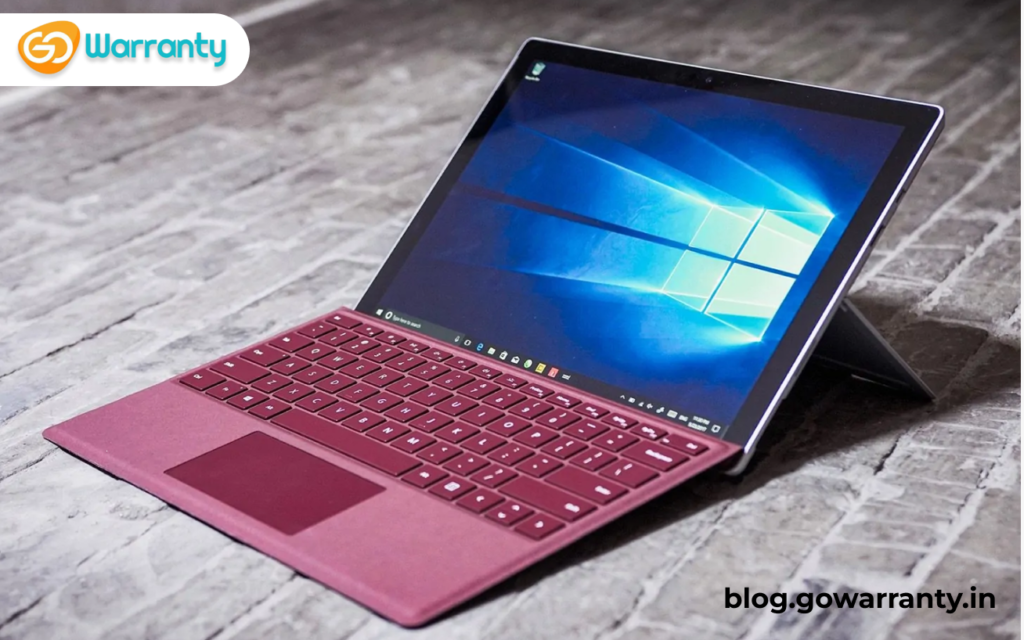 Design and Features
To be sure, the Surface Pro 9 looks great. The 3:2 anodized aluminium slate is large but thin, measuring 11.31 x 8.19 x.31 inches (WDH). It weighs 1.93 pounds, or 2.57 pounds with both the keyboard and pen attached, making it portable. However, its size and dimensions are ultimately optimised for tabletop use. It's arguably too big to hold up close to your face like a tablet or phone. Not to mention that, even with the touchscreen, we're using Windows 11, which means that neither the operating system nor the software are optimised for "mobile" workflow in the same way that iOS and Android are.
Much of the design in the Microsoft Surface Pro 9 is still the same after the more substantial redesign in last year's Surface Pro 8. It has a 2880 x 1920p, 10-point multi-touch display that runs at 120Hz and supports Dolby Vision HDR. The display has relatively large bezels, which allows for a 1080p front-facing camera that supports Windows Hello and a dual-microphone array for video calls and recording. (On the back is a more powerful 10MP camera capable of shooting 4K photos and video.) The bezels are thicker on two sides, the webcam-laden "top" and "bottom" in landscape mode – reinforcing the idea that you need to compromise to set it up like a laptop.
Configuration and Performance
The most significant update for Intel-based models, such as the one I've been using, is the standard jump to new 12th-Gen Intel Core U processors. The base model includes a Core i5-1235U processor. The i7-1255U processor in our review unit is more powerful. Intel U-series chips, for example, are designed to maximise power efficiency – and thus battery life – often at the expense of raw compute power. On the graphics front, both models rely on Intel's Iris Xe integrated graphics, so most games won't run smoothly.
They also have faster, upgraded LPDDR5 RAM, though how fast depends on whether you stick with the standard 8GB or upgrade to 16GB or 32GB. The Surface Pro 9's storage is provided by an internal SSD, with capacities ranging from 128GB to 1TB. In general use – web browsing, processing, and using the stylus my review unit, an i7 model with 16GB of RAM and 256GB of storage – feels very snappy. After extended use, the back of the tablet will become warm, but you won't notice it in the keyboard because the hardware is all found within the tablet.
The Pro 9's battery life, on the other hand, is a plus. Despite having a smaller 47.7Wh battery than the Surface Pro 8, it lasts longer, getting an estimated 15.5 hours out of a single charge. That matched my own experience: I generally got about a day and a half out of the Surface Pro 9 prior to actually needing to charge it, though playing games obviously depleted the battery faster.
Gaming
Given the specs and benchmarks, it should come as no surprise that the Surface Pro 9 is not a very good gaming computer. Even the most potent processor will have trouble running new AAA games on anything but the lowest settings. For instance, Overwatch 2 ran smoothly at 60 frames per second on low settings, but broke down as soon as I tried to use higher settings. While Mortal Kombat 11 in 1080p at 60 frames per second on Low can be run on it, competitive players might not find that to be quite right. However, some games function fairly well: Doom (2016) fluctuated between 30 and 45 frames per second with some stuttering on Ultra settings, but when you turned it down to High, it ran smoothly at 45 to 60 frames per second.
It's also worth noting that due to the Surface's unique interface, Early Access games as well as pre-release betas may encounter additional issues. I tried playing Marvel Snap during its first week and found it nearly unplayable due to touch screen issues. Those issues have since been resolved, and the game now works flawlessly on all of the other devices I used to play Snap, such as my Windows desktop, Macbook Air, iPhone 14, and M1 iPad Air.
Given all of the issues, I believe it's important to emphasise that the Surface Pro 9 is not a gaming machine, and its performance reflects this. It's primarily designed for portability and a few specific uses, such as note-taking. Because it has a large, sharp screen that can make a game look great but lacks the GPU performance to bring it to life, it's a perfect example of the type of device which also pairs well with game streaming services such as Xbox Cloud Gaming and Nvidia GeForce Now.
Verdict
The Surface Pro 9 isn't exactly a gaming powerhouse, but it has a few advantages that could make it an ideal fit for the right person. The Surface Pro 9 may be a good fit if you like to take notes by hand or want a really light laptop alternative that's powerful enough to run the software that most of us use every day. For everyone else, it lacks the versatility of other tablets and the power of a similarly priced gaming laptop.