If the Microsoft Surface Pro 7 were a small child, it would be lonely and neglected right now, and perhaps a little jealous of all the attention lavished on its younger siblings. With Microsoft introducing an ARM-based Surface as well as teasing exotic dual-screen phone/tablet hybrids along with it, the good old Microsoft Surface Pro 7 appeared humdrum in comparison. That's understandable! Despite the new number, the Surface Pro 7 has received little attention this year. And, while it would be churlish to say this makes it a bad device – it isn't – it isn't much different from the Surface Pro 6.
Price
Microsoft is still not including the keyboard in the box, but since the Surface Pro 7 is backwards-compatible with previous Type Cover keyboards, you can get one for as little as £80 from Amazon. Third-party keyboards can even be purchased for under £40. That means the Surface Pro 7 could start at as little as £840.
Design
If you've ever used or owned a Surface Pro 4, 5, or 6, read any reviews about them, or seen someone else use one, you'll be familiar with what the Surface Pro 7 has to offer. This is due to the fact that the physical design has changed very little in that time. Even the Surface Pro 3, which debuted five years ago in 2014, shares many physical characteristics with the Surface Pro 7. And, believe me, five years in the tech industry is a long time. The iPad Pro didn't even exist five years ago, and it has received a significant physical update.
If this sounds like a bad thing, I may be exaggerating a little. The Surface Pro 7 has a polished design that works really well; in fact, if you're looking for a laptop that can also double as a tablet (or a tablet that can also double as a laptop), it's one of the best designs we've seen. I adore the 12.3in 3:2 aspect ratio display, which feels just right for working on. It clearly outperforms the rather cramped 16:9 displays found on many flagship ultraportables these days. And the whole thing is relatively light, weighing 775g for the tablet alone and 1.1kg with the keyboard attached.
Stylus
However, it's worth noting that Microsoft continues to label both the compatible Surface Pen stylus and – more controversially – the detachable Type Cover keyboard as optional extras. I'm not concerned about the Pen, but keep in mind that a keyboard is not optional with any Windows device, so make sure you budget for one when purchasing.
The good news is that the regular Type Cover is both cheaper and more versatile than the official keyboard that comes with the iPad Pro. Not only can it be tilted up at an angle for more comfortable typing, but it is also backlit, making it easier to see in dim or dark conditions. Although the USB Type-C port isn't Thunderbolt-enabled, it can be used to charge the Surface Pro 7, allowing you to connect to a USB Type-C monitor with a single cable.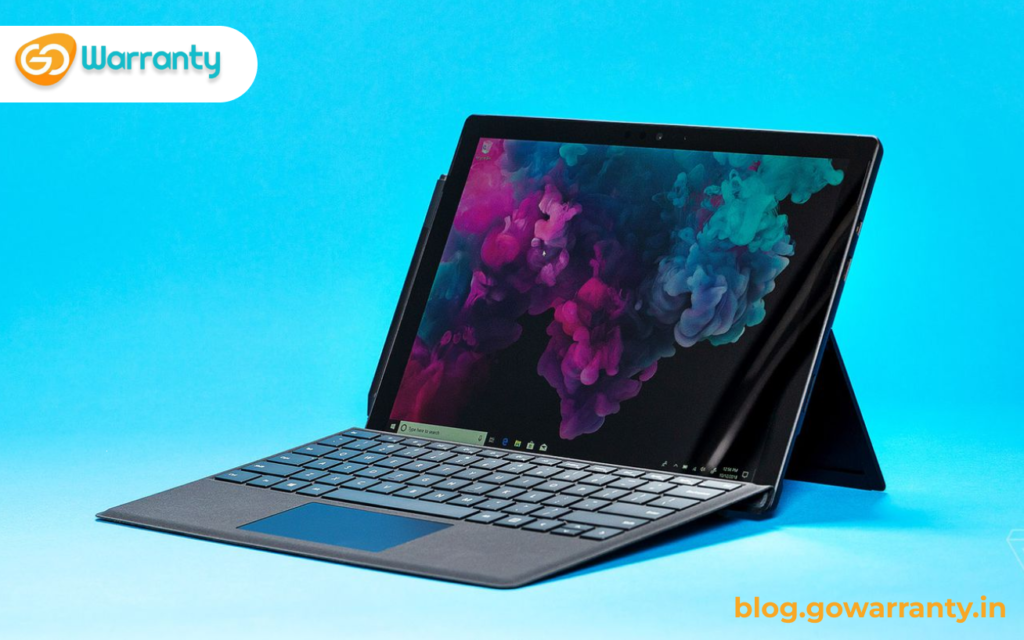 Display
Another area that hasn't changed – but isn't a deal breaker – is the Surface Pro's screen. It has a diagonal measurement of 12.3in and a super-sharp resolution of 2,736 x 1,824 with a pixel density of 267ppi. It's still touch-sensitive and works with the Microsoft Surface Pen for sketching and taking notes. Although perfectly adequate, we'd prefer to see a panel that can display a wider range of colours. This is a sRGB display that cannot display a wider P3 colour gamut like the more recent Apple MacBook Pro laptops.
Nonetheless, the Surface Pro 7's display is perfectly adequate within its colour space. It's extremely accurate (if you select sRGB in Windows 10's display settings) with an incredible average Delta E of 0.84 and 92.8% sRGB coverage, which is a solid set of numbers. Furthermore, with a peak brightness of 400cd/m2 and a contrast ratio of 1,317:1, image quality is generally excellent. You'll be able to work on this screen in all but the brightest outdoor lighting.
Performance and Battery Life
The CPU is one of the most significant changes this generation, with Microsoft switching to the Intel 10th Gen Ice Lake series of chips. The model I received included a quad-core 1.3GHz Core i7-1065G7 processor with Iris Plus graphics, 16GB of RAM, and a 256GB SSD. This setup's performance was disappointing. It feels perfectly responsive to use, but cooling appears to be an issue because the Surface Pro 7 performed no faster than the Core i5-based Surface Pro 6 in our demanding 4K media benchmarks, which stress a laptop's CPU, storage, and cooling systems.
I wasn't sent the Core i5, but this result suggests that you're probably better off saving some money and going with the lower power processor, as it's probably a slightly better fit for the Surface Pro 7's cooling properties. Either that or a laptop such as the Dell XPS 13 or the 13-inch Apple MacBook Pro. Even a Dell XPS 13 equipped with previous generation Intel silicon will outperform this. The good news is that graphics performance has greatly improved, with the Surface Pro 7's Iris Plus graphics outperforming the Surface Pro 6.
However, when it comes to battery life, the Surface Pro 7 disappoints once again, with the new and supposedly more efficient 10nm Ice Lake chip falling nearly an hour short of the Surface Pro 6 in our video rundown test. That is a huge letdown.
Verdict
Microsoft may argue that it has not ignored the Surface Pro 7. It's added USB Type-C and upgraded the internals, but all signs point to a hybrid in desperate need of an update. The design is still nice, but it's starting to look dated. Meanwhile, the new silicone interior appears to be constrained by the chassis. To top it all off, the battery life isn't as impressive as I'd like it to be.