LG has introduced a new set of earphones to the market. The LG Tone Free FP earphones are a new addition to the company's audio lineup. These aren't your typical earphones. UV nanotechnology is used to disinfect the LG Tone Free FP earphones, which employs ultraviolet radiation. In just five minutes, the business says, it can eliminate 99 percent of microorganisms. However, it makes no indication of how well the coronavirus is removed from the earphones. Aside from that, the earbuds use Meridian technology HSP, which simulates listening to actual loudspeakers with crisp and spacious sound.
"After getting a very inspirational reaction from our consumers to the LG ToneFree Series, we are thrilled to offer the latest range of earbuds in the series," said Hak Hyun Kim, Director-Home Entertainment, LG Electronics India. We carefully listened to our customers' needs before developing these products. ToneFree earphones from LG include novel features such as UV Nano and Meridian Technology. Audiophiles seeking the perfect combination of sanitation, quality, and the latest in audio technology will find these earbuds the ideal choice.""
Specifications: LG Tone Free FP earbuds
The LG Tone Free FP earbuds have UV technology, which makes them stand out. In India, no earphones have ever employed this technology. The earbuds have a UVnano charging cradle that uses ultraviolet light to clean the buds and eliminate 99.9% of microorganisms. While charging, it may eliminate microorganisms such as E. coli, Staphylococcus aureus, and Klebsiella pneumonia on the speaker mesh of the earphones in 5 minutes. There's no word on whether the earphones are also effective against the coronavirus.
Meridian Audio, is a famous British audio technology firm. LG's partner in creating outstanding sound is featured in the new earphones. It makes use of the same technology used in high-end speaker systems. The earbuds have been redesigned to accommodate the earbuds. TONE Free earbuds include Meridian audio technology, which includes Headphone Spatial Processing. LG TONE Free FPearbuds consists of three sizes of Medical Grade Silicone Ear Gel for a secure fit. The ear gels are non-irritating and hypoallergenic. In addition, the earbuds have active noise suppression and a 3D Soundstage. This gives consumers an immersive experience when watching a movie, TV show, or playing a game.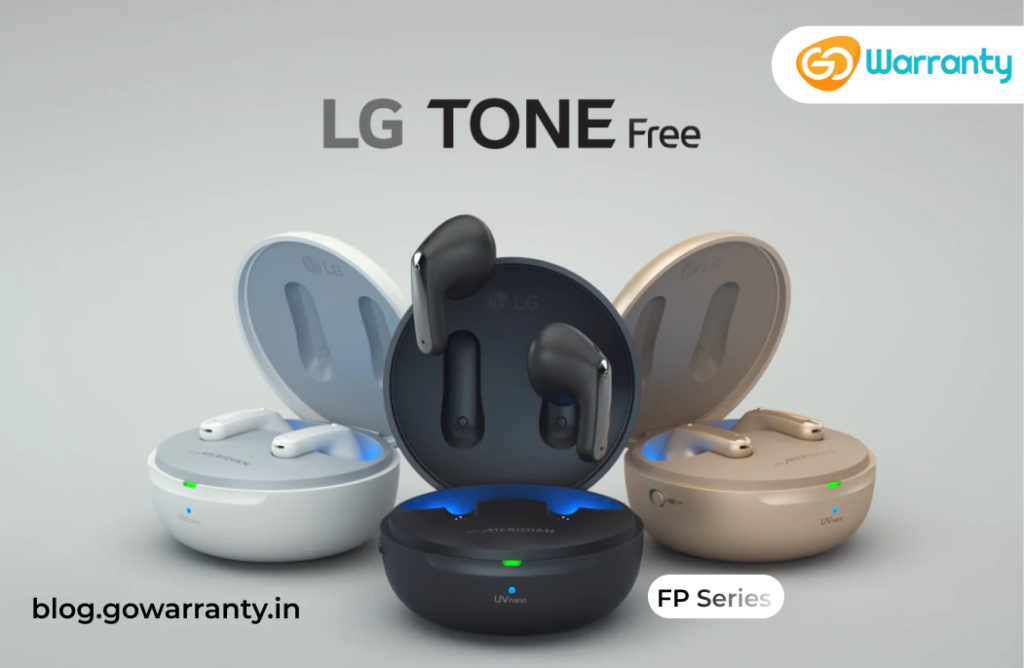 The LG ToneFree earbuds provide a Whispering Mode in addition to active noise reduction. The right earphones may be removed and used as a microphone. Consumers may enable the function by downloading and connecting with the Tone Free app from the Google or Apple Play Store, then selecting the Whisper Mode option. The Tone Free FP9 has a battery life of up to 10 hours on a fully charged battery and up to 24 hours when charged with the charging case. On a single charge, the Tone Free FP provides up to 8 hours of gameplay, while the case provides up to 22 hours of battery life.
Price and availability: LG Tone Free FP earbuds:
The LG Tone Free FP earphones have been released for Rs 13,990. The earphones will come in two colors: Charcoal Black and Pearl White. LG plans to sell the earbuds on major e-commerce platforms, as well as its own website and select retail locations. LG has not yet stated when the new earphones will be available for purchase. The business has yet to reveal prices for individual models. The earphones come in two colors: Charcoal Black and Pearl White. These are expected to be on sale soon through LG's e-store and partner channels. Although, LG has not specified a specific date.
Comparison
The LG TONE Free FP8 looks like a mix of AirPods Pro and OnePlus Buds Pro, with a hint of the Samsung Galaxy Buds Pro's whimsical jewel shine. The FP8 has a recognizable appearance, yet it is nonetheless unique. Because the buds are fairly light and the case is amazingly compact and pocketable, portability is a top goal. With a Bluetooth product, you can connect and listen quickly thanks to Google Fast Pair (Android 6.0+) or Swift Pairing (PC). To pair the buds for the first time, open the case and push on the left bud until the case light becomes blue. It couples automatically on future usage.
The LG TONE Free FP8 buds don't have enough depth to feel secure. The buds, on the other hand, are very comfortable because they don't fit too tightly. These earphones are OK to use on the bus, but despite the IPX4 designation, you should avoid running with them. LG sells three different sizes of silicone ear tips as if the FP8's hypoallergenic nature is a selling point. If you have sensitive skin, you should realize that silicone is already hypoallergenic.
If you have a specific requirement and a limited budget, there's a good chance the perfect solution exists. It's still a good idea to get the Samsung Galaxy Buds Pro if you have a Samsung mobile. The 360 Sound feature and Samsung's proprietary low latency codec are both available. The ANC and isolation are somewhat worse than the FP8, but the sound quality is slightly superior. Additionally, purple buds are available for purchase.