The LG G2 OLED TV is the brightest LG OLED TV ever. OLED TVs have traditionally lagged behind the best QLED TVs in this category, but not any longer. If we weren't already sold on OLED evo technology, writing this LG G2 OLED TV review has converted us. The second-generation OLED evo panel features a dedicated heat-dissipation system, allowing the picture to get much brighter without causing the dreaded OLED burn-in that plagued last year's LG G1 TV.
This TV is more than just bright: an updated Gallery Series design, new webOS version, and overall high performance make it one of the best TVs on the market this year. The premium features, however, come at a premium price; this is LG's most expensive 4K OLED TV of the year, with a $2,999 price tag on the 65-inch model.
Price
The LG G2 OLED TV is the company's top-tier 4K OLED set this year, and it comes at a premium price. The LG G2 will be among the most expensive devices we test in 2022, and it will include two larger sizes to create the most extensive Gallery Series collection yet. The 65-inch model we tested costs $2,999, but here's a closer look at it.
Ports and Connectivity
The LG G2 OLED TV has four HDMI 2.1 ports, which is standard for LG's OLED TVs at this point but not for all of the best TV brands. HDMI 2.1 allows for frame rates of up to 120 Hz with 4K video, as well as an improved audio return channel (eARC on HDMI 2). HDMI 2.1 also benefits gaming because it enables features such as variable refresh rate and auto low latency mode. You'll want to use these features if you want to take advantage of the next-generation graphics on the PS5 and Xbox Series X consoles. NVIDIA G-sync, NVIDIA GeForce Now, Google Stadia cloud gaming, and AMD FreeSync are all supported by the LG G2.
There are three USB 2.0 ports, one Ethernet port, as well as an RF coaxial plug for cord cutters. The 3.5mm headphone jack was removed from the Gallery Series, but the Gallery Series OLED TVs include built-in NextGen TV ATSC 3.0 tuners. ATSC 3.0 allows for 4K broadcasts over the air as well as a return channel for interactivity and targeted advertising in select cities.
Performance
We first saw this set next to the LG C1 OLED and this year's LG C2 OLED, and the brightness (and brightness control) are unrivalled for an LG OLED. This is the first time in a few years that the Gallery Series performance clearly outperforms the C series.
Dune provided us with a comprehensive understanding of the LG G2 OLED TV's performance. Because of pixels that can be turned on or off completely, so-called perfect blacks are expected. The blacks in Timothy Chalamet's iconic wet-look locks did his 'do justice, with the desert-weary inky strands looking real enough to brush through.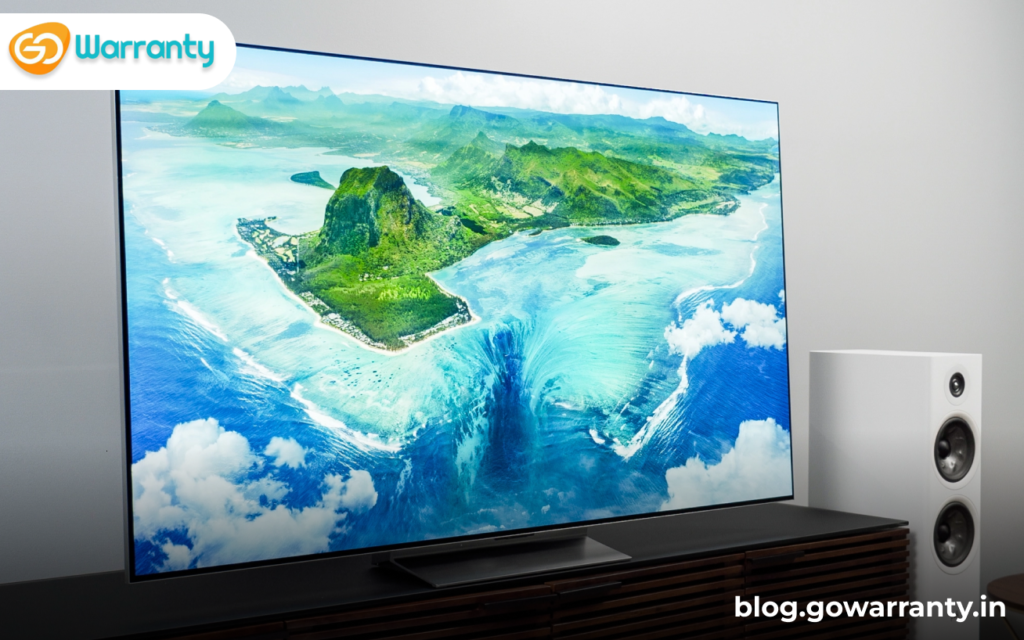 Audio
The audio performance of the LG G2 OLED TV is among the best I've seen (or rather heard) for an OLED TV. It includes a plethora of sound modes, ranging from standard and cinema to sports and music, as well as a setting that amplifies voices. During setup, the set recommends AI Sound Pro, which converts the set's standard 2.1 stereo to virtual 5.1 surround sound, effectively adding dimension as well as height to audio.
Listening to Fall Out Boy's "Just One Yesterday" with AI Sound Pro accentuated the vocal's megaphone effect, creating a stadium concert atmosphere in our rudimentary testing studio. Furthermore, LG AI Sound Pro uses on-screen images to create sound movement in scenes. The common spilling or shuffling of sand seemed to happen not only on screen, but also above and below the display while watching Dune. Dolby Atmos was also used in this case.
Smart Features and WebOS22
All LG 2022 TVs come with webOS 22, an upgrade from webOS 6.0. (the software version will be represented by the year from this point forward.) It resembles last year's major redesign, which removed the launcher bar and bottom menu tiles. The content is navigated on a full-screen home page, which means you'll have to stop what you're watching to look for something new. At the very least, you can easily change some key settings without disrupting your show.
User profiles are a notable software upgrade. These aid in the curation of recommendations and the accessibility of each household member's relevant content. Using the LG ThinQ app's Magic Tap function, you can switch profiles by tapping your smartphone to the TV remote. Magic Tap also makes it simple to mirror content from your smartphone to the LG G2 TV.
LG's ThinQ platform also serves as a control hub for many of the best smart home devices, ranging from a connected InstaView fridge to smart lights in your living room. The LG G2 also includes Alexa and Google Assistant, allowing you to use your TV to control devices, specific TV settings, and more. LG's voice assistant is also compatible with the set's fair-field microphones, which means it's in your control.
Remote
The LG G2 OLED TV remote is identical to the G1 remote, which was designed to be less crowded for a more streamlined experience. You can navigate using buttons or a wireless cursor, which feels exactly like a Nintendo Wii remote. There are also six dedicated buttons, including Alexa and Google Assistant buttons. If you frequently watch Netflix, Amazon Prime Video, or Disney Plus, the LG G2 OLED remote makes it simple to access your favourite content.
Verdict
Because of the need to preserve colour volume and mitigate OLED burn-in, brightness has been a long-standing OLED shortcoming. However, the LG G2 OLED TV with second-generation OLED evo technology is a significant improvement. There's no way to know whether this panel will truly prevent burn-in in the long run, despite the fact that our testing revealed no issues.