Lenovo's Legion laptops are generally excellent gaming machines, and the latest Legion Pro 7i is an absolutely fantastic machine. Except for the price, it packs powerful performance as well as a solid display into a premium design that stands out for all the right reasons.
Indeed, the Legion Pro 7i Gen 8 tears through just about any task, and it does so while looking fantastic, thanks to the latest and greatest hardware from both Intel and Nvidia. It doesn't feel out of date in any way, whereas some gaming laptops sacrifice certain aspects of a typical premium experience in order to focus solely on gaming.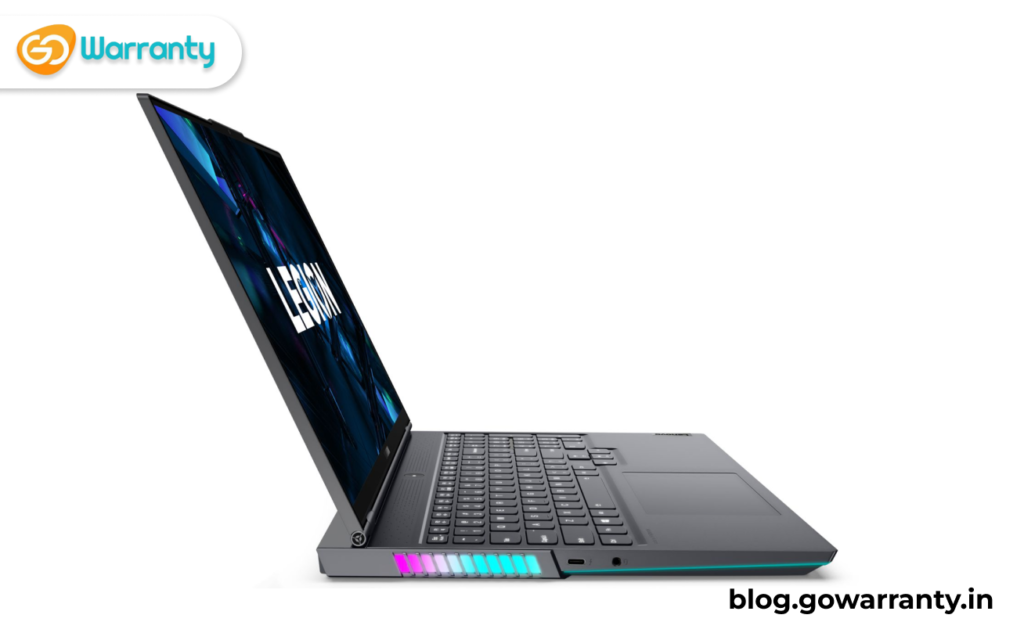 Price and Availability
Lenovo announced the Legion Pro 7i earlier this year at CES, and it is now available for purchase. Lenovo's website indicates that it is currently out of stock, but we have previously seen it available. You should keep an eye out for it. It may eventually appear at other retailers, but that is not the case right now.
The configuration we received costs $2,749.99, and it is the only option available for purchase right now. Lenovo has also mentioned versions with RTX 4090 as well as RTX 4070 GPUs, so prices will vary if you choose one of those. Furthermore, Lenovo has a lot of sales throughout the year, so keep an eye out for deals.
Design
The design of the Lenovo Legion Pro 7i exceeded my expectations in almost every manner. The chassis is entirely made of anodized aluminium, and it not only feels sturdy, but it also feels good. It has a soft touch finish that I've never seen on a laptop before, and it just exudes a premium feel that I wouldn't expect from a gaming laptop or many laptops in general.
The hinge has just enough tension to allow the laptop to be opened with one hand without feeling flimsy. It also helps that Lenovo uses a reverse notch at the top, which makes lifting the display with your thumb easier. The laptop is also very attractive. I enjoy whining about how laptops should be more colourful, but this shade of grey looks fantastic in person. It also has some personality, with the fan exhaust vents having a finish that makes it appear as if there are tiny water droplets on the laptop.
Ports
Gaming laptops typically have numerous ports, but the Legion Pro 7i has one of the most I've seen. The proprietary charging port, HDMI 2.1, two USB Type-A ports (one always on for charging), RJ45 Ethernet, as well as a USB Type-C port with DP Alt Mode and support for 140W charging are all on the back. With this port, you won't be able to charge your laptop very quickly.
Keyboard and Touchpad
The keyboard on the Lenovo Legion Pro 7i is well-designed. The arrow keys are all full-size, which is always appreciated, and there is a numpad, which can be useful. Since this machine lacks Windows Hello support, I always use it to sign into my PC with my PIN. The keyboard is also comfortable to type on. The keys have the appropriate amount of travel distance and feel good to press overall.
The touchpad is also smooth and responsive, and I never really had any complaints. The numpad pushes the keyboard to the side, so it must be offset from the centre. I'm used to this layout after using the Lenovo ThinkPad T16, so I didn't have the same issues. The offset isn't as bad as it was on that laptop, which is also a plus point.
Display
Unfortunately, we've arrived at the worst part of the review: the display. However, it is not always a bad thing. For starters, this is a large 16-inch display with a resolution of 2560 x 1600. That's a lot of resolution for a screen this size, and it results in a nice, tall 16:10 aspect ratio. Taller screens should be the norm, even for gaming laptops, especially at this price. It increases the adaptability of laptops.
The refresh rate is 240Hz, which makes everything look smooth and is, frankly, more than you can get out of most modern games without lowering the graphics settings (more on that later). As a result, this screen is ideal not only for gaming but also for doing work. In terms of brightness, Lenovo promises up to 500 nits, but my measurements showed that my unit exceeded that, reaching nearly 536 nits. Surprisingly, the minimum brightness level is extremely low, with black measurements on my calibration tool registering as 0 nits.
Performance
Given the specifications, it should come as no surprise that the Lenovo Legion Pro 7i is a lightning-fast machine. It is powered by a 55W Intel Core i9-13900HX processor with 24 cores and 32 threads and performance cores that can reach 5.4GHz. It also includes an Nvidia GeForce RTX 4080 Laptop GPU with the maximum TDP allowed by Nvidia's design: 175W.
Lenovo also touts its dedicated AI engine, which is powered by the proprietary LA2-Q chip. This is aimed at optimising performance based on multiple sensors within the laptop, ensuring the best possible performance based on the load. According to Lenovo, the engine becomes smarter over time.
Intel's 13th-generation processors as well as Nvidia's GeForce RTX 40 series Laptop GPUs both provide significant performance improvements over their predecessors. The VRMark tests produced some unusual results, but overall, both 3DMark tests show that this new generation is a significant upgrade.
Verdict
I don't often say I like a product as much as I like the Lenovo Legion Pro 7i, but it hits a lot of the right notes. The build quality is excellent, it's lightning fast, and the tall display makes it ideal for tasks other than gaming. The high price tag is probably its most significant disadvantage, but given how versatile it is, I'd say it's worth it if you have this kind of money. However, I wish the display had a slightly better colour coverage, as this would make this a more versatile laptop that could also be used for colour-sensitive work, such as photo and video editing.