At the Mobile World Congress, Huawei announced two laptops: the MateBook X Pro 2022 and the MATEBOOK E 2022, in addition to its first-ever all-in-one PC, the Huawei MateStation X. (MWC). The new laptops that were for the worldwide market were initially releases in December for the Chinese market. Both workstations are by Intel's 11th Generation processors and come pre-installed with Windows 11 Home Edition. The MateBook E, like Microsoft's flagship laptop, comprises two primary pieces. A tablet with a huge display and all of the components within, as well as a magnetically attached keyboard cover.
Let's take a deeper look at the Huawei MATEBOOK E 2022's cost, features, and specifications to see what they have in store for you.
MATEBOOK E Laptop Pricing And Availability
It is available in Nebula Grey and costs 649 Euros (approximately $725/54,655) for the i3, 8GB+128GB storage model and 1199 Euros (about $1,115/84,130) for the i5, 16GB+512GB model. The screen resolutions of all the models are the same 12.6-inch OLED screen with a resolution of 2560×1600 pixels (16:10). The display has a DCI-P3 broad color gamut and a peak brightness of 600 nits, and it also supports the brand's M Pencil stylus. The pen is now in its second generation, with features such as 2ms latency, 4096 levels of pressure sensitivity for smooth writing, and a stated battery life of 10 hours.
The model will be available for sale in the market soon, but there hasn't been any word about when they will launch it in India.
Specification And Features
The MATEBOOK E comprises two pieces, as previously stated but unlike Surface Pro, it will include both the tablet and the keyboard in one box – at least in most parts of the world.
The tablet is small (7.99mm) and simple in design. It's also light, weighing only 709 grams. It's a nice difference from carrying about a bigger laptop. Glass fiber is for the back, while magnesium alloy is for the sides because Windows is considerably more difficult to handle with your fingers than, say, Huawei's own Harmony OS on the MatePad Pro, using the keyboard cover (with the touchpad) suggests. The connection to the tablet is really reliable, and the durability of the keyboard cover is also quite good, black material is smooth and somewhat rubberized. For video calling or capturing, there is a 13MP back camera as well as an 8MP frontal camera.
It lacks the new MateBook Pro X 2022's 90Hz refresh rate, but it replaces the LCD display with an OLED version. Richer colors, higher contrast, and perfect blacks are all advantages of OLED. You'll probably require an OLED display if you want to enjoy real HDR movies on the move.
Connectivity and Communication
 In terms of connectors, Huawei does not skimp, as you receive a contemporary USB-C port with full Thunderbolt 4 capability. You are, however, constrained by the fact that there is only a single port. If you wish to connect an additional screen, for example, be sure it supports USB-C power transmission; otherwise, the laptop will use battery power. Unplug the power adapter every time you wish to connect a USB drive. Or external hard disc might be inconvenient while working. We'll see later that the MateBook E's battery life isn't excellent, so you'll have to use the power adapter frequently.
This product, like other recent Windows devices, comes with a modern Wi-Fi module (in this case, Intel AX201). Which supports Wi-Fi 6 and Bluetooth 5.1 but there is no choice for an LTE or even 5G modem. The transfer speeds are excellent when used with our Netgear reference router (Nighthawk AX12). And we had no signal difficulties during our testing time. Huawei also provides HuaweiShare. Which is comparable to Apple's AirDrop technology and may be used to transfer data across compatible Huawei devices. For example from a smartphone to a MateBook).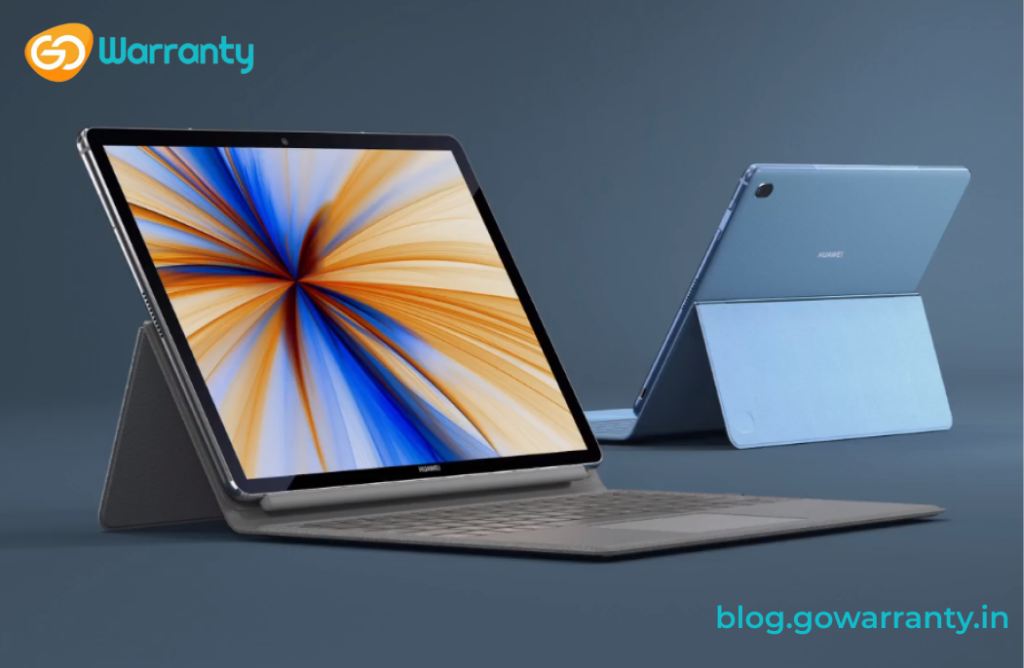 Performance And Battry Life
The Huawei MateBook E may be equipped with an Intel Core i7-1160G7 CPU. And Iris X graphics up to 11th generation Intel Core i7-1160G7 processor. However, the lack of 12th-generation alternatives seems strange.
SSDs have a maximum capacity of 512GB and memory up to 16GB. Huawei appears to be please, including its latest cooling system. Which it claims contains 79 ultra-thin blades measuring 0.15mm that are packed together to facilitate air movement.
It has a good battery life as there are 65 watts of charging power to bring you back to 100% rapidly. Which solves the problem of the fast charge when the battery is pretty low.
Charges up to 54% in 30 minutes, and to fully charge it takes about 90 minutes. It gives runtime for about 4-6 hours, depending on usage and on brightness. Updated microphones for improved voice conversations, a quad-speaker system (two woofers and two tweeters) that Huawei claims can generate virtual surround sound. And strong interaction with other Huawei devices through its Super Device tech is among the additional enhancements for the MATEBOOK E. For multi-screen work, Super Device allows users to connect a smartphone to the laptop.
GPU Performance
The typical Iris Xe Graphics G7 has 80 EUs, which is often used in Tiger Lake-U CPUs like the Core i5-1135G7, which does all graphics computations. Because of the robust video decoder, this iGPU is a solid choice for everyday tasks. High-resolution video playback is likewise no problem. The iGPU, on the other hand, is not designed for gaming. The overall performance is poor, and it will deteriorate by another 30% in a few minutes. You should concentrate on Windows Store games that are extremely old or very simple. On battery power, the performance isn't diminished anymore. More GPU benchmarks may be found in our Tech section.
There is no such heating issues as it always stays at a good temperature during tasks. Depending on the energy settings, the power consumption can be dropped from 10-12W.
Overall, it's a good laptop with good specifications and power. If its battery life and power can match up to other laptops it will be a good choice.