The boAt Airdopes 601 ANC by boAt is a set of wireless earphones. It is an Indian audio and smartphone accessory company that is one of the world's leading manufacturers of wireless audio products. The Airdopes 601 ANC are marketed as a budget-friendly option for those looking for active noise-cancelling earphones. Let's take a look at the boAt Airdopes 601 ANC in detail.
The Boat Airdopes 601 ANC will be available for Rs 3,999 on Flipkart beginning January 10 at 12 p.m. Black and White are the two colour options for the Airdopes 601 ANC. The Airdopes 601 ANC will be counted against the Realme Buds Air 2, Jabra Elite Active 65T. And OnePlus Buds Z with its sub-Rs 4,000 price tag.
To begin with, it utilizes Bluetooth 5.0 for communication. They have a 10mm driver with Boat trademark audio tuning, so they have plenty of basses and because of the presence of Active Noise Cancellation (ANC) air conditioners, traffic, human speech. And coffee machines will all be eliminated. The TWS also has active noise cancellation up to 33dB, which blocks sounds from the outside environment and adapts to it. These buds have a stem design and fit in the ear canal. There's also a transparency mode, however, it's mono and lacks directionality, which might be confusing at times. They also come with adjustable ear tips, so users may choose the optimum fit for them.
boAT Airdopes 601 ANC Price And Availability
These are a set of earbuds with average sound quality. The inflated mid-bass dominates the sound, dominating over everything as the bass comes in. The lower and mid-mid mids sound pretty good, but the upper mid-range is almost non-existent, and the entire treble range sounds like downloadable stuff that you have to pay extra for.
A thin, vertical housing style is offered for earphones. The casing is made of matte black plastic with a smooth finish. The plastic case is of good quality and is durable. It has USB-C charging and the connector is located on the right side of the device with four white LED's which illustrates the status of the case's opening, indicating energy and pairing. The lid of the case easily opens and shuts with a magnetic latch with a pairing button on its back.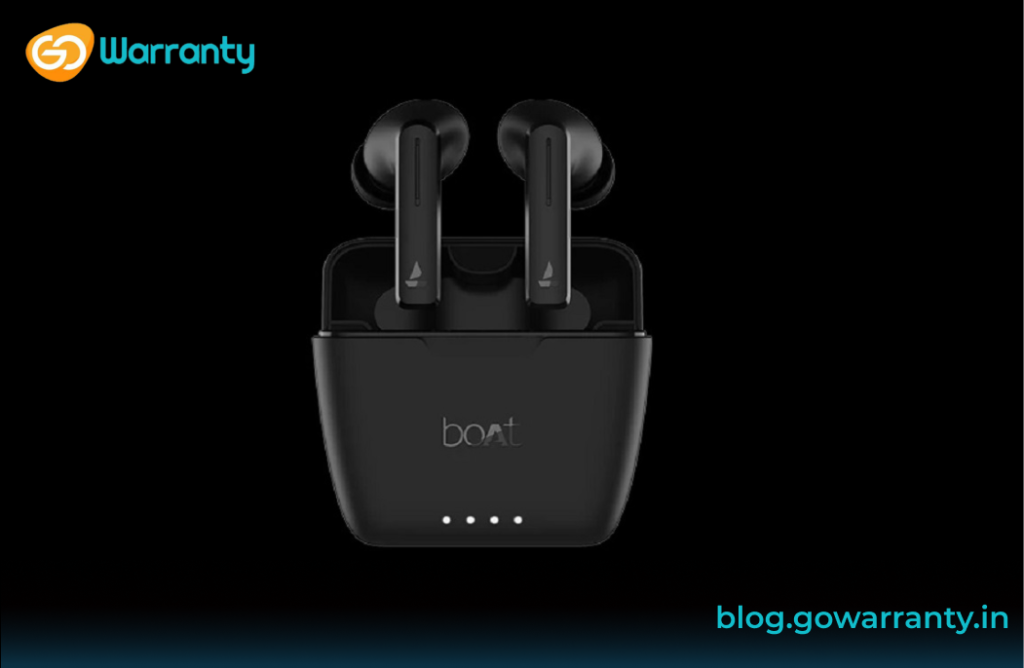 As far as I can determine, the Airdopes 601 ANC does not have a companion. On the app store, boAt has a dozen different applications, but none of them appears to be for this product. As a result, you must control everything you do with the earphones themselves. Play/pause, track skip, volume, and ANC settings are all OK because motions can handle them. However, you can't do things like upgrade the firmware. Alternatively, you may eliminate some functionalities, such as audio playing automatically when your earphones link with your phone. Also, at the time when the earbuds were connected, it would automatically start playing the Spotify app whenever launched.
The performance of the microphone was likewise subpar. While conversing, the sound would flutter in and out, as if the earphones couldn't tell which portion was your speech and which was background noise. The sound would become entirely lost in the background if there was a lot of ambient noise.
Battery Life is Rate to Last up to 4.5 hours
Its battery life is rated to last up to 4.5 hours with ANC power on and up to 5.5 hours having ANC power off on a single charge. It has a standby time of about 60 hours. It's each earbud battery capacity is a 50mAh Li-polymer battery with a charge casing capacity of 470mAh. The case will add 22 hours to the entire battery life, bringing the number to approximately 28 hours (27.5 hours). The Airdopes 601 ANC featured a Rapid charge for charging. Which is rate to do is provide 1-hour playback with only 5 minutes of charge.
It is a truly wireless earbud that is in trend nowadays because it is easy to use. And easy to carry which easily adapts to the lifestyle of today's fast-paced generation. Sometimes people like to do multiple things at a time like running or while working out in the gym. Listening to heavy or soothing music and are fed up with the hassle created by the wired earphones which get entangled in many places.
These earbuds are somehow useful for those people who love to play games regularly. They can get a very good experience from these earbuds. As they have a special gaming mode that is useful for the players. These wireless earbuds include six microphones featuring ENx technology, which also will come in handy during calls. The performance in terms of latency is below average. You might not notice the slight delay between both the video. And the audio depends on how perceptive you are, but if you are attentive to that type of thing, it's difficult not to notice it each time.
Specifications And Features
Latency issue in gaming is also one of the major problems of the earbuds launched by different companies. It cannot help a professional gamer to play without the issue of latency. As it is below average on these terms but can give a good experience to the people who do not play the games on a professional level and are just there for fun.
If you wish you can spend a little extra and buy the OnePlus Buds Z2, which are far superior to Airdopes 601 ANC. These true wireless earbuds have far too many problems, as well as a mediocre sound. In comparison with others, it is not recommended.
Other features that are included in these true wireless earbuds are the Instant Wake n Pair (IWP) function. This allows you to connect to your device instantly, ambient mode, Google rapid pair, IPX4 water resistance, and compatibility for Google Assistant and Siri. It also gives some accessories. The accessories present in the TWS Box are Airpodes 601, Additional earbuds, a user manual for guidance, a Warranty Card, and a charging cable.