HP collaborated with AMD to develop the new HP Dragonfly Pro. To compete with the Mac, this slim laptop packs the latest Ryzen processor, with 8 high-performance cores and powerful graphics. While you must decide whether you prefer this over a MacBook, we believe it is a computer worth considering.
Design
If HP was aiming for Apple's quality, I have to give them credit—the Dragonfly Pro comes close in most ways. From the moment you peel the recycled paper covering off this thin laptop, you can tell it's high quality. Although the box is small, it contains a high-powered 96 watt power brick and a braided USB-C charging cable. Both the power brick and the laptop feature the sleek, angular HP logo, which distinguishes them from the company's lower-end laptops.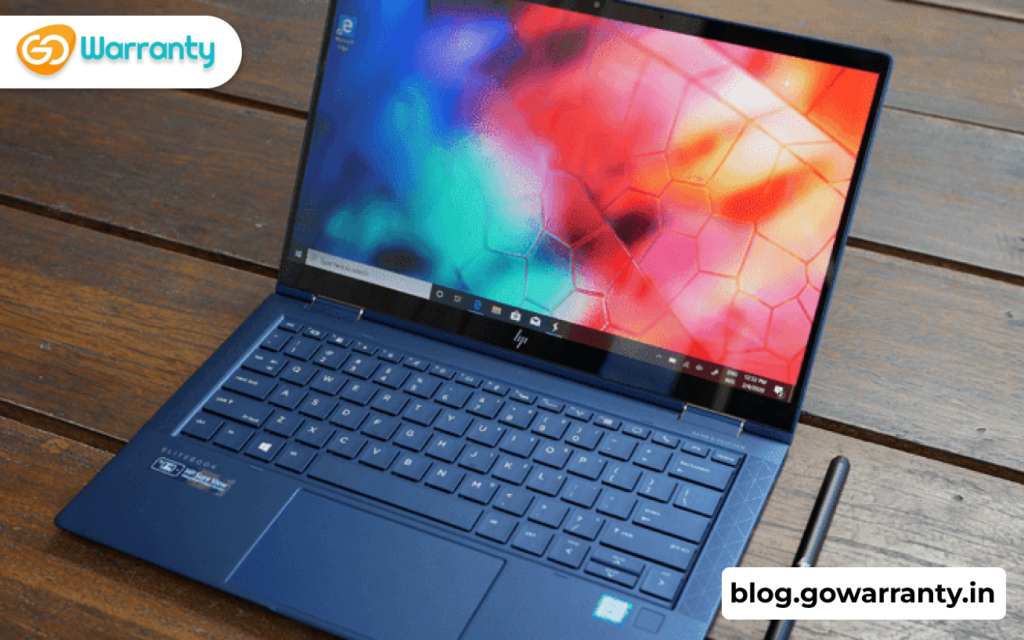 The laptop has a nice shape on its own, and it is made of high-quality materials like polycarbonate and aluminium, some of which are post-consumer recycled. The black I tried has a slight fleck to it, giving it a spacy sheen in the right light. However, it is not glossy, and the only places where fingerprints were found were on the keycaps and the glass touchpad surface. Underneath, you'll find a pair of raised rubber strips that slightly raise the angle of the keyboard while allowing ample airflow to the cooling vent. And, when under load, it'll need all the air it can get, as the fans spin up and can be heard, albeit with a consistent whoosh.
Connectivity
HP, like Apple, has kept ports to a bare minimum. If you do the majority of your work online and rely on cloud storage, you won't be too bothered, but those of us who plug in a bunch of accessories and still use corded headphones may have a more difficult time.
The Dragonfly Pro, on the other hand, allows you to add ports thanks to its two USB 4 ports. These are Thunderbolt 3 compatible and allow you to connect high-speed storage (up to 40Gbps), docks, and fast chargers. These two ports are located on the left side of the computer, and a small LED indicates whether the laptop is still receiving power from the charger. On the right side, there is a single USB-C 3 port with significantly less bandwidth.
Keyboard and Touchpad
The Dragonfly Pro, like the HP Dragonfly G3 Folio I recently tried, offers an excellent on-the-go typing and mousing experience. The keyboard, with its relatively light touch and although intuitive snap that lets you know exactly when you've pressed a key, is a standout for me. The fingerprint reader is housed in one key, next to the power button, which some users may prefer for unlocking their device.
The smooth glass touchpad came as a pleasant surprise. It has a haptic feedback mechanism, similar to what you'd find on an Apple laptop, that simulates clicks with a linear motor. It feels fantastic to use, and you'd be hard pressed to tell it's not a mechanical button being pressed. While the palm detection could be improved, moving the cursor around the interface and dragging files here and there was no problem.
Display
The display is good, but if HP is aiming for the MacBook Pro 14-inch, it may need to do a little more work. The Dragonfly Pro has a high contrast, colourful, and especially bright 16:10 display with a peak brightness of around 400 nits, according to my tests. However, this screen is fixed at 60hz and lacks any next-generation technology such as mini LED for improved contrast, let alone higher refresh rates for gaming or simply making the interface look smoother. All of these features are included with high-end MacBook Pro models. One thing to note is that HP has chosen rounded corners for the LCD, which is a nice match for Windows 11's rounder look.
Speakers
These speakers are incredible! Everything I threw at them sounded amazing, from loud action sequences in movies to spoken content and even the excruciating abuse of pingy, bleepy electronic music. If you use your laptop as your primary entertainment system, the Dragonfly Pro's quad speaker system can play almost anything and make it sound lively without any discernible distortion. Those who are upgrading from an older laptop to this HP Dragonfly are in for a treat.
Performance
The HP Dragonfly Pro is an overachieving Windows laptop in an unassuming package. While we'd expect an Intel P-class chip in a machine of this size, HP has instead chosen AMD's latest mobile Ryzen 7736U. Ryzen is a formidable force in large desktop PCs, and this HP makes excellent use of its efficiency. With its 8 cores and 16 threads (all of which are high-performance), as well as powerful embedded Radeon graphics, it outperformed comparable systems equipped with 12th generation Intel and Xe Graphics.
Battery Life
If you're expecting world-beating battery life from the HP Dragonfly Pro, you might be disappointed. We measured just under 10 hours of playback in our looping video battery life test. When compared to similar 13-inch ultraportable notebooks, it falls somewhere in the middle. When you look closer at that mid-pack, you'll notice that the Dragonfly Folio G3 and Surface Laptop 5 both use lower-power U-class Intel processors.
Verdict
It's been a while since I've seen a computer that I'd actually want to own, but the HP Dragonfly Pro checks off the majority of the boxes for this freelancer. It's easy to use, quick and responsive, has great speakers, and is reasonably priced. Although AMD is an unusual choice for this type of machine, it's clear that when given a chance to shine, Ryzen can kick a lot of butt. If you don't have a strong preference for macOS, the HP Dragonfly Pro offers excellent value. It's efficient, long-lasting, and, unlike the Mac, can flex its muscles and play games when you're not using it.