Hisense recently redesigned its previous Tornado TV model and released the Hisense A7H Tornado 2. The latest Hisense A7H Tornado 2.0 supports HDR10, HLG, Dolby Vision, and HDR10+ and comes with an integrated JBL soundbar. It has a contrast ratio of 1200:1, but is this enough? How about its hue and brightness? Is it a natural colour profile? Is this a good option to think about? Should you buy this TV or look for another? Continue reading to find out the answers.
Looks and Ports
The Hisense A7H Tornado 2.0 has almost no bezels, giving it a premium appearance. Hisense refers to it as a floating glass display, which is correct. JBL's built-in soundbar with two front-firing tweeters and four bottom-firing speakers is located on the bottom. JBL has tuned it with two front-firing tweeters and four down-firing full-range speakers for exceptional clarity.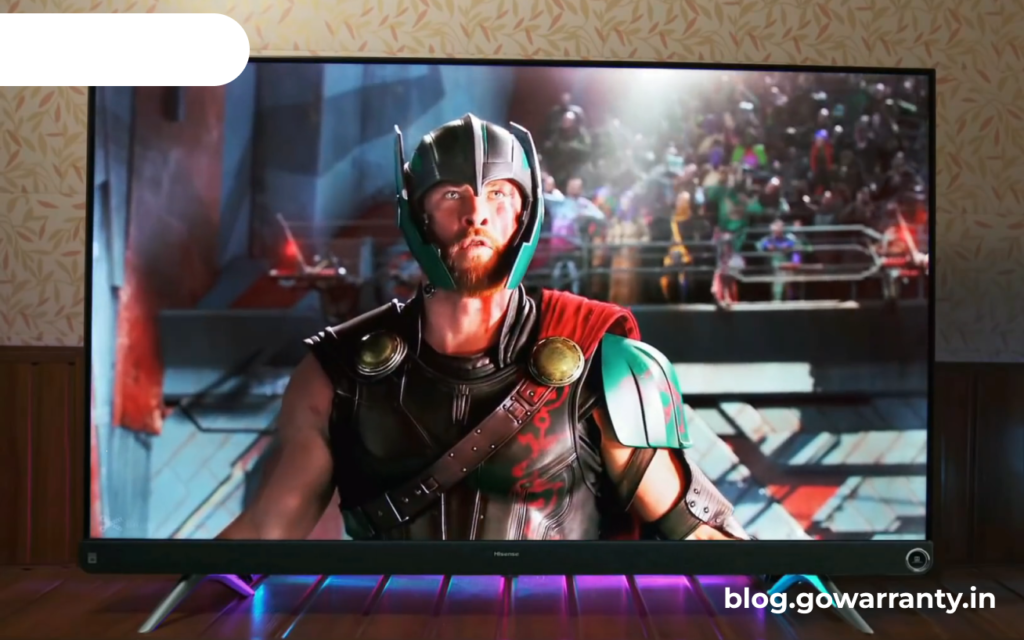 All connectivity options are located on the back, including three HDMI ports (1 HDMI 2.1 eARC port) and others. Bluetooth 5.1 and dual-band wifi are supported. There are no far-field microphones available. Voice assistant commands, on the other hand, can be given using a remote with Netflix, Youtube, Sony Liv, Prime Video, as well as Disney Hotstar hotkeys.
OS
You get Android 11 Google OS out of the box with the Hisense A7H Tornado 2.0. It already has all of the apps installed. Your favourite and suggested content will be displayed as tiles. If you're still not satisfied, you can add more apps to your TV. It includes Chromecast, Miracast, and Apple Airplay support, allowing Apple devices to be cast. It has 2 GB of RAM, 16 GB of total storage, and 7.3 GB of usable storage. Android 11 is a large piece of software, but 7.3 GB of storage is sufficient.
Panel
The Hisense Tornado TV 2.0 has an 8-bit FRC IPS DLED panel with a peak HDR brightness of 450 nits. Hisense claims that its sustained brightness is 400 nits. Peak brightness indicates that the TV can display a maximum of 450 nits of brightness in a specific area if and when necessary. Sustained brightness refers to the brightness of the entire panel. It is a direct full array panel, according to Hisense (not full array local dimming). Direct refers to DLED backlighting, while full array refers to uniform backlighting with few gaps. This results in uniform brightness, or 400 nits of sustained brightness.
Video Formats
HDR10, HLG, Dolby Vision, and HDR10+ are all supported by the Hisense Tornado TV 2.0. All video formats are supported, and the peak brightness is 450 nits. This is what makes the content interesting. On Amazon Prime, we tested HDR10+ and Dolby Atmos content, and it was fantastic. In comparison to other TVs, it wasn't the best. However, it is the best in this price range of televisions. Color and shadow details were excellent. All you need are more details in HDR content.
On Netflix, we tested Dolby Vision content. As a result, the colours were vibrant and the content was comprehensive. We were completely pleased. We also watched the Ulta HD 4K content, which was very detailed. The dark scenes looked fantastic.
Picture Quality
All three colours are oversaturated, with red being the most so. This kind of image quality appeals to us. Picture quality improves when red is oversaturated. We discuss the picture quality that comes with the colour profile out of the box. Colour profiles can be altered by switching between picture modes or calibrating colours. We always test in default mode, and colours are slightly oversaturated in default mode, but they don't look bad.
Blacks
Since it has an IPS panel, the Hisense A7H Tornado 2.0 is not a perfect TV in terms of black. Use the fox light behind the TV to solve this (Rs 300-400). Dark greys will appear black as a result, which is a good thing. It has a contrast ratio of 1200:1. We tested it, and the difference in blacks at the end of the graph was minimal.
Each colour has different shades, which this panel cannot detect. It's not bad for an IPS panel and a low-cost TV. Only TVs priced at Rs 1 lakh and above can display all shades of every colour. Its contrast is pleasing. According to the IPS panel, the blacks are also sufficient.
Upscaling
We weren't thrilled, but we were pleased with the SD channels. It is acceptable to upscale the SD channel. HD channels have been incredibly upscaled. On such a large screen, SD channels cannot be upscaled as well as HD channels. When you change to the sports channel, the sports mode is activated. MEMC is the sports mode. Only use it when watching sports. Change the settings to suit your needs. However, MEMC must be turned off during movies. Turn on MEMC to enjoy sports.
Gaming and Audio Quality
Hisense Tornado TV 2.0, the best 55-inch 4K TV, has a Game Mode+ feature that is ALLM via HDMI 2.1 eARC port. Connect it to the gaming console to get 48Hz to 60Hz VRR. In this price range, this gaming performance is excellent. Except for gaming, no other type of content offers this advantage.
The built-in JBL soundbar of 102W is the main highlight of this best 55 inch smart TV in India 2022. If we had to sum it up in one word, it would be fantastic. This TV does not require a soundbar. The built-in soundbar on the Tornado is more than adequate. It has a fantastic sound.
GoWarranty's Extended Warranty
When purchasing a television, you should always get a good extended warranty. Avoid low-cost extended warranties that offer poor service. For these, Go Warranty's extended warranty plans are the best and most highly recommended. Well-known YouTubers like UdRawat also recommend it. GoWarranty provides the best extended warranty services, ensuring that your television is trouble-free. Purchase it for this Hisense A7H Tornado 2.0 55 inch Google TV and receive an additional 4-year warranty, for a total of 5-years.