One of the most important things in our daily lives nowadays include electronic gadgets and appliances, and as demand for the best technology rises, so do their prices. However, even after spending a lot, the devices only come with a short warranty. After a certain period of time, you wind up paying much more to fix it. Additionally, the servicing or repair was occasionally not very good. Well, each OEM creates a variety of fantastic products, which are then priced affordably by the retailers. But do consumers themselves make any money? No, because the majority of the time damage occurs precisely after the manufacturer's warranty has run out. GoWarranty, however, is here to offer extended warranties and repair services
The process of having it repaired or fixed from a certain brand or service expert is not that simple, and it will cost you a significant amount and can hurt your wallet. Since manufacturers only offer limited warranties, everything has a solution. GoWarranty, however, is here to offer extended warranties and repair services for your gadgets.
What is Extended Warranty?
An extended warranty is a type of service agreement made to help you in paying for repairs needed because of flaws in the manufacturing process, malfunctions, or regular wear and tear on significant household items. With such a guarantee, you can rest easy knowing that future repair expenses will be kept to a minimum. Herein is the role that GoWarranty plays. To help your home appliances and technology last longer without costing a lot, they extend the brand/product guarantee. The overall process runs smoothly and efficiently, delivering services right at your doorstep.
Who wants to take time off work to visit a service centre, fill out a ton of paperwork, and then spend a ton of money to get their devices fixed in today's busy world? With GoWarranty, you may conveniently take use of the services without being tired or making repeated trips to the service centres.
How would you currently go about getting your device or appliance repaired?
You do not receive a quick claim as soon as a loss or damage to the insured gadget due to a reason listed in the policy is reported. The damage and circumstances will be reviewed by the insurance, and a surveyor appointment will follow. After visiting your house for an inspection, the assigned surveyor will send a report to the insurance. A lot of paperwork is required during the procedure. The situation is not over yet since you must wait for their response and it is unclear if the insurance will be used or not. Frequently, if the insurance is not used, and the client pays more money.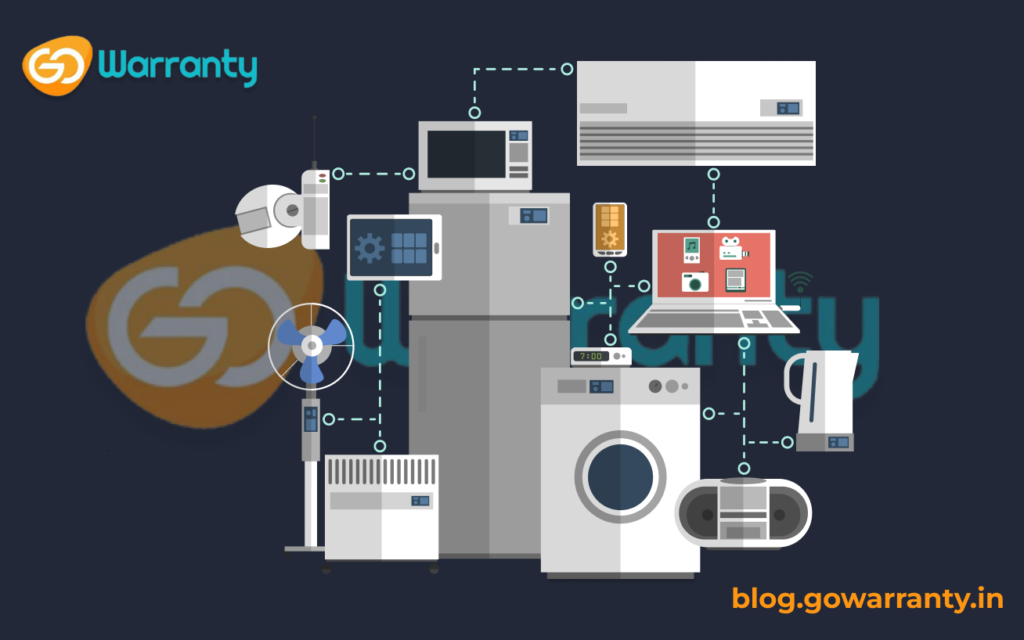 Going with GoWarranty, however, would change the situation because all Indian companies provide an extended warranty. It provides minimum cost coverage for gadget failure or breakdown. All of its services include free pick-up and delivery of your electronics and home appliances from your doorway. The company also provides a guaranteed policy of repair or replacement. All maintenance and repairs are carried out at authorised service facilities using OEM-approved authentic spare parts. Additionally, you are entitled to a free replacement gadget if they are unable to fix it within the specified time frame.
How GoWarranty Extended Warranty works
On a range of household products and technology, GoWarranty will replicate and extend the manufacturer's warranty, allowing you to repair or replace your items whenever they break down. GoWarranty covers all costs associated with fixing your devices. For a wide range of household electronics and gadgets in India, such as cameras, mobile phones, tablets, laptops, washing machines, air conditioners, televisions, and small appliances, GoWarranty provides extended warranty coverage. On their website, you can access the whole product line.
Has the device been harmed? You can contact GoWarranty by phone or email. After purchasing the appliances, you may choose to purchase a Go Extended Warranty for up to 9 months. GoWarranty offers a completely cashless experience; all you have to do is send them a copy of the sales receipt with the IMEI/Serial Number on it. Personnel with the appropriate training will fix your gadget. Up to the conclusion of the plan, the entire value of the gadget will be covered.
Brands GoWarranty covers
All of your home and kitchen appliances, as well as gadgets, are covered by GoWarranty, including air conditioners, air purifiers, audio systems, electric fans, geysers, home theatre systems, sound bars, electric irons, room coolers, room heaters, televisions, vacuum cleaners, washing machines, blenders, coffee makers & grinders, dishwashers, electric kettles, food processors, juicer mixer grinders, microwave ovens & OTGs, refrigerators, toasters. Within nine months of purchasing your gadget, you can get an extended warranty from GoWarranty for these gadgets or appliances.
You have the option to extend device protection for up to four more years. The duration of the possible extended warranty is determined by the expected typical life cycle of the equipment. Please keep in mind that if you choose an extended warranty for your device, the combined length of the manufacturer's guarantee plus the extended warranty cannot exceed five years.
| | |
| --- | --- |
| Devices | Brands Covered |
| Audio System | PHILIPS, Sony, LG, Samsung, Bose, Harman Kardon |
| Digital Camera and | Canon, Fujifilm, Sony, Nikon, Panasonic |
| Television | Samsung, Xiaomi Mi, Sony, LG, Thomson, TCL, Vu, Panasonic, Haier, BPL, Videocon, Philips, Lloyd, Sanyo, Toshiba, Hisence |
| Dryers | LG, Samsung, Bosch & Siemens, IFB, Whirlpool |
| Electric Fans | Bajaj Electricals, Symphony, Usha, Maharaja, Morphy Richards, Havells, Orient, Atomberg |
| Washing Machines | Samsung, LG, Bosch & Siemens, Whirlpool, Haier, IFB, Panasonic, Godrej |
| Grooming & Hair Care | Philips, Panasonic, WAHL |
| Irons | Philips, Bajaj Electricals, Panasonic, Morphy Richards, Havells |
| Kettles | Philips, Bajaj Electricals, Morphy Richards, Havells |
| Laptops | Microsoft, Apple, HP, Dell, Lenovo, Acer, Asus, Avita, LG, MSI, Alienware |
| Microwaves | LG, Panasonic, IFB, Samsung, Bajaj Electricals, GE |
| Mobiles | Apple, Samsung, Nokia, LG, Sony |
| OTG | Morphy Richards, Bajaj ELectricals, IFB, Toshiba |
| PC Desktops | Apple, LG, HP, Dell, Lenovo, Microsoft, Acer, Asus |
| Refrigerators | LG, Hitachi, Samsung, Godrej, Whirlpool, Panasonic, Bluestar, Haier |
| Room Coolers | Bajaj Electricals, Symphony, Macoy |
| Room Heaters | Bajaj Electricals, Havells, Samsung, LG, Haier, IFB, Morphy Richards |
| Semi-Automatic Washing Machine | Samsung, LG, Whirlpool, Godrej, Haier, Panasonic, IFB, Bosch & Siemens |
| Split AC's | Samsung, LG, Panasonic, Carrier, Voltas, Godrej, O'General, Bluestar, Toshiba, Haier |
| Tablet | Apple, Samsung, Lenovo, LG, Sony |
| Toasters | Bajaj Electricals, Sunflame, Philips, Haier, IFB |
| Top load Washing Machines | Samsung, LG, Whirlpool, Godrej, Haier, Panasonic, IFB, Bosch & Siemens |
| Window ACs | LG, Carrier, Voltas, O'General, Bluestar |