We've been looking forward to the Pixel Tablet for quite some time! Particularly since Google completely demonstrated and teased it at the Google Pixel 7 event in late 2022. Finally, we're getting to see it in action and have a release date! Google's new attempts to reinvent how we use tablets. Or, more specifically, it imagines a way to avoid remaining in the drawer, gathering dust. What's fascinating is that Google didn't try to go big on pro features or laptop-replacement promises (though you can if you want), but instead tried to redefine the tablet as a casual house-helping device.
Google transformed the Pixel Tablet into a smart hub with a screen, a Chromecast receiver, a music player, a digital photo frame, and a Smart Home controller by bundling it with a Charging Speaker Dock.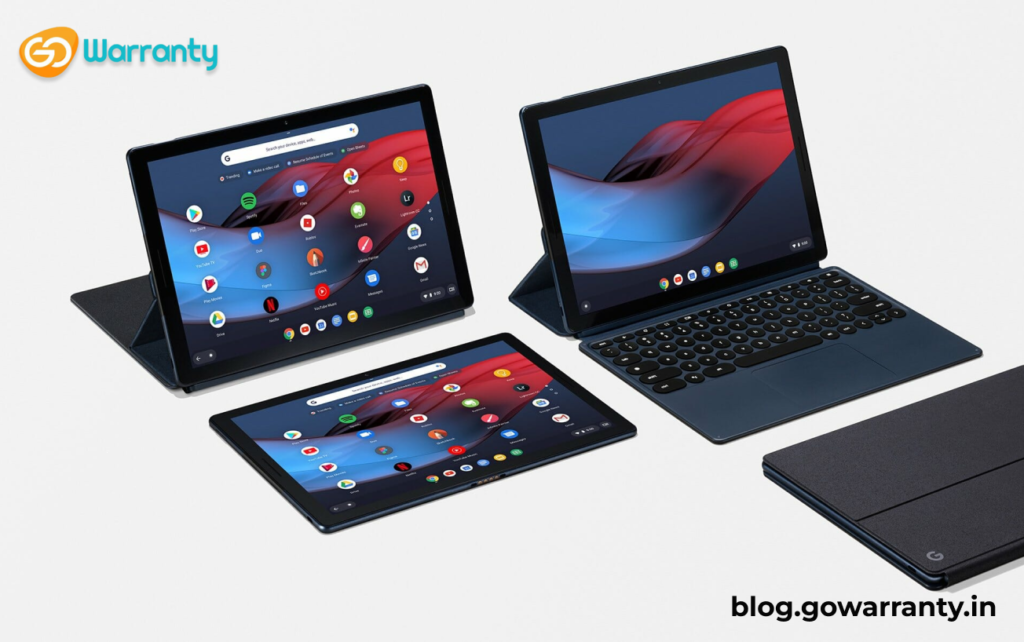 Of course, a tablet can already do that, so it'll come down to convenience. How well does the software handle transitions, and how well is the hardware integration?
Design
It's encouraging to see Google pursuing its own design language on the Tablet too. No, we don't get a RoboCop vizor here, but rather a different material blend. The Pixel Tablet has a textured nano-ceramic layer that we can't wait to get our hands on. With the soft corners of the slate, it should be easy to hold and fling around from the charging dock to the desk. Google also boasts that it is made of 30% recycled materials, with the aluminium enclosure being 100% recycled.
With an almost 11-inch display and dimensions of 10.2 x 6.7 x 0.3 in (258 x 169 x 8.1 mm), the Pixel Tablet is slightly taller but slightly narrower than the iPad Pro 11″ (the Pixel Tablet's aspect ratio is slightly wider, at 16:10, whereas the iPad Pro 11″ is 4:3). The Pixel Tablet weighs 493 g, which is about average for this class (the iPad Pro 11 weighs 468 g).
Display
The Pixel Tablet, as previously stated, will have a 10.95-inch (or 11″) screen. It's an LCD panel with a resolution of 2560 x 1600, a 16:10 aspect ratio, and a pixel-per-inch density of 276. Those are decent specs for a tablet some may be disappointed that it lacks an AMOLED display, but those are extremely costly at that scale and size. What bothers us the most is that the refresh rate was not mentioned, leading us to believe that the Pixel Tablet will remain at 60 Hz.
The Pixel Tablet will, however, support a stylus! And no, it's not a Pixel Pen, P-Pencil, or similar device with USI 2.0 compatibility.
Cameras
On paper, the Pixel Tablet's cameras have  8 MP sensors on both the back and front. That's fine; we don't usually use our tablets to create high-resolution photography masterpieces, do we? Those cameras are typically used to capture a document or to make a video call. To that end, Google has added a new feature to Meet video calls: the selfie camera will zoom in and track your face as you move around. That does sound a lot like Centre Stage on Apple's iPads.
With the Tensor G2 chip's power, you'll be able to do the powerful Google Photos edits we've come to expect from Pixel Photo Unblur and Magic Eraser will be available on the Pixel Tablet. Plus, the recently announced Magic Editor!
Performance and Benchmarks
The Google Tensor G2 chip powers the Pixel Tablet. It is not a productivity beast, and it is clearly outmatched when compared to a Snapdragon 8 Gen 2 or an Apple A16. The Tensor, on the other hand, isn't here to provide raw power. No, the Tensor augments on-chip machine learning, AI functions, and photo post-processing with its special cores. Those Magic Editor features did not appear out of nowhere!
 Of course, we're curious and excited to see how smoothly the Pixel Tablet can run, especially with a few apps in split screen.
OS/Android Compatibility
It goes without saying that Google's new Tablet will ship with Android 13, a squeaky clean version of the software as designed by Google. That is, enhanced with exclusive Google Assistant features and the aforementioned editing options in Photos.
Battery
According to Google, the Pixel Tablet can get up to 12 hours of video playback on a single charge. That's quite good or above average for the tablet category. We didn't get exact battery specs, but it's listed as 27 Wh. If we knew the voltage, we could calculate the exact capacity in mAh, but assuming it's around 3.85 V (normal for tablets), the battery capacity will be around 7,000 mAh. So far, so good  of course, when we get our hands on one, we'll run our triple-threat battery test!
Charging Speed
You are expected to charge the Pixel Tablet using the magnetic Speaker Charging Dock by default. However, this is not a wireless charging situation; the dock connects to the tablet via four pogo pins and provides 15 W of charging power. Although this appears to be a slow charging rate, Samsung was able to achieve 15 W via its wireless charging pads for Galaxy phones.
Audio Quality
The Pixel Tablet will feature a quad speaker array for full stereo sound! Google has been producing excellent audio products for some time now, including the Pixel phones and the tiny Google Home Nest Mini. So, while our expectations for the Pixel Tablet's quad speakers are high, we'll still approach them with scepticism.
Verdict
Sorry for being so depressing on the final point. The fact remains that we are looking forward to seeing, touching, and testing the Pixel Tablet. Who knows, it could completely blow us away and make us completely addicted to the Hub functionality. Aside from the strange features, it appears to be a very solid base tablet. It's reasonably priced at 40k, but at that price point, it's up against some stiff competition.