The "herd" attitude of following a trend and developing a product around it is nothing new. In other instances, entire brands are developed by producing identical versions of successful products and selling them under different names with few alterations. The newest Fossil Gen 6 Hybrid Smartwatch, however, is not a part of the "clone" club. It's a wristwatch that, in terms of operation, is fundamentally different from previous models, including the Apple Watch.
Thanks to its hybrid analogue-digital architecture, e-ink display, built-in "smart" features, and two weeks of battery life. The Gen 6 Hybrid takes a fresh approach to smartwatches. The idea behind this watch is to create an anti-smartwatch for people who prefer traditional timepieces over wearing computers on their wrists.
The traditional design
I don't like smartwatches very much. Almost all smartwatches—with the exception of the Apple Watch—feel like an arbitrary attempt to place a digital screen on your wrist. My personal style, in my opinion, is defined by my watch or bag. I continue to receive praises on the Titan watch I purchased 17 years ago. The Fossil Gen 6 Hybrid watch has a very classic aesthetic, so you may wear it for both your official engagement and your early-morning walk. My review unit arrived with a premium black leather band and a 41mm rose gold stainless steel case.
It has an e-ink display (more on that later) that is similar to the one on Amazon's Kindle e-book reader, despite looking like a typical traditional watch. It is a high-impact watch with a variety of band and size options that balances form and function. You can also choose a different band to replace the current one. On the right side of the casing, there are three navigation buttons. To make them into shortcuts for various functionality, utilise the Fossil app. The Gen 6 Hybrid is splashproof but not suitable for swimming or diving, according to its 3ATM classification.
E-ink displays are practical
Fossil's Gen 6 Hybrid uses an e-ink display, in contrast to the majority of smartwatches, which either have LCD or OLED colour screens. E-ink displays provide a number of advantages, including better battery life (more on that later) and outdoor readability. The Gen 6 Hybrid and conventional smartwatches can no longer be compared because it has an e-ink display. Simple information like the weather, notifications, and certain exercise options are displayed on that display.
The watch's display does not turn on by itself. To see the time in the dark, you must double-tap the display. I admire how well the e-ink screen mixes with the watch faces on electronic screens. Keep in mind that the Gen 6 Hybrid also has analogue components. The number markings around the bezels and actual watch hands serve no ornamental function. They never get in the way, the hands scroll between menus in the three and nine positions automatically, and the information is shown above and below them. However, it is frustrating that every small nugget of information ends up on the screen. Even worse is how slowly e-ink screens refresh.
Price and options for the Fossil Machine Gen 6 Hybrid Smartwatch
Machine (45mm) and Stella are the two models of the Gen 6 Hybrid smartwatch series that Fossil has released (41mm). Beyond the obvious size difference between the Machine and Stella. The former's design also tends to make it more suited for men, while the latter tends to make it more suited for women.
Both models come in a variety of colours and strap materials, including as silicone, leather, and stainless steel. No matter the variation, prices start at Rs. 18,495 for alternatives with a silicone or leather strap and go up to Rs. 18,595 for those with a steel strap. I received the black Machine Gen 6 Hybrid with the mesh strap made of stainless steel for my evaluation.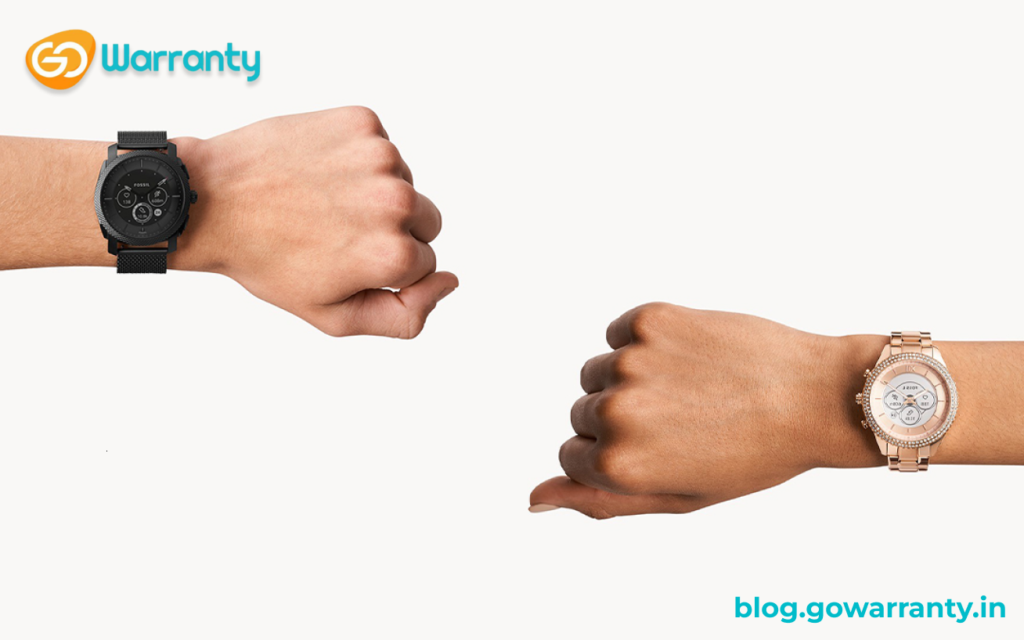 Software, user interface, and app for the Fossil Machine Gen 6 Hybrid Smartwatch
The software and user interface of a hybrid smartwatch should, in theory, be quite straightforward, but the Fossil Machine Gen 6 Hybrid, to my surprise, has a fairly complicated one for this kind of device. The E Ink display could make you think it's a little plain, yet it efficiently provides the key features of a smartwatch. It can render text well so that notifications and data are displayed. It also provides access to a number of features, such as timers, music controls, and weather forecasts, to mention a few.
The hands may be moved out of the way to view the E Ink display's functional components when viewing notifications, and they automatically snap back into place to display the time once you're through. Even on the home screen, you can notice complexities on the display by shaking your wrist quickly to move the hands around. It's a practical collection of techniques that guarantees a constant clean view of the display.
The Fossil Machine Gen 6 Hybrid's hands also act as the user interface's pointer, allowing you to move and scroll between different functions. The centre button picks the app or selection choice that the hands are pointing at, while the top and bottom buttons allow you to scroll. When specified, tapping the middle button in particular circumstances returns the user to the home screen. This ingenious technique compensates for the absence of touch controls.
Performance and battery life of the Fossil Machine Gen 6 Hybrid Smartwatch
A hybrid smartwatch is very different from a traditional touchscreen smartwatch or even a high-end fitness-focused gadget from a company like Fitbit or Garmin. The Fossil Machine Gen 6 Hybrid mainly succeeds in delivering exactly what is expected of it. With hybrid watches, focus is on the design and feel as well as battery life. However, it also functions admirably as a fitness tracker.
When standing still or sitting down, heart rate and blood oxygen tracking were precise when compared to a pulse oximeter and my Apple Watch Series 5. The poor fit of the metal band made it difficult to accurately detect heart rate while walking. The wellness app on the watch displays all of the information for quick access.
The Fossil Machine Gen 6 Hybrid's step monitoring was among the most accurate I've seen in wearables; it recorded 1,001 steps while I physically counted 1,000. The Fossil smartwatch detected a discrepancy of just 30 steps during a longer walking session that involved over 3,000 steps as measured by the Apple Watch, representing an error rate of less than 1%.