When it comes to what's making waves in the world of head-fi, the term "earbuds" isn't one you hear thrown around much these days. While this sub-category of in-ear headphones has fallen out of favour in recent years, it was all the rage a few decades ago. They were, after all, the only form of in-ear listening back in the day. If you owned a Walkman in the 1990s or one of the first few generations of an iPod in the early 2000s, there's a good chance you still have a pair or two tucked away somewhere in the back of your desk drawer. If you look hard enough, you might even find a tangled pair in the back pocket of a pair of flared jeans that you're keeping on the off chance that they *might* come back into style one of these days. FiiO FF3 Dynamic Earbuds that arrived.
I completely understand – earbuds aren't as versatile as In-Ear Monitors, their snugger-fitting counterparts that effectively took over the portable audio mantle from earbuds a few decades ago, and which currently reign supreme. IEMs do a far better job of blocking out ambient noise because they stay firmly affixed in your ears with the help of silicone or foam tips.
Introducing FiiO FF3
FiiO, a prolific personal audio manufacturer, has recently produced a string of hits that have made them a firm favourite with portable-oriented audiophiles, and they offer an IEM, DAC, DAP, or headphone amplifier to suit nearly all tastes, budgets, and circumstances. When I opened the package containing the new $159.00 FiiO FF3 Dynamic Earbuds that arrived on my doorstep, I was equally curious and surprised – curious to understand how an earbud released in 2022 might perform, as well as surprised that a large manufacturer like FiiO believes there's a market for this type of earphone.
The FF3 is a traditional "earbud" in that it has a large, flat driver that rests in the "concha" (the concave cavity in your outer ear) and cables that run straight down rather than wrapping over and around the top of your ears. The FF3 also has an unusual appearance due to the large-ish flat cone-shaped protrusion on the back of the ear driver, which gives the FF3 the appearance of being "reversible."
Cable and Interchangeable Terminations
While the FF3 does not have detachable cables, FiiO's cable solution is actually quite good – especially for a relatively inexpensive pair of earbuds. 152 strands of high-purity silver-plated monocrystalline copper were wound and sheathed beneath a soft-to-the-touch and flexible silver plastic coating. The 1.2 metre cable is lightweight, tends to avoid tangles, and does an excellent job of avoiding cable microphonics – especially important for a "straight-down" cable arrangement that sits on your shoulders and will rub against your clothing frequently.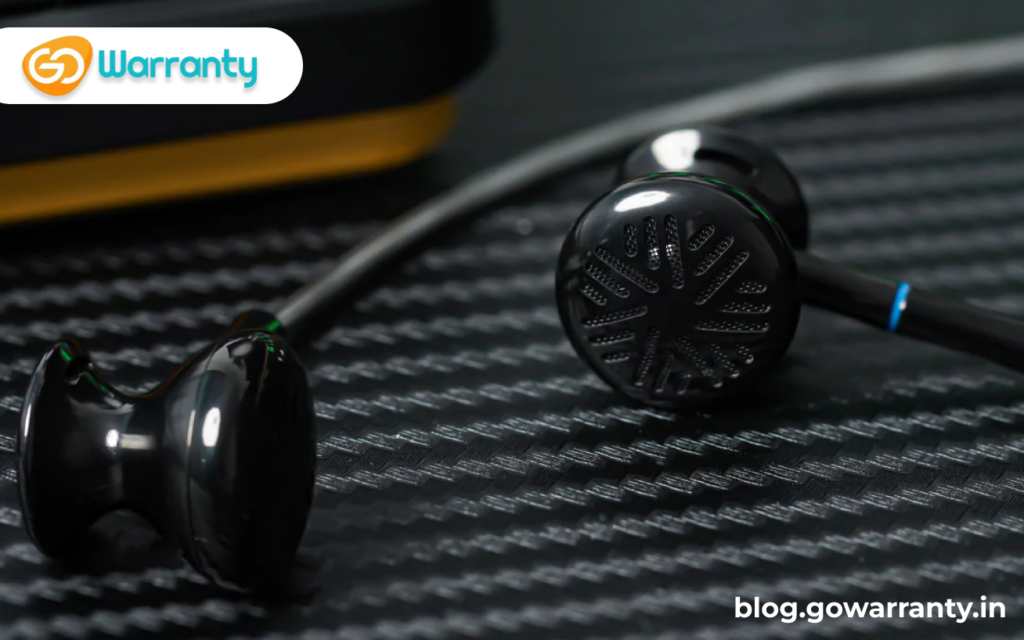 Although the cables are permanently attached at the business end of the earbuds, FiiO has used an interchangeable locking mechanism at the cable termination to allow you to switch between 3.5mm single-ended and 4.4mm balanced jacks. Simply unscrew the silver sheathing, pull out one plug, insert the other, and screw it back together to replace them. It's a clever solution that eliminates the need for multiple cables when switching between different sources. Because the affixed cable is of high quality, you probably wouldn't want to "upgrade" it with one of a different construction…if you could.
Packaging and Accessories
The FF3 comes in a nice hinged black cardboard box, which is consistent with other FiiO products I've seen recently. Inside, you'll find a nice protective clamshell case with a clear lid for transporting or storing your new earbuds.
In addition to the interchangeable 3.5mm and 4.4mm plugs, FiiO includes three pouches filled with three different types of foam "cushions" designed to fit over the driver of each earbud. The three different types of cushions provide varying levels of filtering to help customise the sound of the FF3 to your preference, as well as helping them stay more firmly in place in your outer ear:
"Bass": emphasises low-frequency response.
"Crisp": lets higher frequencies shine through.
"Balanced": a nice balance between the first two.
The "Bass" and "Balanced" cushions cover the entire outside face of the FF3's drivers, whereas the "Crisp" cushions have a round cut-out in the middle, essentially keeping the airflow from the driver fully open to your ears. It is also possible to use no cushion at all, though this makes keeping them in your ears a little more difficult unless you are sitting still.
Comfort and User Experience
Unlike IEMs, which require you to wiggle them into place and wrap the cable around your ears, you simply insert the FF3s into your outer ear, where they gently rest due to gravity and friction from the foam cushions (if you use them, that is). The diameter of each earbud is nearly perfect for the shape of my ears, and they fit snugly and comfortably. I recall having some aches from wearing earbuds in the past, but the FF3's smooth rounded driver faces are comfortable in terms of both shape and polished stainless steel finish.
You can listen to the FF3 while walking around – they'll stay in place as long as you don't yank on the cable or move around too much, but you'll probably need to readjust them from time to time in order to maintain them in place. The FF3 is best suited to stationary listening while you're relaxed and sitting down – they're not gym earbuds.
Verdict
When I first took the FiiO FF3 Dynamic Earbuds out of their box, I couldn't put my finger on where and when these earbuds could perhaps make a case for themselves, or to whom they might appeal. Sure, they don't have the intimacy that comes with the isolation of a pair of In-Ear Monitors, but the FF3 isn't really designed for shining "outside." I like to think of them as miniature open-back headphones with a few extra advantages: 1) You can take them anywhere – open-back headphones on vacation? Awesome! 2) They'll drive on almost any source with excellent results, and 3) they make it simple to simply listen to music at home when the mood strikes. Simply take them out, insert them into your ears, and go – no need for bulky headphones or amplifiers.