The first-generation Mavic Mini was a fantastic drone at the time, packing DJI's smart design and technology into a tiny body that falls just under the weight limit that would actually require registration in many countries. It was great for casual exploration, but a lack of features as well as a mediocre camera limited its utility. The release of the Mini 2 (without the 'Mavic' branding) brought near feature parity with the higher-end models and a significantly better camera, but the image quality was still not up to pixel peepers' standards. DJI's latest model, the DJI Mini 3 Pro, goes beyond normal iterative upgrades by combining the tiny frame with a much more powerful camera as well as a fresh gimbal that rotates 90 degrees for vertical video.
The DJI Mini 3 Pro combines the most recent evolution of DJI's ultra-lightweight Mini family with a very good camera that would normally be found on a heavier drone. It earns the 'Pro' moniker thanks to a high-quality image and a plethora of powerful features. For the first time, DJI is giving customers the option of choosing between two controller models.
Design, Hardware
Except for the FPV, the Mini 3 Pro appears to be a shrunken version of almost any other current DJI consumer drone. It has the same colour scheme as the original, with an off-white body and dark grey propellers. The familiar folding arms are present, but unlike most previous models, you don't require to unfold them in any particular order. The Mini family does share one feature: the lack of spring-loaded propeller mounts. If they must be replaced, use a screwdriver to remove a pair of screws from each set of propellers. Of course, if you can avoid hitting any trees or buildings, this won't be a problem.
Of course, the Mini series is distinguish by its light weight. Many governments as well as regulatory bodies require drones weighing 250g or more to be registered. DJI designed this model to be just under that weight limit, weighing in at 249g or less. Keep in mind that even if the drone does not require registration, some countries may still require the pilot to have a licence to fly. For more information, consult the drone laws of your home country (or destination countries).
Performance and Stability
The Mini 3 Pro's design is slightly more optimised for forward motion than its predecessor, but it flies in the same manner as any recent Mavic drone. There isn't much to it because all of the drones in this family are simple and safe to fly.
As with any drone, it will be pushed around by moderate to strong winds. The Mini 3's lightweight body, on the other hand, makes it more susceptible to strong winds. The built-in gimbal can compensate for any shake caused by the wind, but if you need to hover perfectly in place, a heavier drone may be preferable. Assume the winds pick up after you've taken off.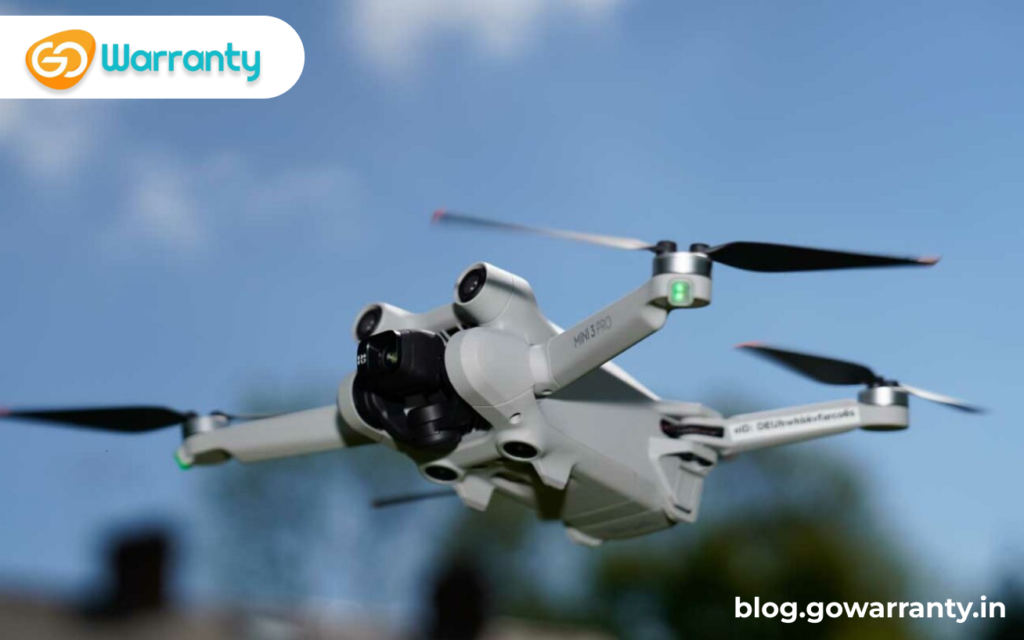 Battery Life
Flight times always get a little longer with each generation, and the Mini 3 Pro is no exception, clocking in at 34 minutes in the air versus the Mini 2's 31 minutes. An extra three minutes may not seem like much, but when you consider takeoff, landing, and time to frame a shot, that extra 10% amounts to 15% or 20% more time actually shooting.
DJI also sells a 'Flight Battery Plus,' which can last a whopping 47 minutes, for those who require even more duration. However, because this battery is heavier than the standard model, the combined weight exceeds the 250g threshold that enabled the drone to avoid registration. Using the standard battery, I was able to get about 27 minutes of usable flight time while recording 4K video before having to bring it back in. After that, it takes about an hour to recharge to full capacity.
Camera and Gimbal
For the majority of DJI's history, the camera quality scaled with the size of the drones. The better the camera mounted on the drone, the larger it is. For years, internet commenters have argued that there's no reason DJI couldn't slap one of its better cameras onto one of its smallest bodies; it took about a decade, but DJI proved the commenters correct. As it turns out, that's a win-win situation for everyone.
The 'Pro' designation is due to the upgraded camera system. Without it, this would be a minor improvement. The Mini 3 Pro has a 1/1.3-inch sensor, which is a significant improvement over the Mini 2's 1/2.3-inch sensor. Not only does it outgrow its predecessor, but it also has a larger sensor than the 1/2-inch sensor found in the larger Air 2 drone. Of course, it can't compete with the 1-inch sensor of the Air 2S — which was essentially a pro-version of the Air 2. To be honest, comparing the Mini 3 Pro to the Mini 2 isn't even fair because it shares more features with the Air 2 and 2S.
Several other camera stats have also been improved. The Mini 3 Pro can record 4K@60fps as well as 1080p@120fps, which is now normal on all current DJI drones, but up from the Mini 2's and a few other models from the previous generation's 30fps and 60fps, respectively. Similarly, the maximum video bitrate is up to 150Mbps, with no discernible compression effects, and it adds support for natively encoding H.265 if file sizes are a concern.
Verdict
Almost every box have checked by the Mini 3 Pro. It's small and light, making it easy to transport and legal to fly in many places with little or no red tape. It has excellent image quality right out of the camera and 10-bit D-Cinelike support if you want to manually grade your footage. There are now two controller options, and the flight time is among the best on the market. Aside from upgrading the cameras from the Air 2S or Mavic 3, there isn't much else DJI could have done to improve this drone.