Denon is well-known for its high-quality speaker products, which are ideal for outfitting your home theatre. However, exceptional performance generally comes with a steep cost, particularly if you want premium features like Dolby Atmos. For the most part, these high-quality audio experiences are out of reach for most people. Denon's newest soundbar, however, is likely to change that.
Denon's new DHT-S217 soundbar boasts all the bells and whistles on paper, including Dolby Atmos, dialogue enhancement, and two subwoofers. It's even more amazing in a bundle that costs less than £300.
Specifications
Allow Your Sound To Escape You.
From the industry leader in audio for home theatres. With a single, small sound bar, you can enjoy Dolby Atmos and DTS:X soundtracks while watching TV. Enjoy acoustic performance that is based on 110 years of sound innovation.
A Powerful Performer.
The Denon Home Sound Bar 550, like all Denon products, is designed to produce best-in-class audio quality. This sound bar gives all you need for superb 3D surround sound without taking up too much room under your TV, thanks to innovative acoustic gear, precisely calibrated digital signal processing, and quality drivers.
Clean And Compact.
Sound bars that are large and cumbersome have their place in the world, but not under your television. The tiny 65cm dimension of the Denon Home Sound Bar 550 saves space without losing performance. It is perfect for any room because to its clean, straightforward industrial style.
An Immersive 3d Audio Experience.
Denon has been a leader in home theatre audio for decades, with significant experience in Dolby Atmos and DTS:X 3D surround sound. The Denon Home Sound Bar 550's six-driver array has theatre-grade processing, making every movie feel massive. To further open up the area, add optional rear Denon Home speakers as surrounds.
Packing a punch (literally): The Denon DHT-S217's features
We'll start with the built-in Dolby Atmos compatibility, which is the soundbar's most prominent feature. Denon's DHT-S217 will be able to deliver 3D surround sound for a more immersive experience thanks to the latest audio technology. Denon will create the effect virtually because the soundbar only has one speaker. Denon guarantees that you'll receive the 3D surround sound impression, albeit it won't be as good as a full Atmos setup. That will suffice for us!
Denon has included two down-firing subwoofers, as well as a pair of midrange drivers and tweeters, in this soundbar. This implies that the new soundbar will be able to handle low bass frequencies for loud booms, as well as cleaner midranges for music and speech, for those who aren't audiophiles. Denon's track record speaks for itself. Denon's newest soundbar also boasts a Dialogue Enhancer function, as if the physical engineering wasn't enough. With three distinct settings to select from, you may alter the speaker's sound throughout a conversation. The goal is to increase conversation volume without compromising total volume. It's ideal for movies with loud soundtracks (we're looking at you, Christopher Nolan) that you don't want to wake up the neighbours.
Music Without Limits Streaming
Spotify Free and Premium, Amazon Music HD, TIDAL, TuneIn, Deezer, and more are all completely integrated through Wi-Fi, AirPlay 2, or Bluetooth connection. Set the perfect mood with your own music library, which includes 192kHz/24-bit FLAC, WAV, ALAC, and DSD 2.8/5.6MHz songs in high-resolution.
At Your Fingertips, Control
When your hand gets close enough, the on-speaker control panel illuminates, enabling you to adjust the volume, play/pause, and skip or resume songs without having to use the app.
The soundbar also has Bluetooth capabilities, allowing you to connect gadgets and play music through the speakers. You can operate the soundbar from your TV's remote via HDMI and Optical cable connectors.
Is Denon's new soundbar as excellent as it claims to be?
Denon is attempting to eliminate the need for any additional speaker equipment with the two built-in subwoofers. Rather than buying a separate subwoofer, the soundbar is designed to give all of the bass you want. Despite the fact that we haven't tried the soundbar, audio and movie buffs will most certainly benefit from the quality improvements provided by separate components. However, for the most part, the DHT-S217 appears to be rather appealing.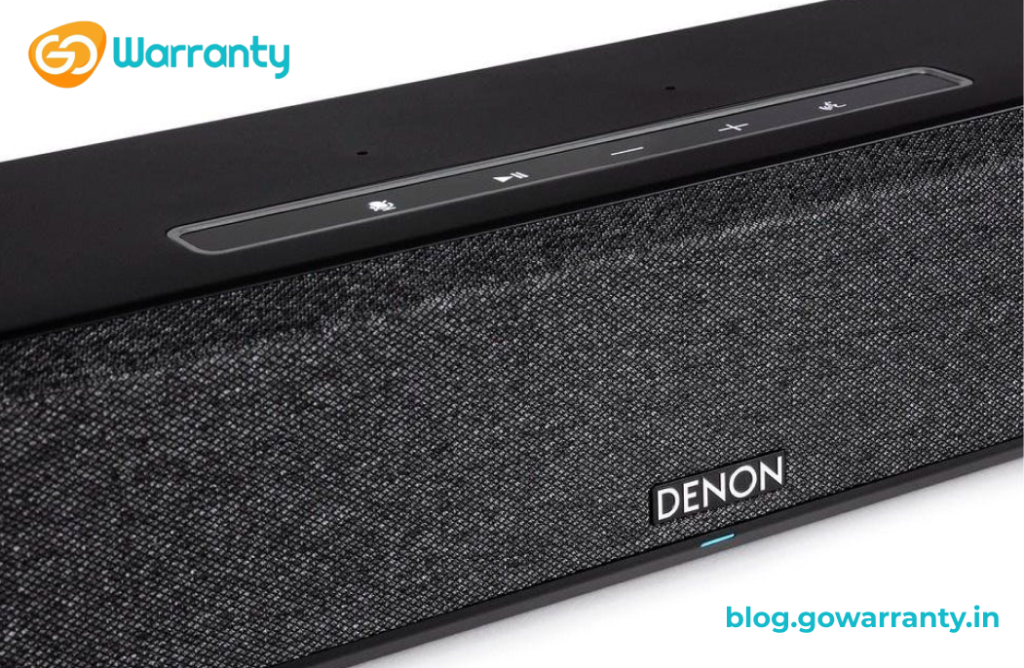 If you're looking for a low-cost Dolby Atmos soundbar, the new DHT-S217 model could be the one for you. The £249 speaker will be available from Denon in May, following an initial launch in Japan later this month.
Other the top soundbars for those on a strict budget
Roku Streambar (£130)
Roku has crammed the capabilities of its popular streaming sticks into a compact soundbar, resulting in the Streambar. No, it can't match the premium rivals below, but its four speakers are still a considerable upgrade over any mainstream TV, with far more punch, presence, and detail.
Despite its low price, the Streambar comes with some useful features, such as the ability to instantly mute bothersome commercials and raise the volume of voices. The Streambar also provides quick access to a plethora of streaming and catch-up services, including 4K HDR compatibility. There's also a neat small remote.
Yamaha SR-C20A (£229)
Yamaha's SR-C20A is the way to go if you want a single soundbar that can increase your TV sound and give superb music quality while also boosting your gaming audio. The anonymous design, which is small enough to fit beneath most TVs, isn't a bad thing.
A 7.5cm sub and a pair of 4.6cm full-range drivers are more than adequate to fill large rooms, and they're backed up by a pair of passive radiators for more oomph. Everything works flawlessly, whether you're streaming audio over the HDMI ARC connector, one of the two digital optical inputs, the 3.5mm analogue port, or Bluetooth.
The bass is precise, controlled, and varied, while the treble has the right bite and punch. Vocals fill the midrange with information in between. It's energetic, composed, and just as capable of managing complicated rhythms as it is of providing the shock and awe of a current gaming soundtrack (as long as you don't get carried away with the volume).