A low-cost gaming laptop featuring NVIDIA dedicated GPUs and Intel 12th Gen CPUs is the Dell G15(2022). It is the 5520 model, which uses Intel 11th Gen CPUs to replace the Dell G15 5511 from 2021. The main difference between it and its predecessor is the new hybrid design of Intel's 12th Gen Alder Lake CPUs, which combine performance and efficiency cores. A QHD 240Hz display, an NVIDIA GeForce RTX 3070Ti GPU option, and Thunderbolt 4 connectivity for versions with an RTX 3060 and 3070Ti are among the other upgrades. A special edition Obsidian Black hue with an aluminium cover is among the other colour choices. Dell G15 5525 Gaming Laptop featuring AMD Ryzen 6000H Processors and up to 16GB RAM
Price and Availability
The Dell G15 5525 laptops have been released, with prices beginning at Rs. 83,990 for the base model, which has an AMD Ryzen 5 6600H CPU and 8GB of RAM. Customers must spend Rs. 89,990 for the 16GB RAM version. Customers will pay Rs. 1,02,990 for the model with an AMD Ryzen 7 6800H processor, and Rs. 1,07,990 for the model with an Nvidia GeForce RTX 3050 Ti GPU. Last but not least, the Nvidia GeForce RTX 3060 6GB GDDR6 model costs Rs. 1,27,990. On the corporate website, Dell Exclusive Stores, big format stores, and multi-brand outlets, the laptops come in Dark Shadow Grey as well as Phantom Grey with Speckles colour choices.
Specifications
Design and Build Quality
The Dell G15 laptop has a rather straightforward layout. It doesn't lean too far toward the gaming style, except from the patterned speaker grills and the orange keyboard lighting. It has a tapered design, so when the lid is closed, it seems much slimmer from the front even if it appears thick and bulky from the rear. The bottom, back, and both sides of the laptop all have vents. Dark Shadow Grey, Obsidian Black Special Edition, and Spectre Green with Camouflage are the three colour options that are offered.
The build quality of the Dell G15 gaming laptop is only adequate. The workmanship is flawless, but it doesn't seem all that strong either. There is flex in the display and keyboard deck, and the plastic chassis has a cheap-feeling surface that is easy to pick up fingerprints and scratches. Aluminium serves as the lid of the Obsidian Black Special Edition variant.
Display
The 1080p 120Hz panel is the most affordable display setup. Compared to a typical 60Hz panel, it offers improved responsiveness and somewhat crisper images, but because of its short reaction time, there is obvious ghosting behind moving objects. Although quicker but still sluggish for its refresh rate is the 1080p 165Hz panel's promised reaction time of 13ms, and this is also true of the 1440p 240Hz panel's 10ms advertised response time.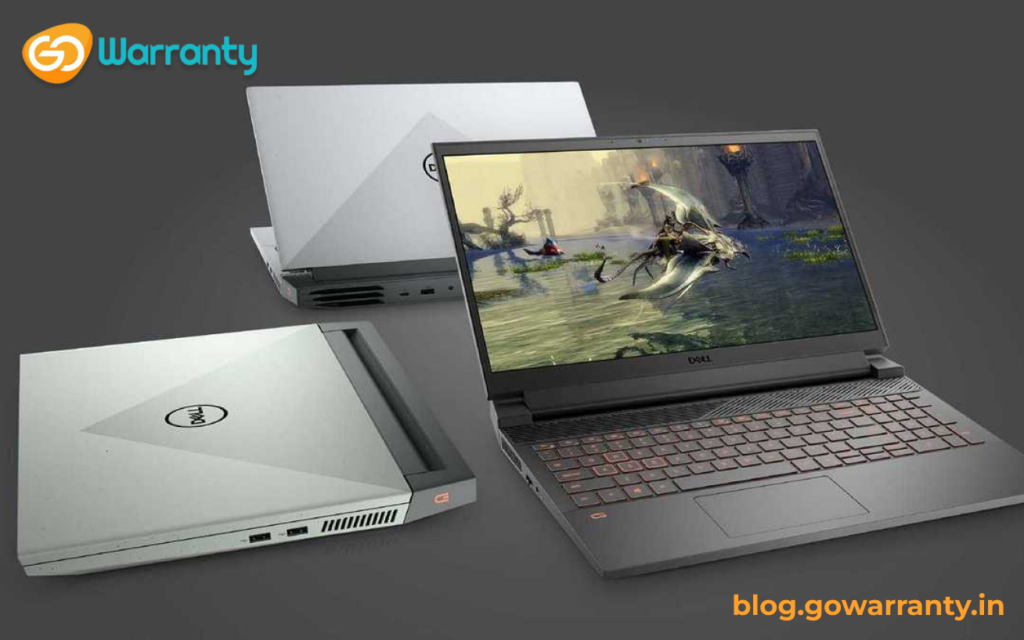 Given that it isn't too demanding on the driver, it works well with the NVIDIA GeForce RTX 3050, 3050Ti, and 3060. You have ample room for split-screen multitasking, and the images and text are rather crisp. Although the 1440p display appears crisper, it requires the NVIDIA GeForce RTX 3070Ti to provide a fluid gaming experience. Although some people may feel that the 16:9 aspect ratio lacks sufficient vertical space for productivity, forcing you to scroll more when reading a paper or webpage, it is fantastic for gaming and video consumption.
Contrast
The 120Hz display of the Dell G15 5525 gaming laptop features a high contrast ratio for an IPS panel. In contrast to other panel technologies like VA or OLED, it's still a modest amount. It isn't the ideal option for watching in a dark room because blacks appear yellowish in low lighting. The contrast between the 1440p 240Hz and 1080p 165Hz screens should be comparable.
Brightness
The Dell G15 5525 120Hz display shines rather brightly, a touch brighter than the 250 cd/m2 stated. It's sufficient for usage in most indoor situations, but not exactly brilliantly illuminated areas or in the open during the day. It becomes dim enough for viewing in a dark room to lessen eye strain. The brightness of the 1080p 165Hz is claimed as 300 cd/m2, which is just slightly better.
Hardware
Keyboard
The keyboard on the Dell G15 5525 is decent. It features a very conventional layout that is simple to get used to, and it feels roomy. The material used to make the keycaps isn't very expensive or premium, but it's adequate. The keys seem a touch mushy, but they have a lot of travel and don't need much power to operate. Overall, it makes typing enjoyable and doesn't wear you out after a while.
Touchpad
The touchpad on the Dell G15 is only fair. Despite having a 15.6-inch screen, it is rather little. Although there are no problems with palm rejection, it sometimes doesn't respond to taps, and dragging and dropping may be annoying. The click mechanism also has a mushy, cheap feel about it.
Speakers
The Dell G15 includes up-firing speakers that can be turned up rather loudly while still maintaining reasonable sound quality. They sound a little boxy and hollow due to a lack of bass and treble extension, but they put a lot of focus on the mids and low-treble frequencies to create clean vocals. In other words, they work well for spoken words but not so well for music or motion pictures.
Configuration
They are both powerful mobile CPUs made for mobile workstations and gaming laptops. This next generation of CPUs has a hybrid design with a mix of performance and efficiency cores, unlike Intel's 11th Gen processors, and is comparable to Apple's M1 SoC and other ARM-based processors used in most smartphones. While both CPUs have eight efficiency cores, the Core i5-12500H has four performance cores and the Core i7-12700H has six, giving the latter a greater multi-thread performance. Hyper-Threading technology, which enables the cores to operate more effectively and handle more threads concurrently, is only available on performance cores.
GPUs made specifically for 1080p gaming include the NVIDIA GeForce RTX 3050, 3050Ti, and 3060. At medium or high settings, the RTX 3050 can produce about 60 frames per second, or slightly more. With an average performance improvement over the RTX 3050 of about 10%, the RTX 3050Ti is just slightly superior.
Dell G15 5525 configuration options include 8, 16, or 32GB of RAM. It's recommended to acquire at least 16GB for gaming because 8GB is insufficient for some games and can create stutters. The Dell G15 may be ordered with a 256GB, 512GB, or 1TB PCIe NVMe SSD.
Battery
The Dell G15 5525 battery life is subpar. To go through a regular 8-hour workday, regardless of your job, you'll need to plug it in at some point. The same is true for media consumption. You'll nearly always need to have your laptop connected whether playing games or performing laborious jobs like video editing.