The Canon PIXMA TR8620a is a standard all-in-one printer for home offices. It has a large touchscreen display, a five-cartridge system (including a dedicated photo black cartridge), as well as automatic double-sided printing. In terms of appearance, features, and performance, it is nearly identical to the Canon PIXMA TR8620. The only advertised difference among the two is that the TR8620a does not support Bluetooth printing, but we couldn't get our TR8620 to work with Bluetooth even though it was supposed to.
Design and Build Quality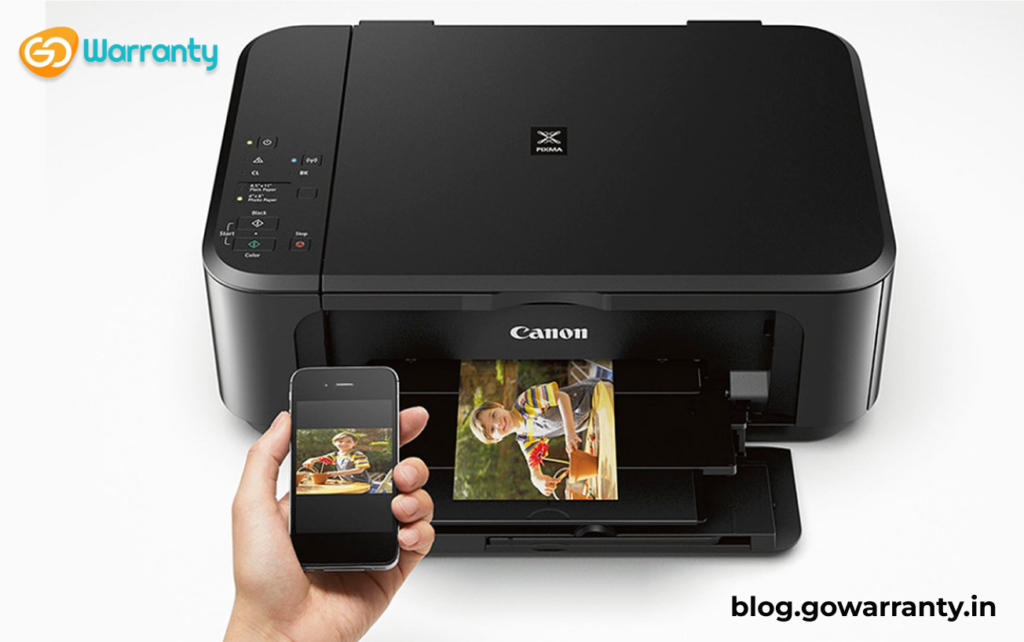 The Canon PIXMA TR8620a is solidly constructed though some areas, such as the output tray and rear input tray, are flimsy. The display panel can tilt upwards, allowing you to adjust the angle to your liking; however, due to the printer's design, the panel must be lifted in order to open the output tray extender or print. In addition, it has a good lid dampener which keeps the entire scanner up and slowly closes down on its own, so you don't have to worry about the printer's top slamming down while you're replacing the cartridges.
Maintenance
The Canon PIXMA TR8620a, like all inkjet printers, requires maintenance to keep it running smoothly. Some built-in tasks help to prevent and resolve printhead clogging and banding caused by misalignment. There are also some tasks to assist you in cleaning specific parts of the printer, such as the rollers and bottom plate. Paper jams and sheet rollers are easily accessible by removing the front paper tray, the back input tray, and the rear cover, or by removing the transport unit if the paper is stuck further back.
Display
The touchscreen display on the Canon TR8620a is quite large. If you're standing, you can tilt the panel up to see the screen better, but it has excellent viewing angles from all sides. The menu is responsive and simple to use, and there are also instructional videos to show you how to perform specific tasks such as changing ink cartridges or loading paper. Fortunately, it does not have the same issues with double clicks and unresponsiveness as the Canon PIXMA TR8620.
Cartridge and Scanner Features
The page yields of the Canon PIXMA TR8620a aren't exceptional, but they're about what you'd expect from a printer in this price range. It comes with four dye-based colour cartridges for photo and colour printing, as well as a pigment-based black cartridge for monochrome document printing. It warns you when the ink is running low, but you can still get several full pages out of it after that.
The Canon PIXMA TR8620a includes a flatbed scanner as well as an automatic document feeder (ADF), so you can scan a single page, a multi-page document, or a page from a book. The flatbed scanner lid's hinges can be slightly lifted to accommodate thicker items; as a result, you won't see black bars on the sides of the paper where the lid didn't cover your scanned item. While the maximum size of the flatbed scanner is 8.5″ x 11″, the ADF can scan up to 8.5″ x 14″ sheets.
Scan Quality
The default scan resolution of the Canon PIXMA TR8620a is 300DPI, which is sufficient for simple text documents. However, if you intend to scale or retouch your scan, you can raise the resolution to 1200 DPI.
Printing
Cost Per Print
The cost-per-print of the Canon PIXMA TR8620a is reasonable. While the cartridges are reasonably priced, running costs can quickly add up if you print frequently due to the low page yields. If you don't want to always worry about buying new ink, just sign up for Canon's Auto Replenishment Service, which orders and sends you ink or toner when your printer detects a low supply.
Printing Speed and Size
The printing speed of the Canon PIXMA TR8620a is comparable to other printers in this price range, and it is nearly identical to its predecessor, the Canon PIXMA TR8620. The front input tray can hold 100 plain sheets, while the rear input tray can hold either 100 plain sheets, 20 sheets of 4″ x 6″ photo paper, or just 10 sheets of 5″ x 7″ photo paper.
Presets for the most common paper sizes are available on the Canon PIXMA TR8620a. While A6 is not a preset printing size, you can still print by specifying a custom size. Printing sizes range from 2.17″ x 3.5″ to 8.5″ x 26.61″.
Photo
Colour Gamut
The colour gamut of the Canon PIXMA TR8620a is sufficient. The zig-zag line can be seen in most of the colours, but not in the cyan and green sections. The line appears as a lowlight rather than a highlight in the green-to-yellow section, indicating that the printer attempts to substitute saturated hues for a darker tone that can be printed. It is effective at printing dark colours. However, it has difficulty with light colours (particularly blues and oranges). Transitions from one colour to another appear mostly smooth, but there is some separation, such as from dark blue to light blue and green to yellow.
Colour Accuracy
The colour accuracy of the Canon PIXMA TR8620a is also satisfactory. It has the most trouble with blues and blacks, however they still look good. You shouldn't be worried about your printed photos looking too different from the digital originals.
Connectivity and Mobile App
The Canon TR8620a, like the Canon PIXMA TR8620, accepts SD cards as well as various miniSD and microSD cards when used with an adapter. The Canon PRINT Inkjet/SELPHY app is compatible with the Canon PIXMA TR8620a. The app allows you to print a variety of files and use the Easy-PhotoPrint Editor to create collages, calendars, and more. You can also use your phone to scan and copy, as well as manage your ink subscription.
To print and scan with the Canon PIXMA TR8620a, you must manually install drivers on Windows, but no drivers are required for macOS or Chrome OS.
Verdict
The Canon PIXMA TR8620a is suitable for home or small office use. It does not print as many pages as other office printers, so you may have to spend a lot of money on ink if you need to print large amounts frequently. Fortunately, the cartridges are reasonably priced, which keeps the cost-per-print low. It seems that there are also high-yield cartridges that will last you a long time.