Asus Zenbook Pro Duo laptops have a main screen and a secondary display above the keyboard. Now it's time to look at the family's smallest member, the Asus Zenbook Pro 14 Duo OLED.
When the Asus Zenbook Pro 14 Duo OLED is closed, it resembles a standard 14.5-inch laptop, albeit one that is thick and heavy. It is 32.35cm wide, 22.47cm deep, and 1.79cm thick at the front, increasing to 1.96cm thick at the back. The weight of 1.7kg is quite substantial for a laptop of this size, which is largely due to the second screen. MIL-STD-810H certification should alleviate any worries about potential damage from knocks and bumps.
Price
There are no compromises in terms of specifications, with 12th generation Intel H-series Core i7 and Core i9 processors, up to 1TB of storage, up to 32GB of RAM, and then either integrated Intel Iris Xe graphics or discrete Nvidia GeForce RTX 3050 Ti graphics available.
The £2,499.99 UK model comes with a Core i9-12900H processor, 32GB of RAM, Nvidia GeForce RTX 3050 graphics, and 1TB of SSD storage. My review unit is the base model, which retails for £1,999.99. This is powered by a Core i7-12700H processor, 16GB of RAM, a 512GB SDD, and integrated Iris Xe Graphics.
Display
It's only when you open it that you notice the main differences, which are the secondary screen and the unique keyboard area layout. The main display is also noteworthy: a 16:10 OLED touch display with 2.8K (2,880 x 1,800) resolution that is bright (550 nits) and has a refresh rate of 120Hz. Users who work on graphics-intensive projects will appreciate the display's faster refresh rate as well as OLED technology, which delivers sharp and vivid colours and has a wide viewing angle.
The screen is surrounded by small bezels, which Asus claims results in a 93% screen-to-body ratio. Shallow bezels improve viewing experience while also assisting in keeping the overall footprint of the laptop as small as possible. There is room above the screen for a webcam – in our case, 720p with IR for Windows Hello face authentication, though 1080p is also available according to the Asus spec sheet.
Stylus
Asus includes an Asus Pen 2.0 stylus as well as a short charging cable. The stylus is compatible with both the primary and secondary screens. Unfortunately, there is no stylus housing on the laptop, nor is there a magnetic system to keep it attached to an edge of the device.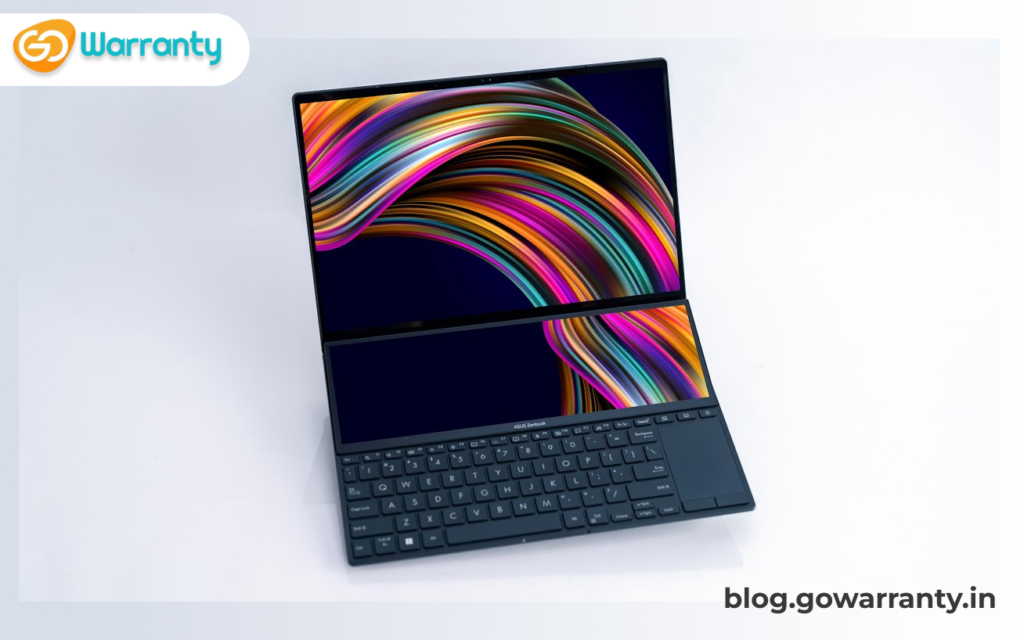 Secondary Screen
The secondary ScreenPad Plus has a 12.7-inch IPS panel with a resolution of 2,880-by-864. It is 3.75 inches tall and the same width as the main screen. When the laptop lid is lifted, the ScreenPad Plus rises at the back, forming an angle. This improves visibility and provides space for heat dissipation, but you can't change the angle of the secondary screen. The secondary screen, like previous ZenBook Pro Duo laptops, serves multiple purposes. Asus has released version 3 of its ScreenPad Plus software, which includes new use cases.
Design
The ScreenPad Plus has two significant implications for the keyboard and touchpad, and if these will be the primary input systems, potential users should try before they buy.
First and foremost, there is no wrist rest. Unless you get a separate wrist rest, your wrists will either dangle in mid-air or sit very awkwardly on a desk. The first two options were both uncomfortable and unsustainable in the long run. Nonetheless, the keyboard has large, well-spaced keys with a bouncy, responsive action. I was typing at normal speed again after finding an old wrist rest in a drawer, though there was still a persistent off-center feeling due to the relocation of the touchpad.
The speakers are decent. The audio quality is above average, the maximum volume is quite loud, and there is no distortion at maximum volume. I enjoyed listening to rock and classical music, as well as podcasts with spoken words.
Connectivity
The arrangement of ports and connectors is the same regardless of configuration. Surprisingly, the back has connections: a MicroSD card reader, a full-size HDMI port, and a round-pin power input. Here is also a heat dissipation grille. There is only a 3.5mm combo audio jack on the left edge. Two USB-C/Thunderbolt 4 ports and one USB-A port are located on the right edge. Because of the dedicated power input, all three USB ports are always accessible.
Battery
Asus employs a 76Wh battery, and my experience suggests that users will struggle to get a full day's work out of the Zenbook Pro 14 Duo OLED, particularly if they intend to use the ScreenPad Plus. Three hours of working from a fully charged battery with the ScreenPad Plus turned off depleted the battery to 36%, and three hours of working from a fully charged battery with the ScreenPad Plus turned on depleted the battery to 16%. This implies a battery life of around 4.7 hours when only using the main screen and only 3.6 hours when using both the main and secondary screens.
On the charging front, there is some good news. 45 minutes of charging with both the main screen as well as ScreenPad Plus on and in use took the battery from 18% to 73% after one working session. In general, you won't want to be too far away from mains power, and working all day on battery power seems impossible.
Verdict
The Asus Zenbook Pro 14 Duo OLED is an intriguing alternative to a traditional laptop. The secondary ScreenPad Plus has its uses, but it comes with some significant trade-offs, including the loss of a wrist rest, touchpad issues, and significant battery drain. Those compromises may be acceptable if you can make good use of the second screen. However, this is unlikely to be a device for the general public.