Asus, through its Republic of Gamers (ROG) brand, is a well-known name in the gaming laptops sector. It has a few different series that cover a wide range of gaming laptops, from entry-level to high-end. The Zephyris G series is one of the best gaming laptops available, with portable models, improved configurations, long battery life, stunning displays, and more. Every year, the Asus ROG Zephyrus G series improves, and this year is no exception. The Asus ROG Zephyrus G15 is a gaming laptop (2022). I tested the ROG Zephyrus G15 (2022) GA503RW with an AMD Ryzen 9 6900HS as well as Nvidia RTX 3070 Ti GPU for a while before writing this review. Let's take a look at how the Zephrus G15 2022 GA503RW performed in various areas.
Price
The Asus ROG Zephyrus G15 (2022) GA503RW is available in India through Flipkart, Amazon, and a variety of offline channels, and is priced at INR 2,01,990/- on Amazon for both Moonlight White and Escape Gray colour variants. However, at the time of writing, it had dropped to INR 1,94,990/- on both Amazon and Flipkart.
Design and Build
Gaming laptops aren't just about processors and what they bring to the table; they're also about design, aren't they? With a standalone weight of 1.95 kg, the Asus ROG Zephyrus G15 (2022) leans toward a well-designed lightweight gaming laptop. A gaming laptop powered by a 3070 Ti GPU is certainly lighter than many of its competitors.
Moving on to the design elements, we have two major colour options: Moonlight White and Escape Gray. The former shows hints of dirt but does not catch fingerprints or smudges, which is partly good. The display's back panel (lid) has a stunning prismatic effect thanks to thousands of small dots covering more than half of the area diagonally reflecting light in different colours.
When you open the lid on the Zephyrus G15 (2022), the lid is slightly elevated, allowing for better airflow. The bottom bezels of the screen are thick, preventing any hot air blasting from the rear air exhaust from damaging the display. Asus could have chosen to have slightly smaller bezels, but it did not. When you use the keyboard, the screen flexes and wobbles slightly, but this is tolerable.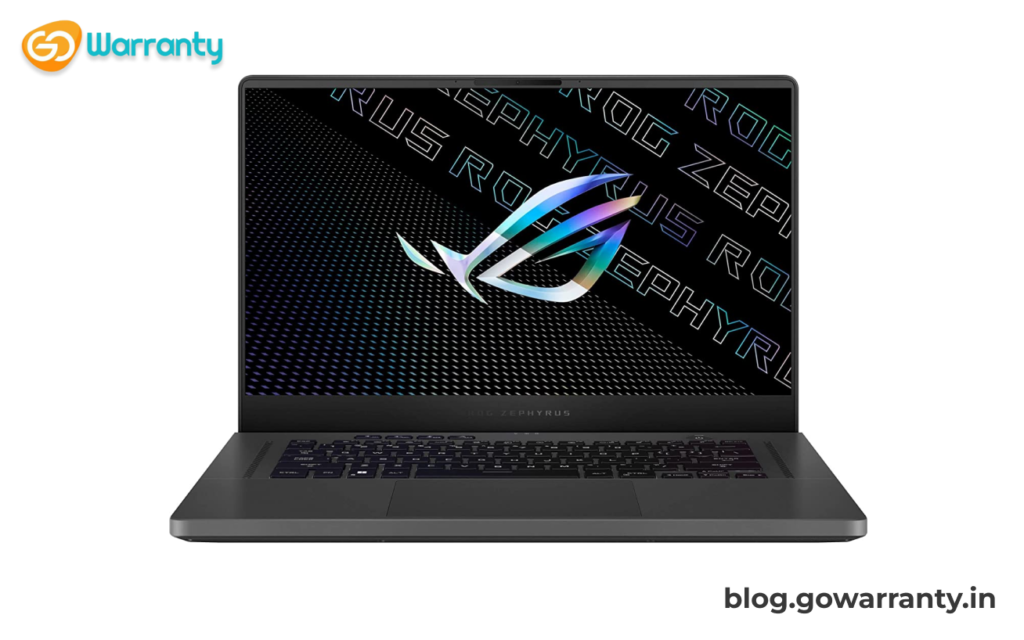 Display and Audio
This epic gaming laptop's display is an essential component. The display is silky smooth thanks to the full-sized 15.6″ IPS panel with a resolution of 25601440 and a refresh rate of 240Hz. It has a peak brightness of 300 nits, which falls short nits.of the category average of 333 nits. The Asus Legion 7i achieves 488 nits of peak brightness, demonstrating how much lag the Zephyrus G15 (2022) has onboard.
The display is Pantone-validated, and it produces vibrant colours and contrast in real life. The 240Hz refresh rate and response time ranging from 3ms to 7ms (based on our tests) don't leave you wanting more, so it's definitely a high-qualifying premium gaming laptop.
Two bottom-firing speakers and two front-firing tweeters are located on the right and left sides of the keyboard on the Asus ROG Zephyrus G15 (2022) GA503RW. During testing, I discovered that it was too bright and too loud in comparison to gaming laptop standards. The speaker system has adequate bass but lacks depth and clear vocals.
Keyboard and Trackpad
The Asus ROG Zephyrus G15 (2022) GA503RW keyboard has a single zone RGB backlighting that shines brightly in a single colour. Of course, you can change the colour settings with the Armory Crate software, but certain keys may be obscured on a white-washed keyboard. You could try switching to the Escape Gray colour variant for better lighting effects on the keyboard. The laptop has a 60% keyboard with 1.7mm key travel.
If you're used to it, the trackpad is enormous. I've been using laptops with larger trackpads, which provide a large area for contact. It is fully clickable and has a glass-like feel, which is another advantage of the Zephyrus G15 (2022) GA503RW series.
Ports
When it comes to ports, the Asus Zephyrus G15 has a plethora (2022). The right has a microSD card slot, USB 3.2 Gen 2 Type-A port, as well as a Kensington lock slot to begin with. On the left, you'll find a 3.5mm headphone mic jack combo, an RJ45 Etherport port, HDMI port, a power jack, two USB 3.2 Gen 2 Type-C Thunderbolt 4 ports, and a 3.5mm headphone mic jack combo with a USB 3.2 Gen 2 Type-A port.
Performance
Under the hood is an AMD Ryzen 9 6900HS Mobile Processor with 8-core, 16-thread, 16MB cache, and a maximum boost frequency of 4.9GHz. We have an NVIDIA GeForce RTX 3070 Ti GPU for graphics. It is equipped with ROG Boost at 1085MHz at 120W and 8GB of GDDR6 VRAM.
In terms of memory, we have 16GB DDR5 onboard RAM as well as 16GB DDR5-4800 SO-DIMM memory. Asus ROG Zephyrus G15's dual channel memory can support up to 48GB of RAM. Finally, the G15 has 1TB PCIe 4.0 NVMe M.2 SSD storage (2022). There is an additional M.2 storage slot available for further memory expansion.
Battery
The Asus ROG Zephyrus G15 (2022) is powered by a 4-cell Li-Ion 90WHrs 4S1P battery pack, which is shared by all variants (in terms of GPU configurations). Despite having a longer battery life than the Zephyrus G15 (2020) and a similar battery life to the G15 (2021), the G15 (2022) provides a subtle battery backup ranging from 3 to 4 hours on iGPU, 50% brightness, no keyboard backlight, and normal usage.
Of course, battery life is subjective because each user has a different usage paradigm, which means you can go overboard or clock in lower battery life than stated depending on what you end up doing with the laptop. Perhaps this is true for all three GPUs with little variations.
Verdict
Asus' Zephyrus G15 series has consistently delivered stellar performance, and each year it improves. The Zephyrus G15 2022 GA503RW has the best specs with RTX 3070 Ti and AMD Ryzen 9 6900HS processors combined with the best display, awesome sound quality, and an absurdly loud fan that reaches 57.3 dBA at times, as well as a high of 95° Celsius odd temperature that may put some users off, if not all.