Asus has long been one of the most innovative laptop manufacturers, and the Asus ROG Flow X16 continues that tradition as a gaming laptop that also functions as a 2-in-1 hybrid device. This design is typically found on ultraportables, but it makes sense to apply it to a larger, more powerful laptop. It transforms this 16-inch gaming notebook into a media player and tablet, potentially making it more versatile than competitors.
Price
At $2699 in the United States, £2799 in the United Kingdom, and $2999 in Europe, this laptop isn't cheap, and for that price, you could get one of the more traditional Razer or Alienware laptops. Is the Asus ROG Flow X16's experimental form factor worth the investment, or will it fall behind its more conventional competition and fail to make our list of the best gaming laptops?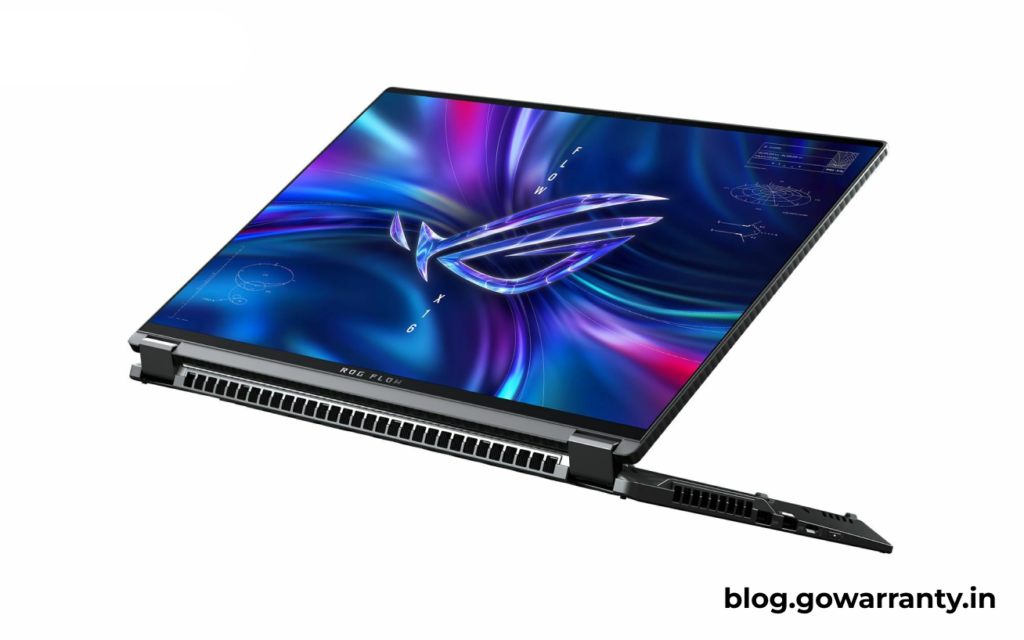 Design and Keyboard
The Asus ROG Flow X16's convertible mechanism is an excellent and uncomplicated design. On sturdy hinges, the display rotates through 180 degrees smoothly, and the hybrid chassis adds versatility. You can use the Flow to watch movies or play games with a pad by pitching it into a tent-like position. If you can handle the larger size compared to the typical iPad, you can turn it completely around to create a large tablet for touchscreen gaming or use it in portrait mode for reading or web browsing.
The body of the Flow is made of an exceptional aluminium and magnesium alloy. It looks nice too, with a streamlined design that avoids RGB LEDs in favour of an industrial feel. Also, the keyboard is mixed. There is no number pad and only basic single-zone RGB LED lighting, but the buttons have 1.7mm of travel and are a satisfying, consistent unit that makes long gaming sessions feel good. Due to the clicky buttons, the trackpad is passable, but any serious gamer should connect a USB mouse.
If keyboard quality is really important to you, you can purchase an Alienware x17 R2 with a CherryMX mechanical keyboard, but it will cost you an additional $3099/£2679/€3398 in most markets.
Ports
The connectivity of the Flow X16 is also a little erratic. This laptop does have a microSD card reader and pairs of full-size USB 3.2 Gen 2 as well as Type-C ports, with the latter handling DisplayPort and power delivery. Dual-band Wi-Fi 6E and Bluetooth 5.2 are both inside, and a quartet of speakers that can easily be used for gaming produce decent bass and a clear, crisp mid-range.
However, the laptop's HDMI 2.0b output does not provide the same amount of bandwidth as HDMI 2.1 connections, and you are not provided with wired internet. Windows Hello is supported by the webcam, but there is no fingerprint reader.
Screen
Since the screen is arguably the most crucial part of a hybrid, it should come as no surprise that it has excellent specifications. More vertical space than any competitor is provided by the 16:10 aspect ratio and 2560 x 1600 resolution, which also make it easier to read web pages and documents and add more width when in portrait mode.
With a 3ms response time, AMD FreeSync Premium Pro, and a 165Hz refresh rate, the touchscreen has a Gorilla Glass coating. These latter requirements guarantee fluid movement in single-player games and common eSports settings.
Performance
The Asus ROG Flow X16 is equipped with Nvidia's GeForce RTX 3070 Ti, which has 8GB of memory and 5888 stream processors and a maximum power output of 125W. The AMD Ryzen 9 6900HS CPU has eight multi-threaded cores and a maximum clock speed of 4.9GHz. There's 32GB of dual-channel DDR5 memory, which is more than enough for gaming and creative work, and the 1TB SSD has fast read and write speeds of 6574MB/sec and 4478 MB/sec, respectively.
The Asus averaged 68fps in Horizon Zero Dawn at 2560 x 1600, and 46 fps in Borderlands 3 – this laptop will play big-name games smoothly. There's also plenty of eSports capabilities here: the Asus averaged 230 fps in Rainbow Six Siege. Only in the most demanding games, or if you want to achieve consistent 60fps frame rates, will you need to lower the graphics settings. However, if you spend more money, you can get a laptop with an RTX 3080 Ti, which averaged 120fps in Horizon at 1080p while the Flow managed 87fps.
Battery
The Asus ROG Flow X16's longevity is mixed, but not disastrous. The Asus Flow lasted nearly eight hours while playing video at 150 nits, so you can use it to watch movies or episodes of your favourite TV shows – or to get through most of a working day in undemanding apps.
In a more rigorous work test, the Flow lasted 4 hours and 35 minutes, which is on par with the Razer Blade 15 and slightly better than the Alienware and longer than both 17.3-inch competitors. That will only get you until lunchtime, but it gives you more flexibility than many gaming laptops. The Flow lasted 57 minutes in games, which is an unsurprisingly low result – and when gaming on the battery, you get lowered GPU performance anyway. To play top titles, stay on the mains, and only use the battery for less-intensive casual games in tablet mode.
Verdict
The Asus ROG Flow X16 is a versatile and impressive laptop with plenty of gaming power, a great display, and excellent keyboard and speaker quality. However, traditional laptops offer better performance, connectivity could be improved, and this notebook gets a little too hot.
The Asus ROG Flow X16 has good mainstream gaming power, a great 16:10 display, and a slick hybrid design, making it a great choice if you want versatility as well as a touchscreen from a gaming notebook – but it gets hot at times, and more power and connectivity can be found in more traditional models.