The Google Pixel Watch is available now for purchase. For the first time, Google revealed its long-rumoured wristwatch at Google I/O 2022. Despite the fact that there were several grounds to suspect a Pixel-branded wearable was on the horizon, Google confirmed it.
Now we have to wait. The Pixel Watch will be released alongside the Google Pixel 7 series this autumn. We know it'll run Wear OS 3, making it the greatest smartwatch Google's wearable software has to offer. It will also use Fitbit's fitness monitoring and bring some new Android experiences to the wrist.
It will have to compete with the Samsung Galaxy Watch 5 as well as the Apple Watch 8, as well as Pixel smartphone customers who have been waiting for years for an in-house companion timepiece. But, before we go any further, here's everything we know about the Google Pixel Watch. From its expected release date and cost to its probable features.
Price
It wouldn't be as expensive as an Apple Watch, if we had to guess. The Pixel Watch pricing has yet to be announced by Google. But we expect it to be in the mid-range. We anticipate Google will attempt to undercut the Apple Watch Series 7 and the Samsung Galaxy Watch 4, both of which start at $399 and $249, respectively. Both the Galaxy S22 and the iPhone 13 are less priced than the Google Pixel 6 series.
It won't be the cheapest choice on shop shelves, but depending on size and LTE options, it might cost between $200 and $350. Again, this is simply a guess based on what we know about Google's pricing policy for the rest of its services.
Design
Based on what Google has teased, the Google Pixel Watch design still appears like renderings. It features a circular appearance on the right side with what seems to be a digital crown and perhaps some buttons. During I/O, the colour presented is silver, with no indication of additional colour or size possibilities. Many smartwatches on the market come in two sizes, and Google might follow suit.
As a result, the Pixel Watch appears to be a simple and basic wristwatch, similar to the design of previous Pixel gadgets.Users may personalise their timepieces with interchangeable bands, on the other hand.
Because they may share a manufacturer, the Pixel Watch and the Apple Watch are likely to be comparable. This implies the smartwatches may have more in common than previously assumed. The Pixel Watch's crown currently resembles that of the Apple Watch.
The Pixel Watch will use the same sensors as the Samsung Galaxy Watch 4, according to information leaked from Yogesh Brar. Which means it will feature the same 'BioActive Sensor' monitors heart rate, ECG, and body fat percentage.
Even older technology might be found within the Google Pixel Watch. The watch would be powered by a 10nm Exynos 9110 CPU, which first emerged in the Samsung Galaxy Watch in 2018.
Google Pixel Watch with Fitbit features
The most appealing aspect of the Google Pixel Watch is that it will incorporate Fitbit fitness monitoring. Google Fit is a letdown when it comes to health apps, especially when compared to the best Fitbit devices. The Pixel Watch will have Fitbit Premium features such as workout tracking, activity zone minutes, and other health-monitoring functions. As a consequence, the contest between the Google Pixel Watch and the Samsung Galaxy Watch 4 will be one to watch this autumn.
Specifications
Google gives a lot of information on the Pixel Watch's specifications. To begin, you may anticipate a co-processor to aid performance, which might be aided by more than 1.5GB of RAM. Furthermore, according to the same claim, the Pixel Watch would include 32GB of capacity. Which would be double that of the Galaxy Watch 4 and allow for more music storage on the move.
Finally, the Pixel Watch will apparently include a heart-rate sensor that enables SpO2 and ECG measurements. Similar to the Fitbit Luxe and Charge 5. Google has also applied for a USB-C charger for the Pixel Watch, according to reports.
Google Pixel Watch Wear OS
The Pixel Watch will have Google's Wear OS platform, which comes as no surprise. But what distinguishes the programme, or should we say makes it superior?
Wear OS features include continuous heart-rate monitoring using Google Fit, contactless payments using Google Pay, hands-free Google Assistant access, and a Google Play smartwatch shop on third-party smartwatches like TicWatch and Fossil. These features didn't always make up for Wear OS's faults, but with the Galaxy Watch 4, the newer, more streamlined version of Wear OS works brilliantly.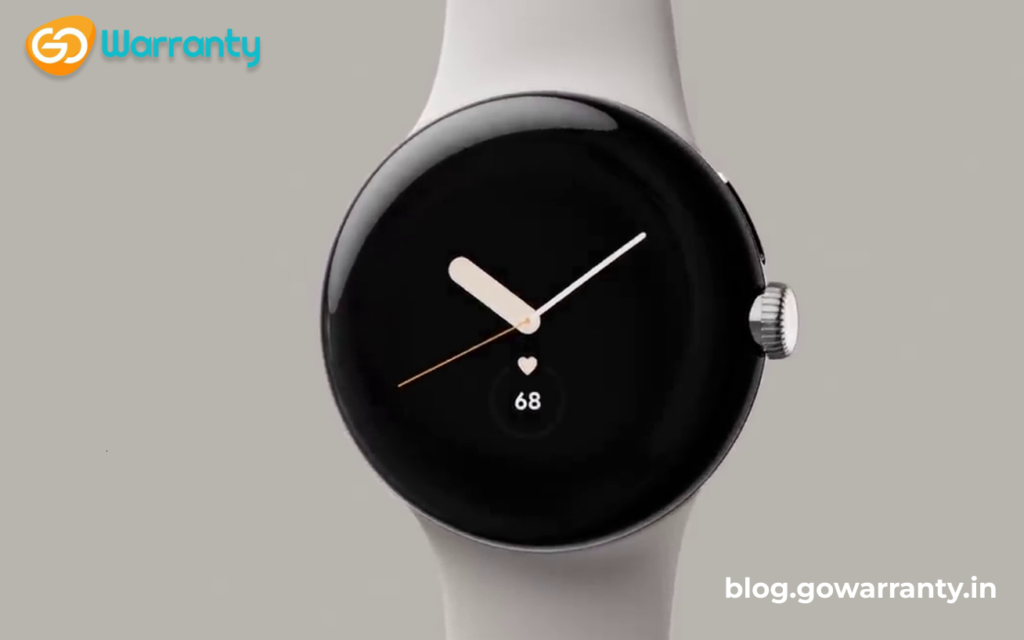 When new Wear OS-eligible smartwatches are upgraded later in 2022, we should get a clearer feel of what Wear OS looks like sans Samsung's own integrated UI.
Google Pixel Watch outlook
The Google Pixel Watch, as previously said, is eagerly anticipated. Google is delaying the release of its first in-house wristwatch, which has been rumoured for several years. We may hope for the best, but there's no way of knowing until it's on our wrist.
Apple Watch vs. Google Pixel Watch
The Google Pixel Watch has the potential to outperform the Apple Watch, but it will necessitate a considerable investment from Google as well as some noteworthy features. The two smartwatches are expected to be made by the same Taiwanese company.
This would feature a fantastic Wear OS experience that is both intuitive and full of amazing apps. Google would also need to put Google Assistant and its benefits over Siri on your wrist. While also providing seamless connectivity with other Google services such as Gmail, Google Photos, and Google Calendar.
To provide a fitness wearable that exceeds the Apple Watch in terms of sensors and workout tracking. The Pixel Watch will need to build on its Fitbit acquisition. Two especially useful features are the Fitbit Daily Readiness Score and Active Zone Minutes. Last but not least, the Pixel Watch will need to outperform the Apple Watch in terms of price and battery life.