The Swift 3 SF314-512 range requires no introduction, since it has long been one of the most popular options for a low-cost ultraportable with little sacrifices. The 2022 upgrade resembles the previous versions (Swift 3 SF314-59 or SF314-511), with a simple and fairly utilitarian structure meant to last and handle the daily grind effectively. Simultaneously, this version is slightly smaller than previous models and boasts an enhanced display, improved IO, faster wireless connectivity, and, of course, a much more competent hardware architecture with an updated cooling module. All of this for less than $1000 for a daily-driver mid-level configuration.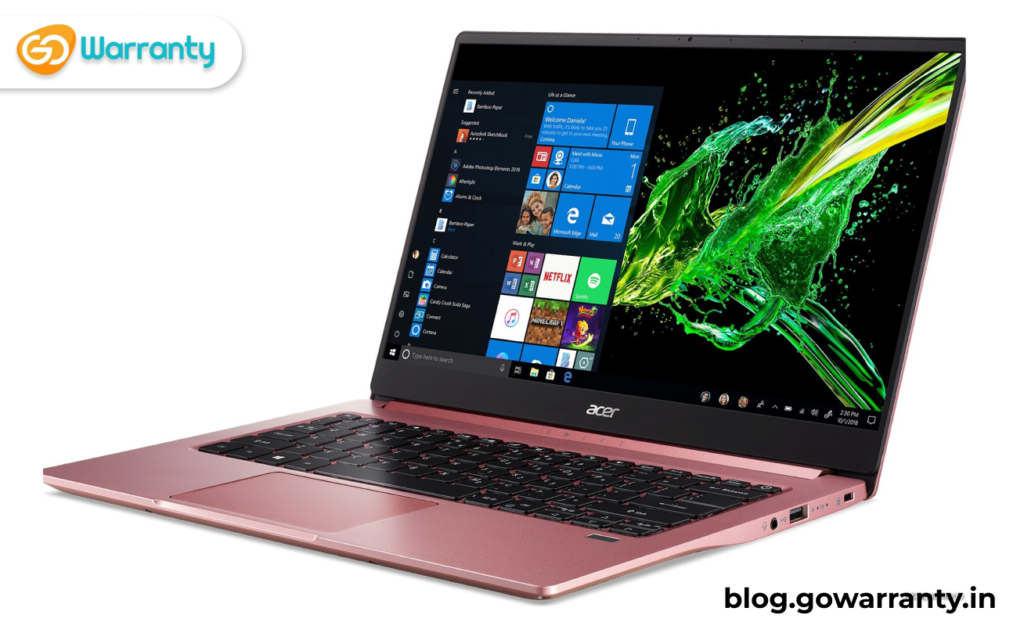 Price
At the time of writing, the Acer Swift 3 SF314-512 series was available in stores. The base model Core i5-240P with 8 GB of RAM and a 512 GB SSD costs $849 MSRP in the US and €900 in Germany, while upgrades to 16 GB of RAM or the i7-1260P processor raise the price to around $1,000 USD/EUR. The best-value configuration for most people is the one we have here, with the i5 processor and 16 GB of RAM, but paying only $50-100 more for the i7 is worth considering, especially given the faster iGPU in the i7.
Design
While it may not appear so at first look, the mid-2022 Swift 3 14 design is distinct from the preceding versions from 2020 and 2021. Beginning with the lid, the Acer branding is now more subtly placed at the top of the laptop rather than in the centre. The chassis is then slightly more compact, but the variations are minor, measuring only millimetres. At the same time, the 2022 chassis is somewhat heavier due to a redesigned internal cooling module, which we'll go over later down. Still, at 2.75 pounds, this is a very portable 14-inch notebook.
Another noticeable difference is the hinges. Instead of the previous long hinge, this update now includes two side hinges. They enable smooth everyday operation and keep the screen in place well, preventing it from wobbling when typing or moving when you pick up the laptop. However, with these new hinges, the screen no longer leans back flat to 180 degrees as it did on previous models; instead, it only leans back to about 145 degrees, making lap or couch use impractical.
At the same time, the Acer Swift 3 SF314-512 looks rather bland with this colour scheme and the magnesium-aluminium alloys used for the chassis, and it doesn't feel as fancy or premium to the touch compared to other options in the mid-tier ultrabook space, like the 2022 ZenBook 14 or even the Lenovo Yoga 7i. I'm not sure how it compares to the Dell Inspiron 14 2022 because I haven't used it in a while.
Display
The Acer Swift 3 SF314-512 still has a 14-inch 16:9 matte screen (with a glossy touch option also available). This is still a good choice for the mid-tier segment and this type of hassle-free laptop, in my opinion. Although the blacks and contrast are surprisingly good for an IPS panel, the maximum brightness is only slightly above 300 nits, and colour-gamut coverage is only 100% sRGB.
Although the user demographics viewing this series will not necessarily require wide-gamut colours, a higher brightness of 400-500 nits would have been appreciated, allowing for better visibility in bright light conditions or outdoors. We know for certain that AU offers a 400-nits variant of this panel, but Acer is likely to stick with the 300-nits option.
The panel is fairly well calibrated out of the box, with only minor Gamma and White Point issues that require correction. It also proved to be uniform in our tests, and I haven't noticed any bad light bleeding with it. One thing to note is that this Swift 3 generation will also be available in a touchscreen configuration, with the same IPS FHD panel but in a touch glossy implementation.
Keyboard and Trackpad
One of my favourite features of the older Acer Swift 3 SF314-512 models was the availability of black keyboards, but this was discontinued last year and replaced with this color-matched silver keyboard. It makes for a more balanced design, and the silver keycaps are less likely to show smudges, but the contrast with the white backlighting system irritates me on all such implementations. Still, keep it off unless you're working late at night in a dark room, and you'll quickly adapt to it.
Aside from that, this is an excellent typer. The keys are properly sized and spaced, and the layout is simple, but with most keys in the correct location. The arrows' design, as well as the fact that the power button is integrated as the top-right key, take some getting used to. At the very least, it's a recessed button that's firmer to press than the regular keys, making it difficult to press by accident.
Given the Swift 3's ultra portability, don't expect deep strokes from this keyboard, but the feedback is stiff as well as consistent, and I was able to type quickly and accurately on it. Based on previous experiences, I was expecting it, but this keyboard ended up being one of my favourites in this class.
Hardware and Experience
This Swift 3 14 SF314-512 model has a mid-specced Intel Alder Lake Core i5-1240P processor, 16 GB of LPDDR4x RAM, as well as 1 TB of middling PCIe gen4 SSD storage. With that out of the way, this year's major specification novelty is the switch to Intel Alder Lake 12-th gen Core P hardware, with i5-1240P or i7-1260P processors. Both are hybrid designs with four Performance Cores, eight Efficiency Cores, and sixteen total Threads that can work together or separately depending on the load. The two have nearly identical capabilities, with the i7 having slightly higher frequencies.
This 2022 Swift 3 series, however, continues to use LPDDR4x memory rather than the newer LPDDR5 memory found in other 2022 models. That won't make a significant difference in everyday use, and with a few exceptions, it won't matter for demanding loads, especially not for the kinds of activities you'll want to run on this type of laptop. In terms of storage, this series includes an M.2 2280 gen4 SSD slot. Our unit came with a budget-tier gen4 WD SN735 SSD (in a 2242 format) by default, and you'll most likely get something similar with the retail models as well. However, if you require faster gen4 drives, you can upgrade the storage.