Top 5 Best Coffee Makers in India To Buy in 2020
Is coffee the first thing you need to get going in the morning? Then investing in a coffee maker is the right choice.
If you brew your own coffee, then you can adjust the strength, flavor, amount of milk, cream and sweetness according to your taste preference.
While purchasing a coffee maker, you should consider certain factors like mentioned below.
Type: There are four types of coffee makers that include French press, single serve, espresso, and drip.
Drip – It is perfect for brewing large qualities of coffee at a time.
French Press – It is a perfect solution for people who have less kitchen space or need a cup of coffee while travelling, in-office or during stay-overs.
Single Serve – It is specially designed to brew single come at a time and precisely according to it.
Espresso – This type provides a stronger and aromatic cup of coffee. And you can make different coffee variations like mocha, latte, macchiatos using this coffee maker.
Capacity: This depends on how much coffee do you or your family needs on an average. Single-cup serving coffee makers are perfect for bachelors or travelling persons. For medium to large families, it is better to purchase a coffee maker with a capacity of making 10 – 12 cups at a time. Apart from that, you should also consider brewing time, strength, water temperature and others.
We have provided a list of Best Coffee Makers in India after thorough research, testing and analysis. Apart from that, we have also picked up a list of top 10 coffee makers in India after a lot of research and analysis.
Morphy Richards Fresco Espresso Coffee Maker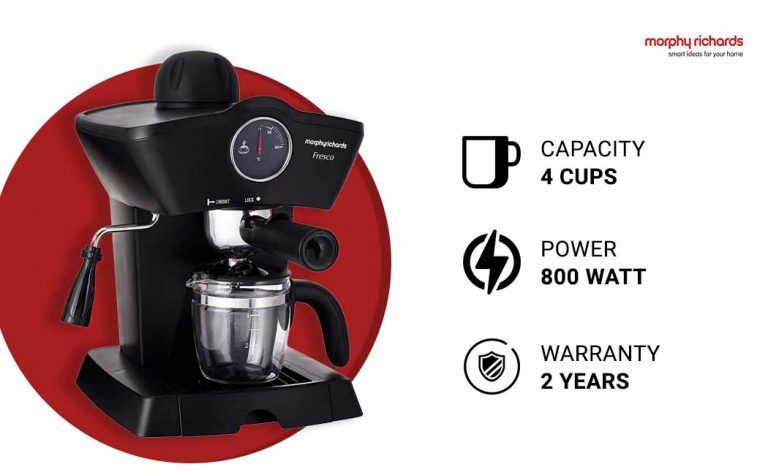 Morphy Richards is an English based company developing innovative and effective coffee makers across the world. Among their wide range, Fresco has gained first position in our list because of its amazing features like heat resistant carafe, coffee strength collector and several others.
This is an espresso type of coffee maker so you can make different types of coffees like mocha, cappuccino, and others. It makes 4 cups of coffee at a time which makes it perfect for small families and people who love to drink to coffee throughout the day.
With coffee strength adjustability feature, you can set the flavor and strength as per your taste requirements. The exclusive turbo cappuccino nozzle lets you enjoy your favorite drink.
Fresco coffee maker is equipped with an attractive glass carafe which collects the coffee and also permits to pour the coffee easily.
Sometimes, coffee may drip while the machine is in operation. Dripped coffee can make a mess, to solve this problem – manufacturers have provided a drip tray which will collect coffee dripped.
The overheat protection will ensure product's safety in cases when temperature of machine rises beyond. It comes with a stainless steel cup filter which lets you enjoy smoothest and most consistent coffee.
It is operated by 800W motor which is enough to provide powerful performance and yet doesn't affect the electricity bills. This machine is backed up with a 2-year warranty by the manufacturer.
Pros
Consumes 800 Watts power
4 cup capacity
Temperature indicator dial
Milk frothing nozzle
Removable drip tray
Transparent glass carafe
Turbo cappuccino nozzle
Stainless steel 2 cup filter
Heat resistant carafe and lid
Over heat protection
Compact and light in weight
Easy to clean and maintain
Cons
Hard to find replacements
As it doesn't have much height, have to use a small cup of frothing the milk
2. Coffeeza Lattiso Coffee Making Machine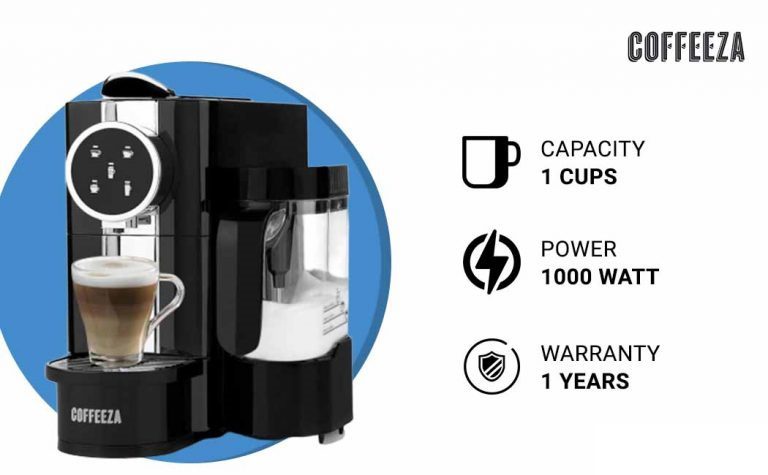 The coffeeza is an Indian brand which has been providing high quality coffee makers that are engineered to perfection and simple to operate. The lattiso model of their range is quite elegant and modern in its looks.
When compared to other espresso machines, this model is much affordable. This coffee machine will provide 1 cup of coffee at a time – so it is perfect for bachelors and people who like to have a freshly brewed cup of coffee every time.
The modern glossy look and stylish chrome trim is actually inspired from Italian design concept. It perfectly blends into any kitchen interiors and also a touch elegance.
It heats up quite quickly (45 seconds) to brew fresh coffee. It has auto-turn off feature – which turns of the device after 4 minutes of inactivity, this reduces energy consumption and power bills. This premium coffee making machine also comes with built-in flowmeter.
Coffeeza Lattisso uses 19 bars of pressurized hot water to brew perfect cup of Italian coffee within 30 seconds. A removable drip tray is provided to collect any dripped coffee; this also makes easy to maintain the coffee machine without any mess.
This coffee maker is considered to be perfect personal use, homes and small offices. It can brew up to 20 cups of hot coffee in a day. Though you cannot make cold coffee with this machine, you can make cold froth for use. This machine works flawlessly for a very long time with minimal maintenance.
Pros
Compatible with both coffeeza and nespresso original coffee capsules
Can make espresso, cappuccino, ristretto, lungo
Perfect for home and small office use
Elegant and modern design
Auto-turn off feature
Heats up quickly to provide coffee
Consumes less power
1-year limited warranty
Cons
Average build quality
Not suitable for large families
3. Tecnora Classico TCM107M Coffee Maker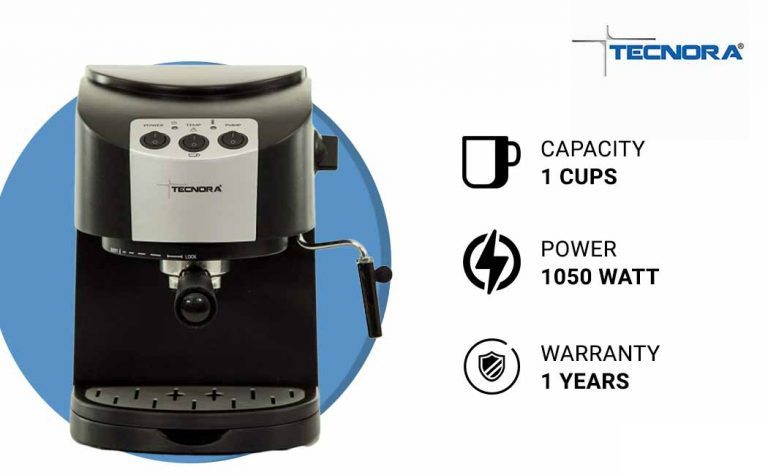 If you want best morning coffee, then you need TECNORA coffee maker at home. It is one of the best coffee makers available in the market and can serve 6 cups of coffee at one go. This sleek, compact, lightweight coffee machine is equipped with a powerful electromagnetic solenoid pump in order to extract a full coffee flavour, guaranteeing a complete cafe experience at home.
The powerful 1050-watt motor produces steam to froth milk and make creamy soup at one go. And the 2 espresso shots are also included – single and double shot to have flavour and aroma as you desire.
Gently press on the pump control switch to collect espresso and turn off when reached the desired quantity. 1.5-liter water tank can be detached by sliding upwards to refill the tank when required.
Using the temperature controller switch, you can adjust the water temperature to low/high for blending perfectly. It has got auto-off feature that shut downs the coffee maker automatically after 25 minutes.
The performance of this device is good and acceptable. It comes at high prices and offers 2 years of warranty services. If you do not like the product or got the damaged piece replace within 10-days of purchase date.
We are a bit disappointed with the noise that knocks continuously for a long time. Also, installing a coffee maker is a bit difficult for beginners and end up damaging the product. Apart from that, it's totally a good one to buy online.
Pros
Built-in steamer spout
Pulse water delivery system
Smart auto-switch off feature
Powerful 15 bar Italian pump
2 years of comprehensive warranty
5liter (6 cups) detachable water tank
Cons
Produces noise and vibrates while in use
A bit expensive to purchase
Beginners may face difficulty in operating
Extend manufacturer warranty on your coffee maker
Enjoy coffee shop quality at home.
4. Philips HD7431/20 Coffee Maker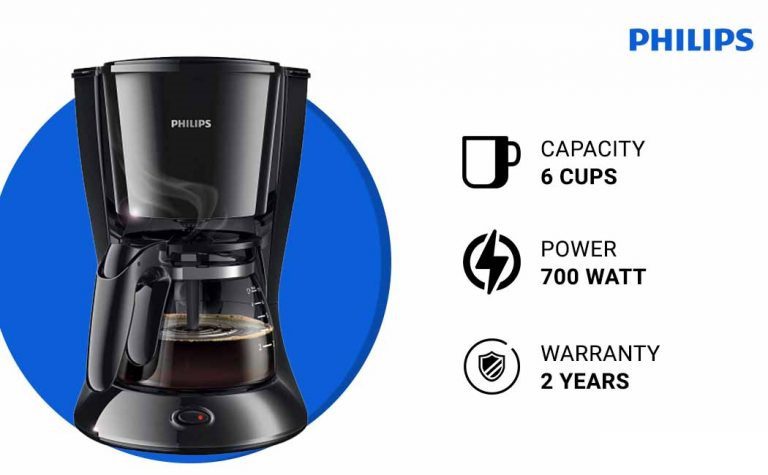 Philips is a well know and trusted companies when it comes to kitchen and household products. If you are planning to buy coffee maker online, then you must try Philips Coffee maker at home. It is not only suitable for home purpose, but also perfect for offices, coffee shops, and other commercial places.
This coffee maker prepares coffee using different types of coffee blends which makes it a versatile appliance. It comes at reasonable prices and the stylish, ergonomic design attracts customers.
It has a finite number of features like the power switch, non-slip fee, detachable filter holder, and much more. The 600ml tank capacity helps to blend the natural ingredients and does the brewing in just 10 minutes. Unlike other coffee machines, it has come with Aroma Swirl technology which distributes the aroma evenly to make the coffee taste better.
You will get a detachable filter holder which filter out the unnecessary contaminants and can be removed easily to wipe out the coffee stains, dust, etc. Drip stop function stops the coffee brewing at any time you want.
Being dishwasher safe, you clean all the parts neatly and maintain well. It just weighs 1.58 kgs that makes easy to shift from one location to another or take with you while travelling – holiday trips, outings, etc.
To prepare the fresh coffee drink, it requires 700 watts' power and with a working voltage of 230V. This wonderful product comes under 2-years warranty from the date of purchase. If you find the damaged piece, replace with new one within the specified time.
In a nutshell, the performance of Philips coffee maker is excellent and best for home purposes. It can handle the task efficiently without causing any disturbances. For this reason, it has become one of the best coffee makers in India.
Pros
10 minutes of brewing time
Offers 2 years if warranty services
700 watts power, 230v operating voltage
Easy to clean and maintain
Comes with 600ml capacity
Lightweight and compact design
Non slip free design and illuminated power switch
Makes 4-5 cups of coffee at a time
5. Black + Decker BXCM1201IN Drip Coffee Maker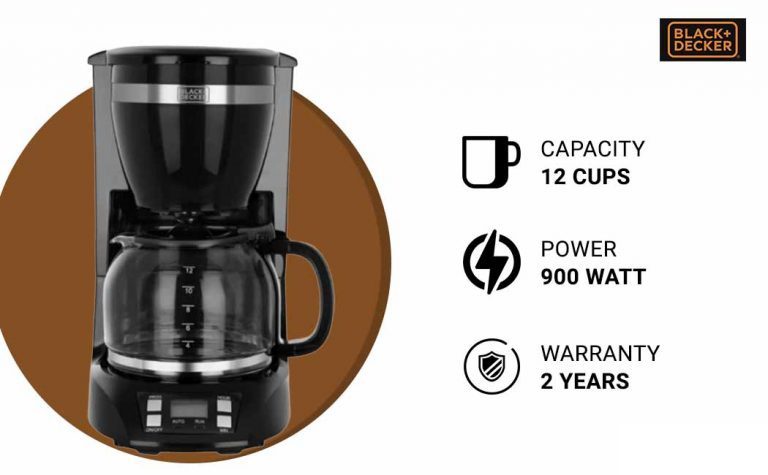 Black and Decker Coffee Machine is a perfect device to prepare tasty coffee and have wonderful experience. With this amazing coffee machine you can keep the coffee warm up to 2 hours of post preparation. That's why we have given as one of the best coffee machines in India.
The crisp and lightweight design makes the device look ultra-smart and anti-slip feet base sticks to the ground level for handling efficiently. When you forget to switch off, the device will automatically shut down to ensure safety.
The 1.5-liter glass carafe helps to prepare 12 cups of coffee at a time. It has a digital display with 4 options to control the brewing process and nylon filter captures the unwanted particles. Once the brewing is completed, the hot plate keeps the coffee warm until you switch off completely.
To recapitulate, Black and Decker coffee vending machine is fantastic and makes it durable and long-lasting. As it has the capacity to serve 12 cups of coffee, suitable for entire family. Also, the product comes under 2 years manufacturing warranty from the date of purchase.
This coffee maker is perfect for even large families and offices. The major disadvantage is the filter may not work efficiently all the time and experience spring issues on a longer run.
Pros
Automatic shut-off feature
Comes at reasonable prices
Anti-slip feet and nylon filter
12 cups at a time capacity
Perfect for home and offices
Electronic control switches
Digital display and water level indicator
Backed with 2-years warranty services
900 Watts power
220-240v working voltage
Cons
The coffee filter is not much effective