Voice-controlled smart speakers with full touchscreen displays are one of the greatest gadgets for managing your smart home. Full-screen touch control display showing information throughout the day, or even playing music or videos will makes daily life much more fun and playful.
Like a smart speakers have inbuilt smart display which is primarily voice-controlled enabling you to give commands across a room. But unlike a smart speaker, a smart display can also show information such as your daily and upcoming appointments, outside weather, current time, can assemble a grocery list, online recipes, and more without you having to open your computer and search. These smart devices are cloud-connected and hence can also store your digital photo frame, allowing you to store and see all of your memories that you've captured over years. Few of these modern technologies also come with built-in cameras that can be used for video calling to other smart displays or even phones.
A good smart display has all of the capabilities of your smart speaker, including but not limited to good-sound for listening to music or watching videos. They are available in a variety of prices and sizes and depending on where you want to put the display, you can prefer a smaller model over one that has a larger screen and louder speakers. But if you're looking for an all-around smart display to use in your kitchen or living room, you'll want one with a screen that's easy to see from across the room and speakers that can fill the space with a clear, pleasant sound.
Amazon Echo Show 8: The Best Smart Display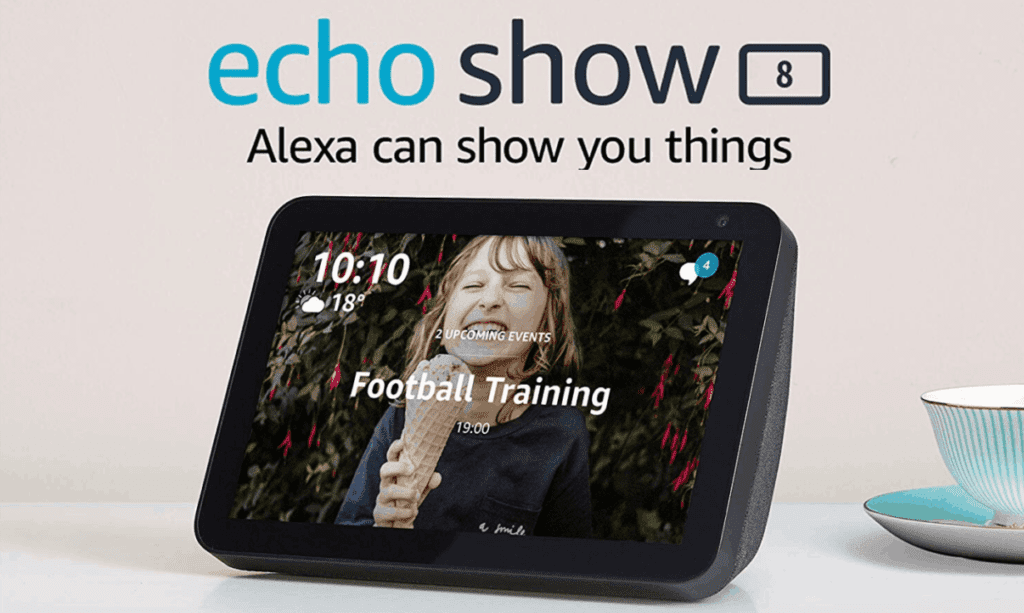 Amazon Echo Show 8 is from the house of Amazon's technological line-up of Alexa-powered with smart displays. It has an inbuilt 8-inch bright touchscreen, two powerful speakers which can put out a great level of volume which can be heard from a distance, a built-in camera, and four microphones to hear voice commands. It can easily be seen or controlled from across a room without a need for big space.
Show 8 has all the capabilities of Alexa with Amazon's Echo speakers, but it also bundles a set of unique capabilities that take advantage of its built-in display. You can use the display to see timers on the screen without having to ask for them, cooking recipes are displayed with step-by-step instructions along with video tutorials (depending on the availability), grocery lists added during daily tasks are shown right on the screen, and the list of upcoming calendar and appointments, and the latest news headlines whenever left idle. The screen can also be used to pull up feeds from video doorbells and security cameras. The same device is also capable of making video calls through Amazon's Alexa calling service to other Echo Show devices or smartphones. The built-in privacy shutter allows you to block the camera's view if you don't want to make video calls.
Since the display is a full touchscreen, you can also interact with the Echo Show 8 without having to use your voice at all, including cancelling timers, controlling smart home devices, or scrolling through photos stored in Amazon Photos or Facebook albums. But Show 8 is not designed to be an iPad-like tablet, and its interactivity is limited to simple functions.
Like Echo speakers, Show 8 can play audio and music from a variety of sources, including Spotify, Audible, Pocket Casts, Amazon Music, Apple Music, and Sirius XM. It can also play video from Amazon's Prime Video and Hulu. But it doesn't have an easy way to play YouTube video (you have to go through the device's built-in web browser, a very clumsy process), nor does it have the ability to play Netflix. Show 8 isn't alone in the latter. For some reason, no smart display on the market can play Netflix video, which is unfortunate. Those limitations make Show 8 a poor replacement for a TV, but it is very capable of listening to music.
Nest Hub: Powered by Google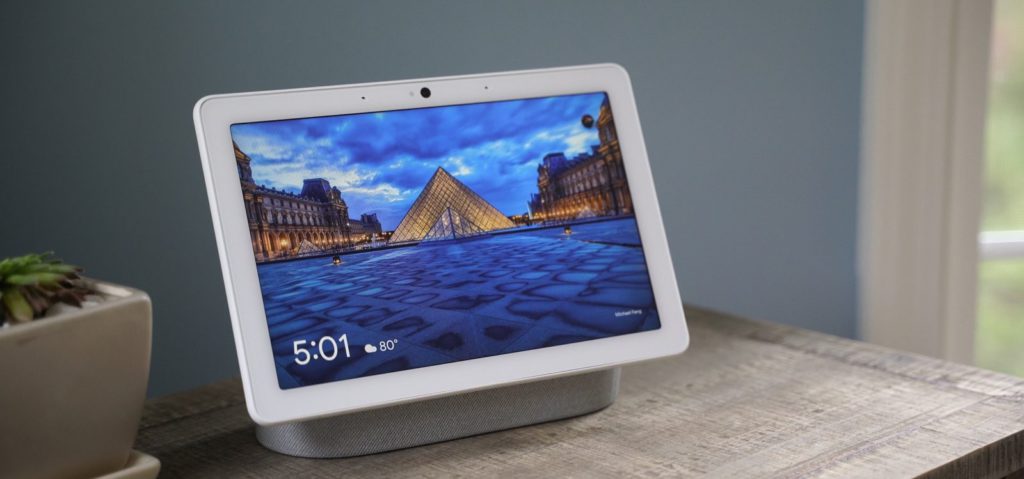 Along with Amazon Alexa and Echo Show 8, Google has its own smart display technology that is powered by the Google Assistant. If you are used to Android and Google's ecosystem, this can be a good alternative for you than the Amazon's Echo Show. The Echo Show 8 can display Google Calendar appointments and video feeds from Nest cameras, but it's not as deeply integrated as Google's smart displays.
The best option in Google's lineup is the Nest Hub (formerly called the Google Home Hub). This is a 7-inch smart display, however a little smaller than the Echo Show 8 and fits more comfortably in smaller spaces. One of the best features of this device is a screen that automatically adjusts itself for the lighting in your room, so it almost looks like images are printed on paper instead of being displayed on a screen. Combine that with Google Photos' excellent automatic backups and smart albums that can automatically update the Nest Hub with new images whenever you take them, and you have perhaps the best digital photo frame experience you can get.
The Nest Hub, however, lacks an inbuilt camera, so the device lacks the feature of video calling. Along with the camera, the lacks a good speaker, which is less powerful compared to Show 8 and doesn't sound very good. The 7-inch screen is also noticeably smaller, which makes it tough and a challenge to see from across a room and also less comfortable to watch video on. However, if you spend a good amount of time on YouTube or you're a YouTube creator, the Nest Hub does a much better job of displaying those services than Amazon's options. It gives you an upper hand to easily cast video content from a variety of apps on your smartphone. However, the device fails to cast Netflix, which you can do with an Echo Show.
If you possibly ignore entertainment, the Nest Hub functions very similarly to the Echo Show. The smart device can control your home devices, display upcoming appointments, step-by-step recipes, and voice-controlled alarms. Google Assistant is generally better at answering random fact-based questions than Alexa, but for everyday tasks, they are very similar. One thing compared to that of Amazon. While SHow 8 does a much better job with managing a shared grocery list. So if you're planning to put a smart display in your kitchen, the Echo Show is a better choice.
On the price front, it is pretty similar to the Echo Show 8, but it is frequently on sale or a discounted price. With a discounted price, the Nest Hub could be an ideal alternative for a clock or digital photo frame on your wall in your bedroom or even in your living space.
Smart Protection for All Your Gadgets
Other Available Options
With the Echo Show 8 and Nest Hub in the available options for most of the buyers, both Amazon and Google have a line of options constituting larger and smaller smart display screens powered by their respective voice assistants.
If you're looking for a smart alarm clock, Echo Show 5 or Lenovo Smart Clock can be an ideal choice. But they lack modern features and comes with fewer features and smaller footprints. If you want a bigger display screen, the Echo Show and Nest Hub Max both have 10-inch displays. However, the Echo Show 8 is the loudest with its dual speakers. But they are considerably more expensive and don't necessarily provide that much better of an experience to justify their costs.