The Best E-Reader You Can Buy in 2020
Today's best e-readers come pretty close to matching (and even beating) the print book experience. They offer screens with crisp, clean text, batteries that last for weeks, and benefits that print books can never match, like integrated backlights, waterproofing, and a nearly infinite library in your pocket. And with the latest wave of e-readers pushing technology farther than ever, there's never been a better time to give one a shot. Even if we're still working on replicating the perfect new book smell.
Amazon has long dominated the e-reader game with the Kindle Paperwhite, which marries the high-resolution display and built-in light of Amazon's top-of-the-line readers with the lightweight, pocketable design of the company's base model Kindle. Even before the latest update, Amazon said that the Paperwhite was its best selling model, and for good reason – it's a nearly perfect mix of functionality and price point for an e-reader.
The 2018 Paperwhite – the first major update in years – advances things even further, adding waterproofing, support for listening to Audible audiobooks over Bluetooth, and improved design with a flush display. The screen is a 6-inch 300ppi E Ink panel that's crisp even for tiny font sizes, the integrated light lets you read in the dark, and the hardware is still small and thin enough to slide into the back pocket of my jeans.
Extended Warranty E-Reader
Covers Malfunctions & Breakdowns.
The Paperwhite has all of the full power of Amazon's years of refinements of Kindles behind it – the user interface is simple and easy to manage, the fonts and formatting of books are great, and buying more things to read is almost dangerously easy to do right on the device. Amazon also has its services to sweeten the pot – Prime members get access to free content through the Prime Reading Program, users can sign up for an optional Kindle Unlimited subscription to further their a la carte options, and Amazon's purchase of Goodreads means that the largest literature-related social media network is built right into the device. And of course, the biggest and cheapest e-book library around.
Amazon sells the Paperwhite, but you should never spend that much on it, considering that Amazon frequently runs sales (the lowest price yet has been $90). Be aware, however, that the usual Amazon annoyances still apply. Adding cellular data will add to the price, bumping up internal storage from 8GB to 32GB, and removing the ads from the home and lock screen will cost few extra bucks.
There are also a few annoyances that come with the hardware, like the lack of USB-C charging or faster 802.11n Wi-Fi. But sadly those apply to almost the entire e-reader marketplace, so it'll be tough to avoid those issues until manufacturers start to step up a bit.
Amazon Kindle Oasis (2019)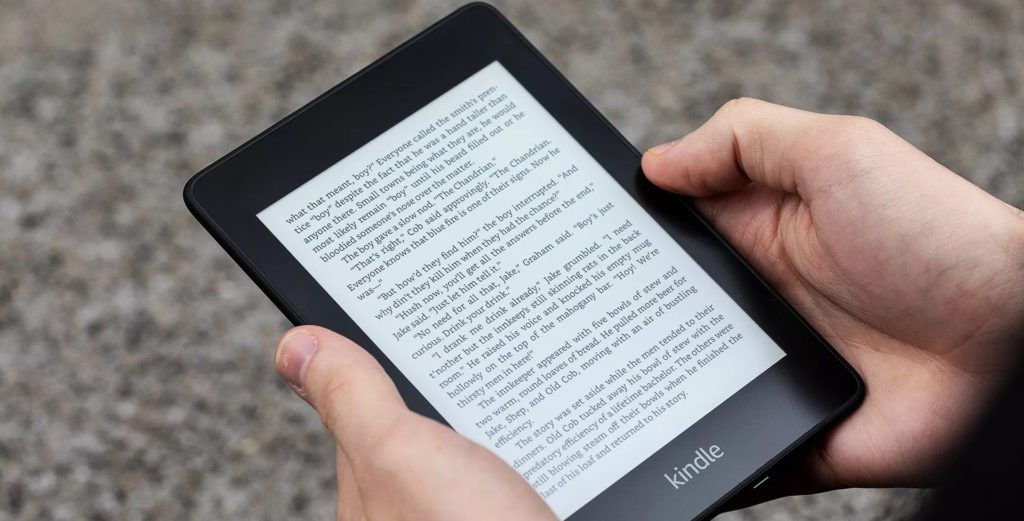 Amazon's Kindle Oasis was already the absolute best e-reader if the price isn't a factor, and the updated third-generation version makes it even better, adding a colour-temperature adjustable screen. It's a small change, but it makes it both easier to read in the dark as well as just plain nicer to use, due to the tinted colour helping the screen look more like actual paper than before.
Everything else about the 2019 Oasis is otherwise unchanged, for better or for worse. The design is still outstanding, with an asymmetrical style that's weighted perfectly to rest in one hand. And it still has an anodized aluminum case and physical page-turn buttons that are far nicer than the cheaper Kindles' touchscreen-only UX and plastic shells. It's also IPX8 waterproof and supports Audible audiobooks over Bluetooth.
Head to head with the Paperwhite, the Oasis has a few specific improvements: a larger screen, a front light with 12 LEDs (over the Paperwhite's five) for more even lighting, and an adaptive light sensor that can automatically adjust the brightness for you (although not the colour temperature, which would have been a nice addition).
But the Oasis still has its hefty price tag to contend with: nearly twice as much as the Paperwhite (or close to three times as much if you can find a Paperwhite on sale, which it frequently is), which makes it hard to recommend over the Paperwhite, even with the new screen. But if you want the best digital reading experience at any cost, nothing else beats the Oasis.
GoWarranty provides extended warranty and repair services, so your appliances or devices keeps delivering the best performance and you can focus on what is important for you. We cover all electronic products and our protection plans are widely available across electronics stores and online marketplaces.