The Sony Inzone M9 gaming monitor has every feature a 4K display could want, including a 144Hz refresh rate powered by HDMI 2.1, IPS colours, HDR 600, VRR, as well as G-Sync compatibility. However, it is the HDR capabilities of this gaming display (which include one that is PlayStation-specific) and its low $899 price that give it the edge.
It is a high-end gaming monitor with a native 4K resolution and a fast refresh rate that supports both FreeSync and G-SYNC Compatible variable refresh rate technologies. It is part of Sony's "Perfect For PS5" line, which includes products with unique features designed specifically for PS5 gamers.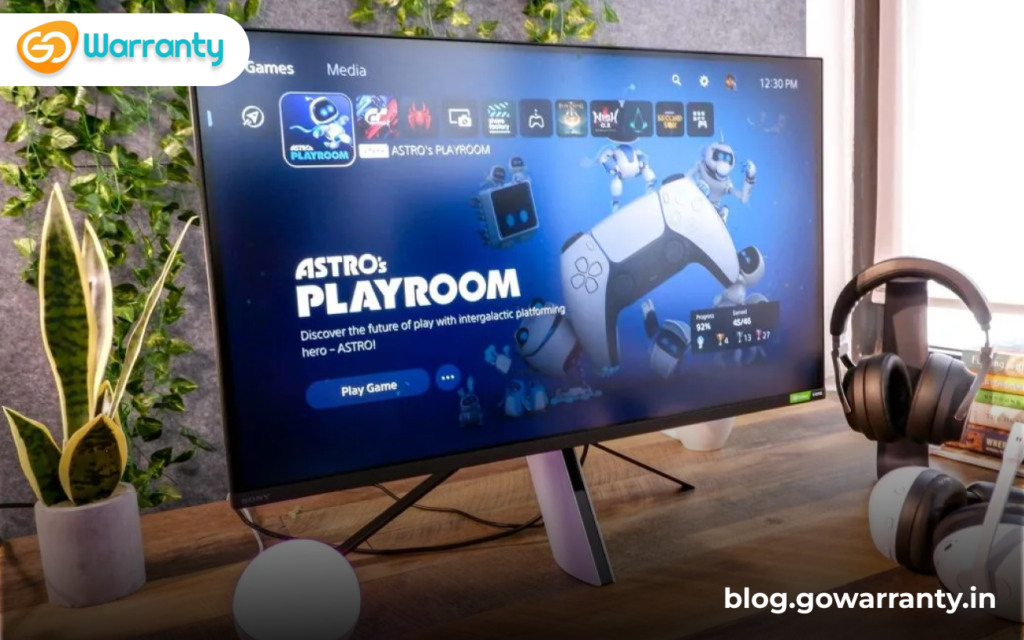 Price and Release Date
The Sony Inzone M9 gaming display will cost $899. It features a 27-inch 4K LCD 144Hz display with HDMI 2.1, G-Sync, and a maximum brightness of 600 nits and a response time of 1ms. It is compatible with the Xbox Series X, PS5, and PC. Sony also plans to release the Inzone M3 gaming monitor in the winter of 2022. This Inzone monitor, like the Inzone M9, has a Full HD (1920 x 1080) 240Hz display with a 400 nit brightness rating. The Inzone M3 is available for $529.
Design
The Sony Inzone M9 appears to be a gaming display designed for the PS5 due to its black and white colour scheme. While the base of the display, which is leaning back, looks almost identical to Sony's console from the front. Thank goodness the Sony Inzone M9 lacks the PS5's eye-catching popped collar. In this case, the design actually helps to hide the monitor's feet and most of the stand behind the screen. A cable passthrough is located in the middle of the supporting arm to further organise things.
Picture Quality
The brightness and clarity of the Sony Inzone M9's screen are the first things you notice; it does an excellent job of displaying games and pretty much anything else. While the 96 distinct dimming zones do not provide OLED-level contrast, they do improve the contrast between black and white on this monitor when compared to what you might expect from an IPS LCD panel. With less blooming, you get more accurate illumination and a sharper image overall.
OSD Features
To navigate the OSD on the U27M90, you can use Sony's Inzone Hub software or a convenient joystick. The programme can save game setups, including headphone audio settings, and it covers the monitor's menu system. Out of the five SDR picture modes, the Cinema mode is the default. Although it has a slightly darker gamma than some users may prefer, it is very colour accurate. Standard has a slightly lighter tone and is colour accurate. To calibrate, select one of the Game modes. They display a menu of colour temperatures, saturation/hue adjustments, and gamma presets.
If Auto Picture mode is enabled, the U27M90 will switch to Game 1 when a PS5 is connected. Gaming Assist includes red and green aiming points, a countdown timer, frame rate indicator, Adaptive-Sync toggle, three-level overdrive, and a Black Equaliser for highlighting difficult-to-see shadow detail. It's best to keep the overdrive on the lowest setting. Moving objects and clear ghosting trails are left behind by better choices.
Performance
Elden Ring, Spider-Man: Miles Morales, Astro's Playroom, and Gran Turismo 7 are just a few PS5 games that look great on the big screen. Though we are not big fans of racing simulators, GT7's stunning visuals and the thrilling sensation of racing around the track made me want to play it. Miles Morales was my favourite PS5 game that I played during testing because it could display at 120 frames per second, but we may be biassed because I'm a native New Yorker.
On this panel, 4K UHD videos from the Nature Relaxation Music YouTube channel and other non-gaming content look fantastic. The sea's blue-green hue appeared to be real on the Inzone M9. Colourful movie trailers, such as Spider-Man: Across the Spider-Verse, shine both literally and metaphorically.
Gaming
Any previous issues with the M9 are forgotten once you start playing the games. Because of the M9's dimming zones and Display HDR600, playing cinematic games like The Last of Us: Part I looks incredible. Each shot pops off the screen thanks to the vibrant colour palette and dark, but not quite as black, blacks. As you might expect from a gaming monitor of this calibre, the benefits are most noticeable in first-person shooter (FPS) games. Modern Warfare 2 and Apex Legends' graphics and gameplay have significantly improved. If you've been playing on a television with 5-10ms reaction times, the M9's 1ms G-Sync will significantly improve your experience (and possibly even your performance).
Controls and Variable Refresh Rate
The joystick controls are located at the back of the monitor. If you're used to an LG or Samsung monitor with a joystick, it may take some getting used to because it's simple but sensitive.
The Sony M9 supports variable refresh rate technology. It has been officially certified to work with NVIDIA's G-SYNC Compatible mode. FreeSync sources can be used as well, but only when connected via DisplayPort. Due to the HDMI Forum VRR compatibility, it can support VRR with some HDMI sources, including the PS5 as well as Xbox Series S|X. Unfortunately, the variable refresh rate feature of this monitor has some drawbacks. Even if you exit the game as well as switch sources, the monitor may occasionally begin to flicker excessively after a while of playing some games with VRR enabled. This issue occurs frequently with Marvel's Spider-Man: Miles Morales on the PS5, implying that there is a problem with the display and VRR implementation in that game.
Verdict
The Sony Inzone M9 is an excellent gaming display. It is priced similarly to other HDMI 2.1-capable 4K gaming monitors, despite having a significantly stronger backlighting system. Furthermore, the Sony Inzone M9 demonstrates why more displays should include full-array local dimming and additional illumination zones.