Sony Electronics Inc. today announced the addition of the power zoom G lens. E PZ 10-20mm F4 G (model SELP1020G), versatile G lens E 15mm F1.4 G (model SEL15F14G), and ultra-wide prime E 11mm F1.8 to its E-mount lens portfolio (model SEL11F18). Sony's E-mount lens family now includes 70 distinct models, giving photographers. Also, videographers, and hybrid content makers have more possibilities than ever before.
The E PZ 10-20mm F4 G, the world's smallest and lightest ultra-wide angle, constant F4 APS-C power zoom lens, is the first new lens. This small zoom lens combines superb G Lens imaging with flawless autofocus (AF) performance and a powerful power zoom range. The final result is a lens that maintains its length across the zoom range. While providing the sophisticated visual expression as well as operability that only a power zoom lens can deliver.
Price and Availability
In July, the E PZ 10-20mm F4 G will be available for $750.00 USD and $950.00 CAD.
The E 15mm F1.4 G will be available for $750.00 USD and $950.00 CAD in July.
In July, the E 11mm F1.8 will be available for around $550.00 USD and $700.00 CAD.
All of them will be available through a number of Sony approved dealers across North America.
E PZ 10-20mm F4 G
Dynamic Perspectives and Outstanding Image Quality
With a 10-20mm zoom range and a crisp and clear image from corner to corner at all zoom settings. The E PZ 10-20mm F4 G offers an extraordinarily wide field of view. Three aspherical elements are strategically placed to reduce field curvature and astigmatism, two frequent issues in ultra-wide-angle lenses. Two ED (Extra-low Dispersion) glass elements are also included in the optical path, which effectively reduce chromatic aberration. An ED aspherical element adds to the image's high resolution at the edges. The combination of a circular aperture and well developed spherical aberration correction results in realistically rendered G Lens bokeh that can contribute to stunning photography.
Advanced Autofocus (AF) for Stills and Video
It combines two linear motors for focus drive, giving quick, silent AF performance. That allows still and video shooters unmatched freedom. When shooting high frame rate video, quick, dependable AF can smoothly track subjects. Also, when shooting stills continuously at high speed, it can dependably follow fast-moving subjects. The redesigned lens also decreases focus breathing, resulting in smooth, steady footage with minimal angle-of-view shifts.
Refined Video Expression and Control
The innovative electronic power zoom mechanism on the E PZ 10-20mm F4 G enables direct, quick control and variable zoom speed. It accurately recognises even the tiniest zoom ring rotation. Also, translates to genuine zoom action right away. To allow creative potential not attainable with conventional zoom lenses. Users have comprehensive control over zoom speed and operation via the lens, the camera, and even compatible remote controllers. Power zoom reduces camera shaking, allowing solo photographers to get smooth, stable images. Furthermore, whether zooming or focusing, the lens employs internal zoom and focus mechanics to maintain a consistent length. The lens' centre of gravity shifts very little, making it ideal for vlogging and gimbal-mounted video filming.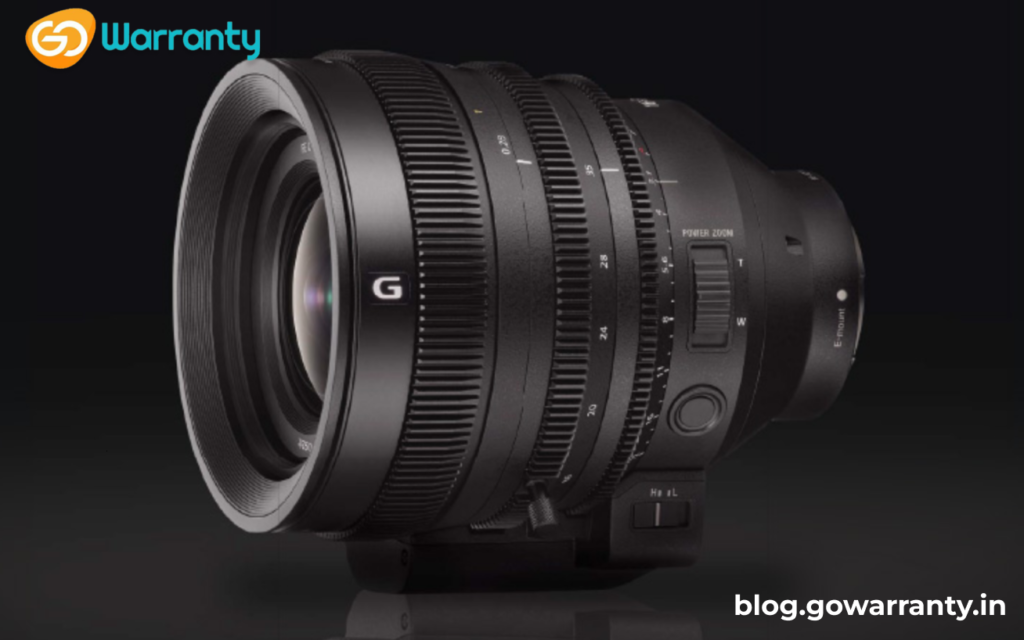 E 11mm F1.8
Designed for vlogging, it has a high resolution and beautiful bokeh
The ultra-wide angle of vision and small size of the E 11mm F1.8 make it perfect for vlogging. Which includes selfie-style filming at arm's length as well as interior views and photographs with expressive depth of field. Three aspherical elements as well as three ED (Extra-low Dispersion) glass elements work together to maintain great resolution across the image frame. Even with the aperture wide open. The aspherical lenses are precisely positioned to correct for distortion and give outstanding corner-to-corner resolution. The inclusion of ED glass minimises chromatic aberration even further. Also, successfully eliminates colour fringing, which is more common in the image periphery.
Designed for Video
For both stills and video, two sophisticated linear motors enable quick, precise, and silent AF and tracking, utilising the camera body's speed potential to consistently keep proper focus even on moving subjects. When focusing manually, Linear Response MF guarantees that the focus ring responds immediately and linearly to delicate adjustments, giving the impression of being instantaneous and accurate.
E 15mm F1.4 G
Beautiful Bokeh and G Lens Resolution
The E 15mm F1.4 G lens offers a broad 15mm field of view with G lens resolution. Despite the lens' broad 15 mm field of view, three aspherical elements in a sophisticated optical design successfully correct for distortion and give exceptional corner-to-corner resolution. It suppresses chromatic aberration efficiently. It is by the inclusion of one ED (Extra-low Dispersion) glass element, also one Super ED glass element. The huge F1.4 maximum aperture, carefully regulated spherical aberration, and circular aperture mechanism allow creating smooth, background bokeh for an artist effect simple.
AF Performance That Takes Full Advantage of the Camera's Speed
Two sophisticated linear motors provide fast, precise, and silent AF and tracking for both stills and video. This enhances the camera body's speed potential, allowing for perfect focus even while focused on fast-moving targets.
Sony's newest lens technology is used in the E 15mm F1.4 G. It eliminates focus breathing and minimises angle-of-view changes for smooth, steady footage. It also supports the breathing adjustment feature found in compatible Alpha series bodies. Whereas, it reduces the amount of breathing that might obstruct post-production editing.
Excellent Stills and Video Control and Reliability
When focusing manually, Linear Response MF (manual focus) guarantees that the focus ring reacts immediately and linearly to slight control. Because a change in focus is directly proportional to the rotation of the focus ring, control is rapid, consistent, and exact. This lens achieves a big aperture and great resolution in a lightweight 7.7 ounces (219 grammes) lens that is just 2.6 inches (66.6 mm) in diameter as well as 2.74 inches (69.5 mm) in length by combining aspherical elements with an efficient design.
Despite its small size, the E 15mm F1.4 G has an aperture ring for direct, intuitive control, as well as an aperture click switch that can be turned on or off to provide tactile feedback and allow the user to "feel" the stops, or to provide smooth, continuous, quiet aperture adjustment. The OFF option allows for smooth and consistent video management and is also suitable when silence is required.