Two massive monitors stood out after the year's biggest tech event: Samsung's Odyssey OLED G9 and Odyssey Neo G9 2023. They're both massive 32:9 monitors that will be difficult to choose between if you want the best gaming monitor. Although neither monitor has been released yet, we can still compare many aspects of them. We've seen them briefly, but we're relying on varying specs and about a half-hour of screen time. We'll have to wait and see how the two monitors hold up once they arrive before making any firm conclusions.
Price
The Odyssey OLED G9 and Odyssey Neo G9 2023 will cost a lot of money, according to Samsung. Last year's model cost $2,300, but it now sells for around $1,800. The models for 2023 will most likely cost more than $2,000, with the Odyssey Neo G9 possibly costing more than $2,500. However, there is a slim chance that the price will be reduced. As OLED and mini-LED become more affordable, Samsung may lower the price compared to last year's model. We may not see a price decrease, but we do not expect a price increase.
Screen Size and Resolution
The Odyssey OLED G9 and Odyssey Neo G9 are both massive 32:9 displays. If you're unfamiliar, 32:9 is essentially two standard 16:9 screens side by side, minus the bezel. They are very wide as a result, but they are not the same size. The diagonal size of the OLED G9 is 49 inches, while the diagonal size of the Neo G9 is 57 inches.
They also differ in terms of resolution. The OLED G9 has a 5120 x 1440 resolution and a dual 1440p panel, whereas the Neo G9 has a 7680 x 2160 resolution and a dual 4K panel. The Neo G9 is advertised as an 8K monitor, but this is not the case. It's two 4K monitors side by side, so the vertical resolution is only half that of true 8K. The Neo G9 easily wins in terms of resolution, but size is an important consideration. The OLED 49 has a much thinner panel and an 1800R curve. This adds significantly to the thickness of the Neo G9, especially when combined with its 57-inch size and aggressive 1000R curve.
Image Quality
The main distinction between the Odyssey OLED G9 and Odyssey Neo G9 is the panel used by each monitor. The OLED G9, as the name suggests, has an OLED display. This allows each pixel to dim independently, resulting in the best HDR available on a PC monitor right now. It, too, uses quantum dots to improve brightness and colour saturation, as does the Alienware 34 QD-OLED.
The Odyssey Neo G9 2023's panel is unknown, but Samsung has confirmed that it has a mini-LED backlight. Mini-LED is a big deal, as evidenced by monitors such as the Cooler Master GP27Q. The number of local dimming zones is the missing puzzle piece.
The Odyssey Neo G9's higher resolution helps to make games sharper and more immersive. It also becomes significantly brighter, which is ideal if you're playing in a bright room. We know it has a peak brightness of at least 1,000 nits, but it could go even higher. Samsung has not yet confirmed this.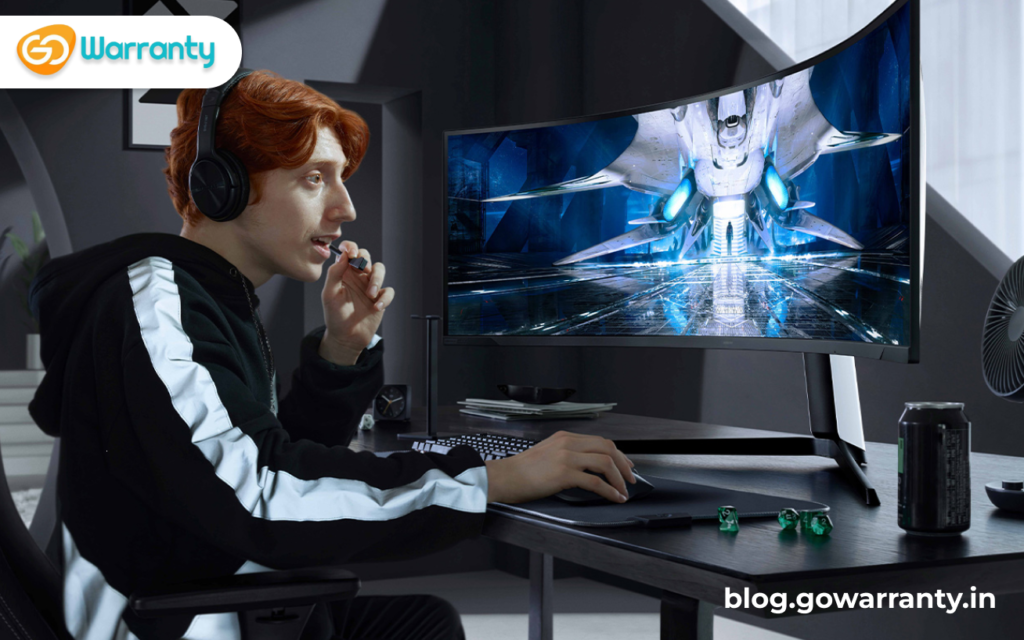 Refresh Rate and Response Time
According to Samsung's specifications, the Odyssey OLED G9 and Odyssey Neo G9 are equally matched in terms of refresh rate and response time. The OLED G9 has a response time of 0.1ms and a refresh rate of 240Hz on both screens, according to the company. You can't go wrong with either based solely on specifications. Although there's a little more to the story than specs. The Odyssey OLED G9 features an OLED panel, which has extremely fast response times by nature. A response time of 0.1ms is not impossible. The response time on the Odyssey Neo G9 will most likely be faster.
Monitor overdrive reduces response time but can cause artefacts such as ghosting and coronas. As we've seen with monitors like the Samsung Odyssey Neo G8, Samsung's overdrive isn't bad, but artefacts remain. Both monitors are fast and also have low response times, but based on our limited time with both screens, the Odyssey OLED G9 produces a slightly cleaner image. However, it is only marginally cleaner, and most people will not notice a difference in response times between both the two displays.
Features
We don't know much about the specifications of these monitors yet. They'll almost certainly support Nvidia G-Sync and/or AMD FreeSync, but Samsung hasn't confirmed this. We do know that the Odyssey OLED 49 includes Samsung's Smart Hub and Gaming Hub. These features enable you to use cloud gaming apps like Xbox Game Pass and Nvidia GeForce Now, as well as streaming apps like Netflix and YouTube, without the need for a computer. They, like a TV, are built into the monitor. And they work great, at least according to our experience with Samsung's M8 Smart Monitor.
It's unclear whether the Odyssey Neo G9 will also support these apps. Samsung hasn't stated one way or the other, so for the time being, we're assuming the company will stick to its previous plan and omit the features. That's an improvement for the Odyssey OLED G9.
Verdict
Before drawing any firm conclusions, we should wait until we have both of Samsung's new 32:9 displays. However, based on our initial impressions of these screens, the Odyssey OLED G9 appears to be quite impressive. It has higher image quality, more features, and is likely to be less expensive than the Odyssey Neo G9. It is, however, an evolution of last year's display. The Odyssey Neo G9 is unrivalled in terms of cutting-edge technology. The screen still looks great, and the extra resolution helps a lot. However, you'll need one of AMD's latest GPUs to power the display, so the Odyssey OLED G9 is the clear winner for many buyers.